Museum of Country Life
The museum of country life is housed in an award winning modern design space, beautifully reflected in its lakeside setting close to Castlebar. Admission is FREE to this treasure trove of folk life spanning 100 years from 1850-1950. The exhibitions are themed to reflect the closeness and interdependence between families and the land or sea.
Which is reflected not just in the objects they designed and often made by hand to fit the task required ie fish traps and animal feeders? But in the wealth of folklore and customs that surrounded the changing of the seasons, including both pagan and christian rituals. Some of which survive today and many that have been forgotten....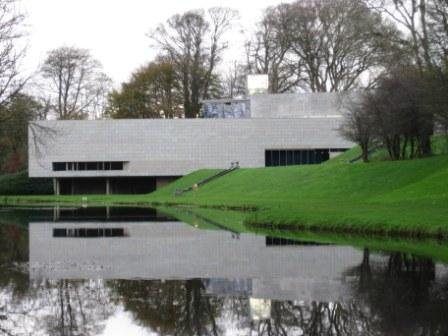 What is unique about this collection is that all of you can get up close and personal with most of the objects on display, as they are not housed typically in hands off glass cabinets giving a real insight into the texture, relevance and authenticity of the objects. While many of the items are originals, kindly donated to the Museum of Ireland, quite a few are modern recreations assurance that certain crafts will survive into the 21st century. Indeed there are regular craft workshops and an excellent straw, rushes and hay exhibition on the ground floor, its seems that just about anything could be made out of straw, from horse bridles to babies cradles.....
What fascinated me most was the folklore surrounding births, marriages and even death. The customs associated with latter day Christmas, Easter, May Day and Halloween celebrations which had there origin in much older pagan traditions that are enjoying a revival today.
For more museums & galleries in Ireland CLICK HERE For more on the Museum of Country Life please click here