Ireland Hidden Gems
Ireland Hidden Gems is an independent travel website written by Irish travel writer and photographer Susan Byron a native of Dublin, now living in County Clare (that's me on the right). It is designed to highlight only the very best of what my country has to offer the independent visitor or curious browser. It is about quality not quantity, which is why my recommendations are limited to the Top 10 in each category instead of a hit or miss list of multiple choices. Based on five years of personal research and a lifetime of experience, these are listed under titles, which include the spectacular landscapes historic castles, mysterious sacred places as well as our rich culture and ancient traditions and much more besides.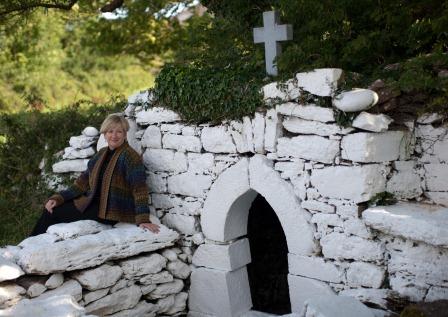 The Hidden Gems are those little known, extra special places or other interesting Things To Do and See at each location, which you will not find in any of the regular guidebooks. These are listed separately at the bottom of each page. For example, did you know that near the Cliffs of Moher there is a very famous holy well named after St Brigid who was a Celtic Goddess long before she was credited with being a Christian Saint! A golden beach Fanore from the Irish 'Fainne an Oir' or 'Ring of Gold', boat trips to the Aran Islands not to mention some of the best surfing and traditional music in the West.
In addition to the website, I have written 3 eBook Travel Guides
Where to Eat, Sleep & Play 2014 contains a handpicked selection of the 300 best answers to those very same questions.
Things To Do is an A-Z listing of the best (not necessarily the obvious) Visitor Attractions complete with 10 Hidden Gems at each location and a Google Map.
Places To See is all about those extra special places that you would not want to miss seeing, while you are here.
All three are available from Amazon.com in Kindle format.
If you would like regular updates on what is happening why not join me on facebook
Ireland's Hidden Gems is supported by the Heritage Council of Ireland.

Go n'eiri an t'adh leat - Good Luck ! Susan Byron

Planning a trip to Ireland, Susan Byron author of Ireland's Hidden Gems.com can do it for you from $95 per person travelling in a group with a minimum charge of $295 per couple.
Susan Byron is the author of the independent travel website Irelands Hidden Gems.com
All you need to know about Ireland, the facts, weather, news, map, history, culture, people in 250 words...
Northern Ireland, don't just jump in, fall in love with Northern Ireland and Legen-Derry.
Ireland Travel Guide - Where to Eat, Sleep & Play 2014 is now available on Amazon.com
Irish Stew isnt the only dish you can eat in Ireland.
Visit Ireland and stay in the most amazing places with incredible views and friendly faces...
There is no end of interest Things to See and Do on a visit to Ireland, the best of them are listed right here.
Ireland landscape breathtaking scenery at every turn...
Irish symbols are at the heart of our rich Celtic and spiritual heritage that is quite literally written in stone.
Irish history is a wealth of fairytales and legends, in Ireland history is everywhere.
Big Houses in Ireland range from state owned properties to some that have been in family ownership for 100's of years.
The National Museum of Ireland comprises four of Irelands most important museums, open daily apart from Christmas & New Year, admission is free
Irish Art while celebrated the world over is well represented in the 10 Best Galleries of Ireland
Irelands Parks vary from small (ish) manicured urban spaces to vast, wild, rugged places that will blow your heart right open...
Ireland gardens vary from small, beautifully crafted urban spaces to walled formality and wild, unimaginable rural paradises....
Ireland Places To See is an eBook travel guide to those extra special places you dont want to miss on a trip to Ireland written by Susan Byron author of Irelands Hidden Gems.com
Dublin an insiders guide to the capital of Ireland.
There is no denying Belfast continues to have its share of troubles but it is very much open for your business.
Cork is the second largest city in Ireland fondly fancied as the 'real' capital of Ireland, not a chance!
Galway city is unlike any other town or city in Ireland....
Let Limerick City surprise you...
Derry or Londonderry as it is known North of the border is the city you should visit if you want to understand 'the troubles' in Northern Ireland that are now thankfully well and truly over.
Irish culture is celebrated in these excellent tourist attractions.
Ireland facts what you really need to know about visiting Ireland
Ireland weather where you can get all four seasons thrown at you in a day?
Contact Susan Byron author of Irelands Hidden Gems.com
St Patricks Day the inside track on how we really celebrate it in Ireland.
Christmas in Ireland is still very traditional having retained its legendary welcome for one and all, warmth and good cheer....
Susan's Ireland Travel Blog gives you the heads up on all that is happening in Ireland right now.
An Irish Blessing