Guided Tours of Ireland's Hidden Gems in 2018 - May Sale
REviews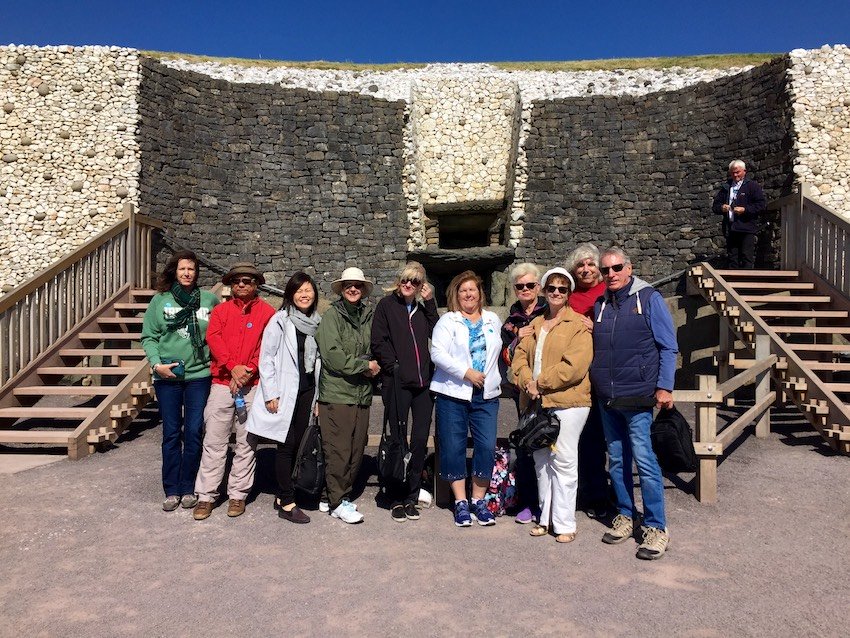 2017 May Tour Group Photo Newgrange
A few testimonials from Ireland's Hidden Gems first ever Guided tour of Ireland with Susan Byron in May 2017 when were blessed with amazing weather and a great crew! Susan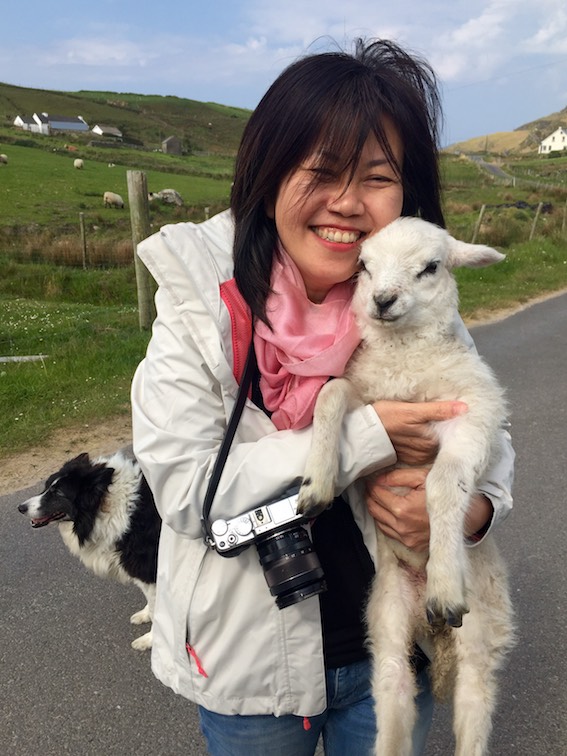 Lay Eng Yeo in love with a lamb on Muckross Head in Donegal
Susan, herself is a most special gem. It was a most unforgettable trip as she introduced us to the hidden wonders of Ireland that probably most travellers would miss out-from unique flora and fauna that flourished on the wild Atlantic coast, getting up close and personal with the local craftsmen and women, savouring the freshest food harvested from the sea and land, cooked to perfection in restaurants and pubs where the locals eat and a a selection of fine accommodations - Susan planned an itinerary so engaging that it mirrored all the richness and diversity of the Emerald Isle. 
Tech & Lay Eng Yeo, Singapore 
Sara Lynn above at Sliabh Liag in Donegal
Dear Susan, When I was planning my trip to Ireland, it was theoretical in my head—a "some day" kind of thing.  I really had no idea even where to start.  When I saw your tour description, I knew it was just the right thing for me. The trip itself was more than I could have imagined (and trust me, I spent many, many years imagining what it would be like to visit Ireland)!  You took care of all the details; I didn't have to worry about a thing.  The accommodations were first rate, the sights were amazing, our driver was the BEST, and well, I think we were lucky with the weather, and that was fabulous too!  But the personal touch you provided with your narrative along the way was the icing on the cake. Your enthusiasm and love for your country was infectious!  I really enjoyed getting to know everyone in the tour group, and the time I got to spend with my Irish cousin was very special to me.  William Butler Yeats sums it up well, "There are no strangers here, only friends you haven't yet met."  Thank you for everything! Until we meet again, Sara
Sara McKee, North Carolina, USA
Peggy Remeke looking very fetching in her new green woollen scarf
Hi Susan, I so appreciated all of the energy and joy you showed on this tour. Hurray for the 1st gem !!! 
Peggy Remke, Kentucky, USA

Paul Duffy with one of the many pints of Guinness he enjoyed in Ireland
Thanks Susan, found the Church where my Great, Great, Great Grandfather was baptised on the 21st of May 1809. It was a strange feeling really sitting on the steps of this church, I don't know how to explain it but a feeling of pride and happiness came over me....strange really! I felt a connection, him being Baptised in May and my birthday being in May and the Church called St, Paul's. No, it must have been that pint or two I had for lunch, lol?
Paul Duffy, Sydney, Australia
Marcia Van Dalsem being Bean an Tí at Helen's Bar on the Beara Peninsula in West Cork
Best trip of my life so far! What a blast we had in Ireland. Susan was the best tour guide ever. I just can't say enough about Ireland, the most beautiful place I have ever been to. I'll never forget the magic of this Emeral Island. I hope to go back again some day. Thank you Susan, I can honestly say this was the highlight of my adult life (except for kids and dogs) of course....
Marcia Van Dalsem, Long Beach, California.
Mary Carling just never stopped smiling through the whole trip!
Dear Susan, so happy you gave me a little push to come to Ireland, I really loved the trip. You and Tony made it so special for me. I have photos of the sea on my screensaver and look forward to returning. I really love Ireland and miss the clean air, pristine water and green and blue everywhere. Not to mention I would really enjoy seeing you again.Thank you so much for sharing you enthusiasm and love of the beautiful gems.
Mary Carlin, Brooklyn, NYC.
2017 May Tour Group Photo Newgrange
And the fun goes on, I will have a big head before I know it! More testimonials from Ireland's Hidden Gems second tour of  Ireland with Susan Byron in June 2017, talk about high jinks and good fun, we all had an amazing time! Susan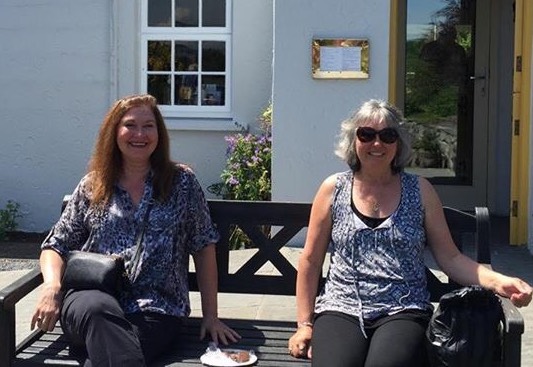 Sisters Cathryn and Colleen couldn't have been nicer company....
Thank you Susan. For my sister Colette and myself your June 2017 tour was a GRAND adventure. From the moment I read the itinerary I knew this was the tour for us. Our first trip to Ireland and your planning made it so easy for  us to just relax, enjoy and see so much more than we could have on our own. You showed us such a diverse selection of sites and regaled us with their histories and lore. I still hear a narrative with the Irish brogue. Everything was presented with such a professional and personal touch that provided us a trip of a lifetime. I am still dreaming of Ireland. Slainte! Cathryn 
Cathryn Russell & Colette Sands USA

Will and Beth Avgerakis enjoying the cliff top walk from Doolin to the Cliffs of Moher
Hi Susan what an amazing trip, our senses are still intoxicated with that will nourish us forever. We can not express in words what this adventure has meant to us and we thank you for enough for making it so incredibly magical and enchanting. You are an absolutely amazing spirit and we were so fortunate to have you as our guide.
Will & Beth Avgerakis, USA 
Tadgh and Anita Baker on the Peace Bridge in Londonderry.
Dear Susan, Anita and I want you to know how much we enjoyed the Ireland's Hidden Gems Tour in June 2017. The memories of all we experienced, including the goodness of the Irish people, will be with us always. We truly realize that a tour like this doesn't just happen; it takes a caring person like you who loves her country and wishes to share it with others.  Your dedicated planning, preparation, scheduling, and joyful guidance all along the way made the tour a delight for everyone. Thank you, Susan from the bottom of our hearts. It was grand to be with you!
Tadhg & Anita Baxter, Pennsylvania, USA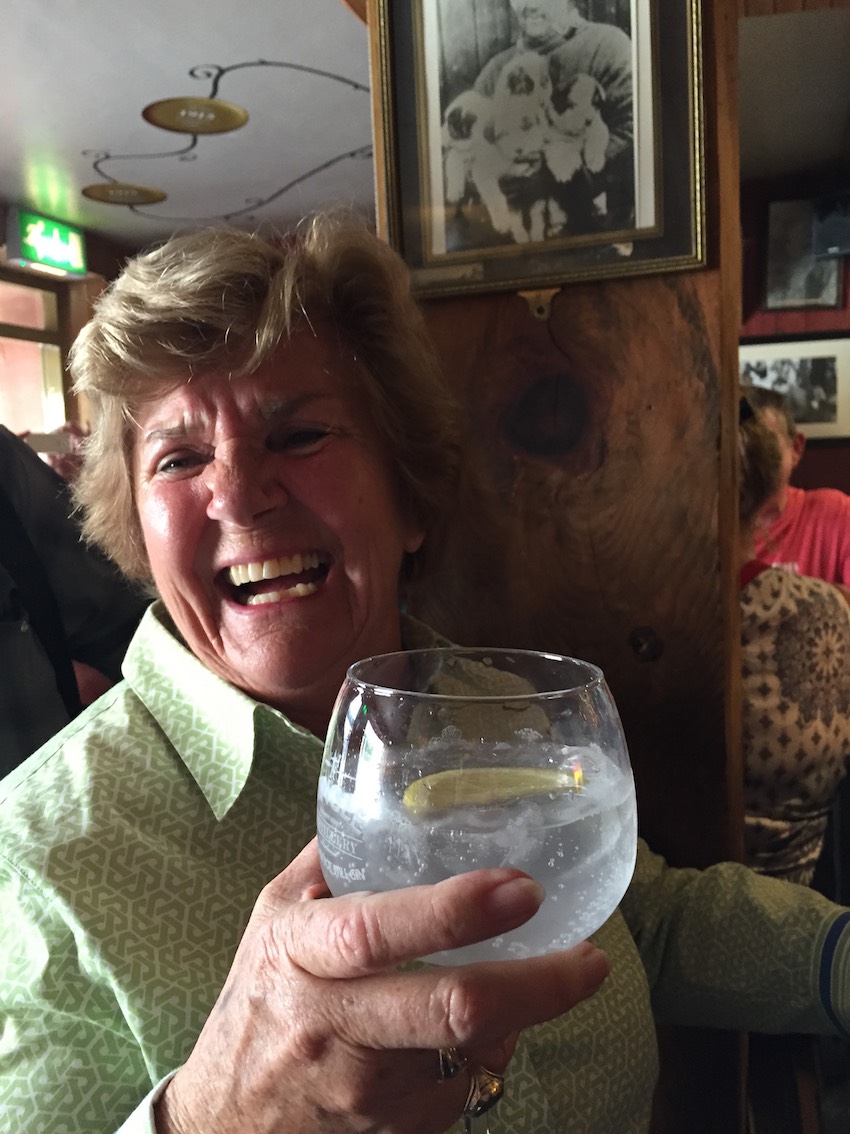 Julaine is a huge fan of Antartic Explorer Tom Crean from Annascaul in County Kerry
Susan, we had put off visiting Ireland for many years until we found just the right tour and yours was it! The beauty and history of Ireland moved us so much - more than we had imagined. The Derry wall, Slieve League, Slea Head, Burt's Church, the sheep dotted countryside - too many beautiful places to list. Dingle gin, the Aiden Dooley book, the "hike" on top of the Cliffs Moher with Pat Sweeney, Eddie Lenihan's stories, the "Trad on the Prom" and the friends we made were highlights. Your informative and entertaining commentary on the land, the history and the people of Ireland was always "grand." Thank you, also, for including Yeats' grave and taking the detour to the South Pole Inn for us.This experience is at the top of our list of great trips! We hope to visit Ireland again and you will be the one we contact for planning assistance!
Sharon Congdon and Julaine Salem, Big Bear California
I will leave the last word for now, to Jane who has fallen truly, madly, deeply in love with Ireland....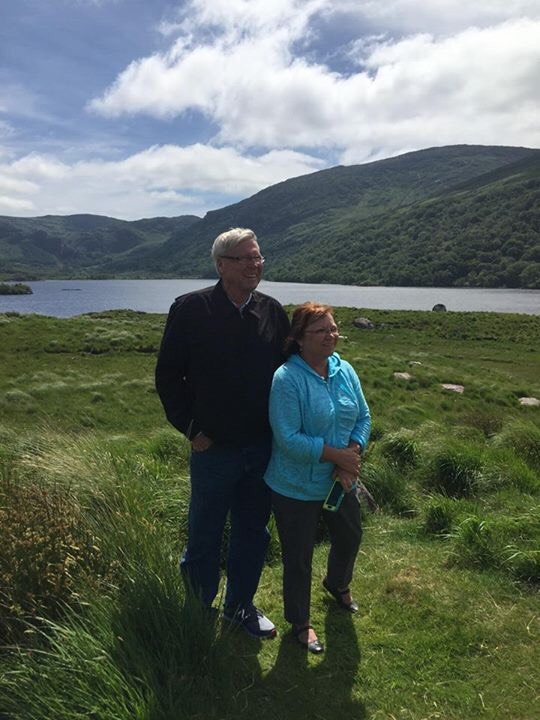 Jane and Rod Mullens at Uragh Stone Circle in West Cork
After our second trip to Ireland in October of 2016, my husband remarked to me that he wasn't done with Ireland yet.  And shortly after that, Susan Byron's Facebook postings caught my eye.  It was her way with genuinely expressing in her posts her love for her country.  In the past, we had traveled with guides who lived outside of Ireland.  After pursuing her E-books, I knew she was the one who would make Ireland grow into our bones.  And we weren't disappointed with our 18 day tour around the whole isle. From the very beginning in Dublin, she displayed a true love for the history, culture and mainstay of her homeland.  She did not disappoint us in her stories, either.  We learned more about the country than previous trips exposure.  The trip allowed us to meld with the true Irishmen.  I remarked to her one day, that I finally understood the culture through the love of telling a good story, to knowing a good song or dance, and being immersed in a community; something solely missed in the United States at this time. The places we visited were an extension of the best sites to feel this immersion.  And her ever smiling face and warm welcomes to establishments that she personally knew their reputation and supportiveness of true entrepreneurship of the locals.  It is a trip that we will always cherish..Susan, thank you for sharing the true Irish spirit (s) with us…much gratitude for a front row seat!
Jane & Rod Mullens, Utah, USA
And here's a lovely surprise I received from the June Tour group this year. Thanks guys, I am so glad you enjoyed your time with me in Ireland, Susan
For more information re next years tours please click on the following link Ireland Hidden Gems 2018 Tours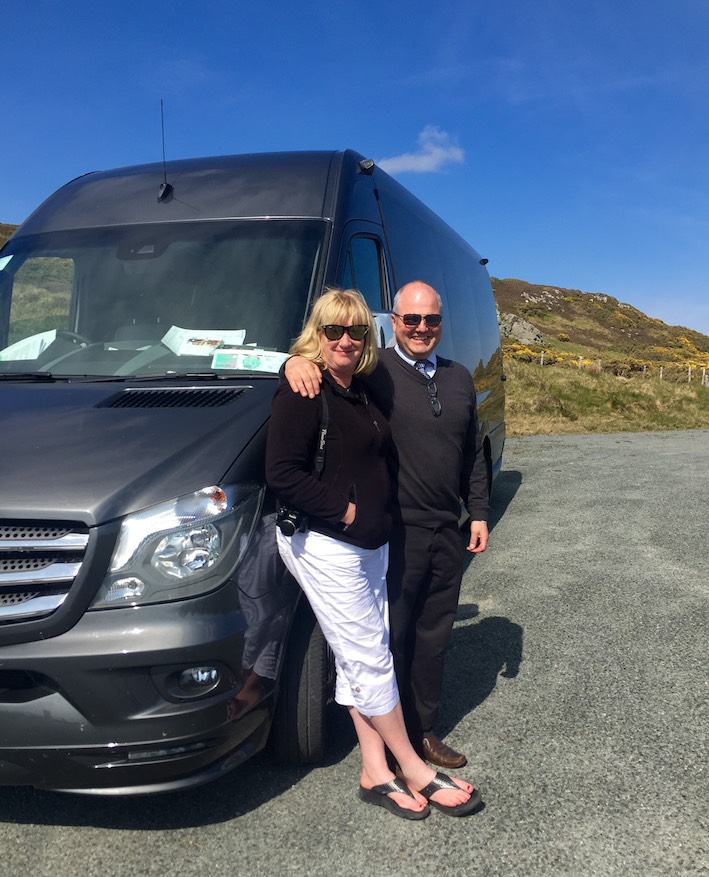 Guide Susan Byron and Driver Tony O'Reilly
Some other testimonials from clients that I created Tailor Made Itineraries for over the years.....
"Hi Susan, Julie and I cannot thank you enough for designing the wonderful 25th Wedding Anniversary Trip to Ireland. The estates, the spas, the rivers, golf courses and, of course, the food were all so unforgettable. You are so gifted. Yes, we both agree that Ard na Sidhe is the "Gem of Ireland for 2013" and the Europe Hotel's Spa was like something out of a James Bond film." 
Christopher & Julie Bene, Vancouver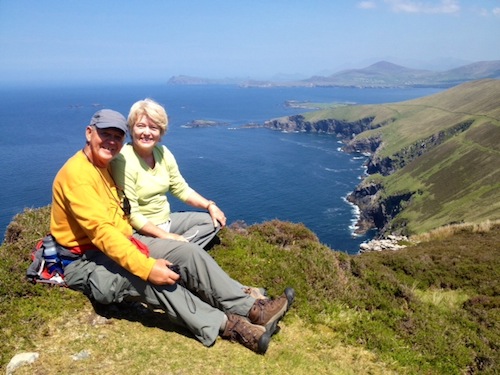 "We're home now Susan and still on a high from our fantastic tour of Ireland's west. It was a pleasure to meet and talk with you, and I want to thank you for letting us pick your brain about your gorgeous country. I doubt our trip would have been nearly so wonderful without your input." 
Jack & Karen Shannon, South Carolina 
What a find.  Susan was absolutely invaluable in planning our trip to Ireland. I emailed Susan asking for some advice and not really expecting much of a response. To my surprise, she took a considerable amount of her personal time planning our vacation, helping us book our rooms and providing superb guidance in where to go and what to see. My wife and 4 young adult children travelled for a week and had a great time. We could not have had a better time, and certainly would not have had a better time without Susan's help. We even had the pleasure of meeting her and some of her family. I'm very glad we were able to get to know her and share a pint in Galway. Thank you Susan, I don't know if I'll ever be able to repay you for all the great memories of Ireland."
Jeff Brinza, New York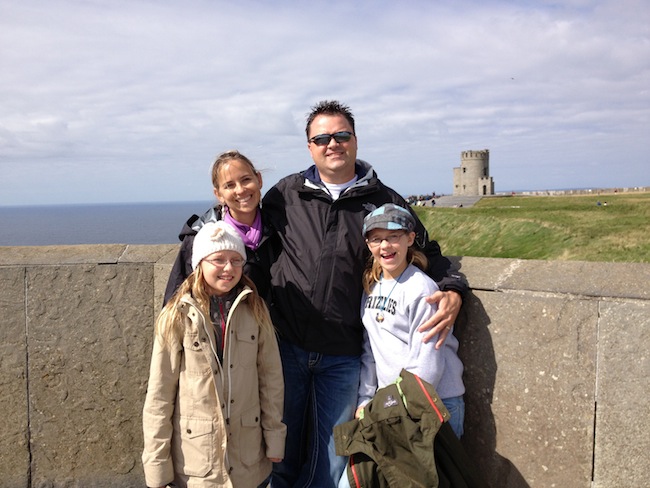 "Hi Susan,  We LOVED LOVED LOVED our trip to Ireland! Everything you suggested was absolutely on point and amazing. I don't think a day went by that we didn't say, Thank God for Susan. And we did just about every single thing you suggested. Our trip was packed with just the right amount of travel and just the right amount of downtime.  We traveled with a 10 and 12 year old, and there wasn't ONE complaint about anywhere you sent us. In fact...they didn't want to leave! Our trip would have been a stressful disaster had I not found you and asked for your help. Thanks so much Susan for listening to our likes and dislikes and creating an itinerary that was just what we wanted."
Stephanie Tuss Savannah GA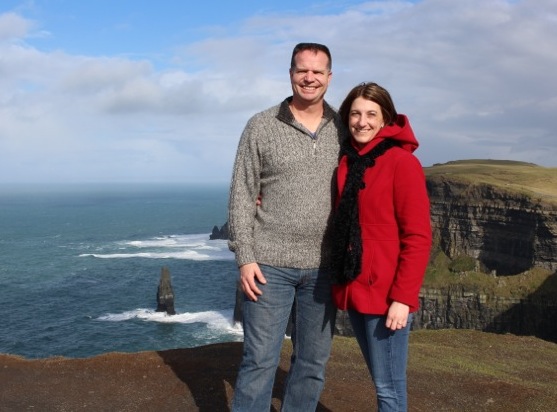 "Dear Susan, We can't thank you enough for planning our trip to Ireland as we celebrated our 20th wedding anniversary. There is no way I could have planned a two week vacation from the States to Ireland without being stressed and confused. To anyone out there worried about handing over money to a complete stranger in a far away location, all I have to say is, do it! Susan, you are so warm and friendly, and truly understood Darren and I as a couple and what we wanted out of a trip of this magnitude. You left no stone unturned, paying attention to every detail taking all the stress out of planning and allowed us the time to simply enjoy. From various castles, ruins, and gorgeous scenery to luxurious accommodations and food, we had the trip of a lifetime ! 
Jennifer & Darren Nelson, Virginia, USA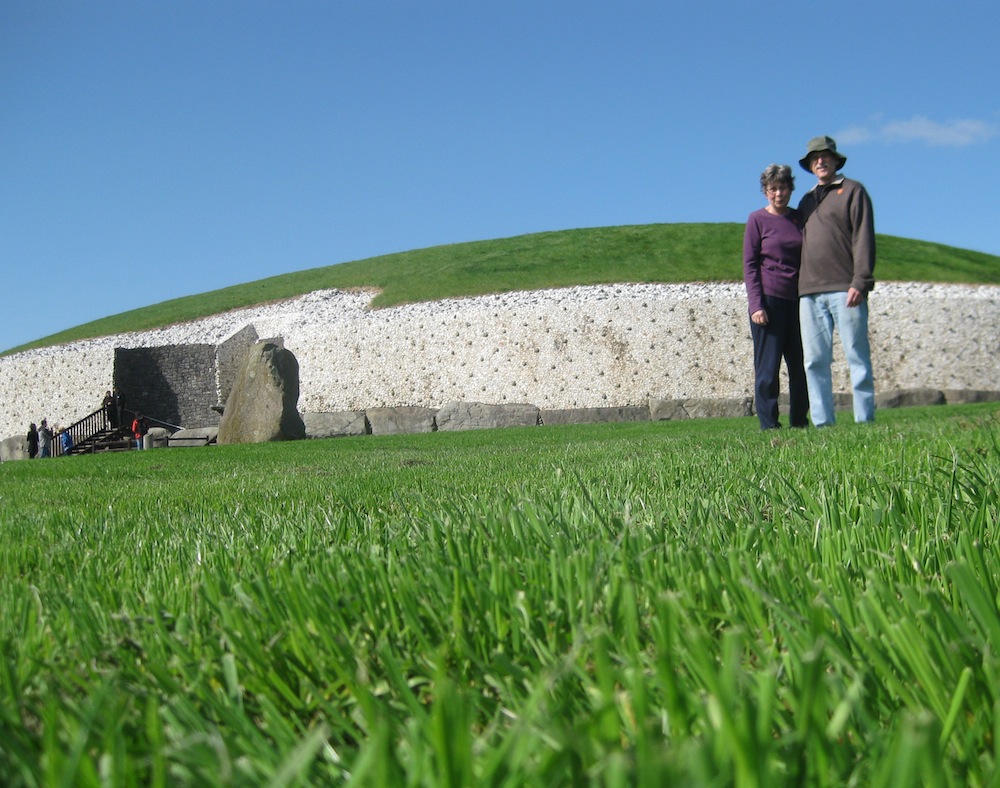 "Our trip was fabulous. We enjoyed all the lovely hotels and meals that came with. Each hotel had something different and special. At many of the hotels, it was very nice of you to arrange the niceties for our anniversary celebration-thanks so much; we have never been so special! The absolute best part of the whole experience was that you provided great help in planning our trip. One doesn't alway know if finds on the internet are what they seem, and I am happy that you provided everything you promised. Many, many, thanks."
Lynne & Ray Coleman, Illinois, USA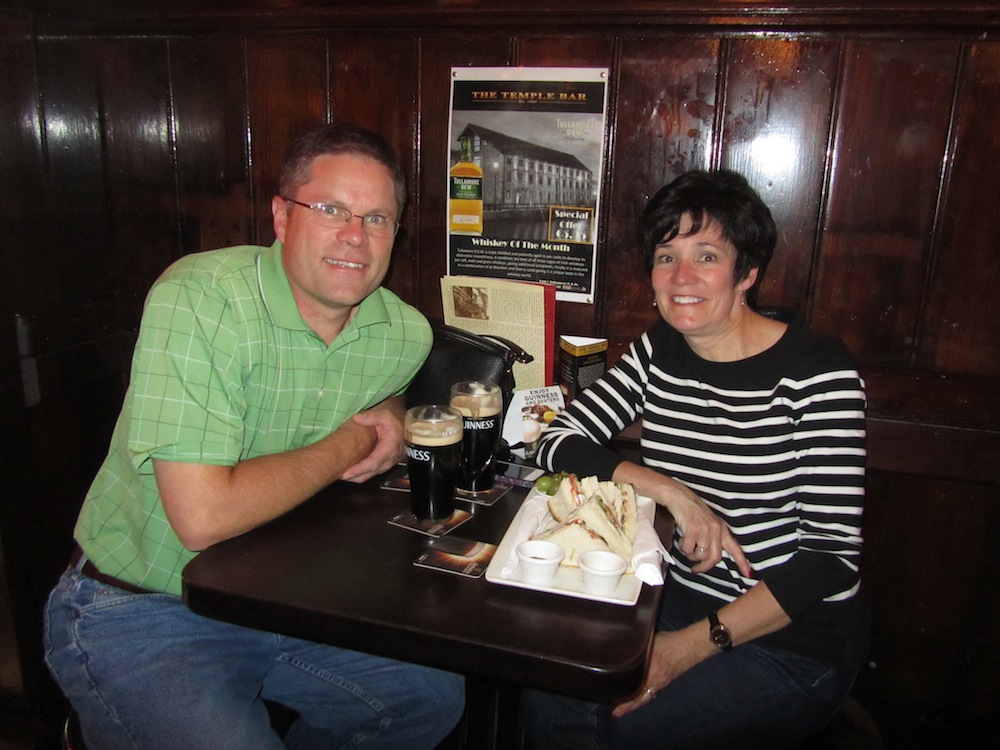 "Steve and I want to thank you for all the help you gave us in planning our trip to Ireland. We had an amazing time! The recommendations you made were wonderful! We enjoyed each hotel and B&B we stayed in. We would never have found all the beautiful sights we visited without your suggestions. The people we met were always, gracious, pleasant and helpful, it must be the Irish way and I can't wait to go back !"
Steve & Mary Black, Minnesota, USA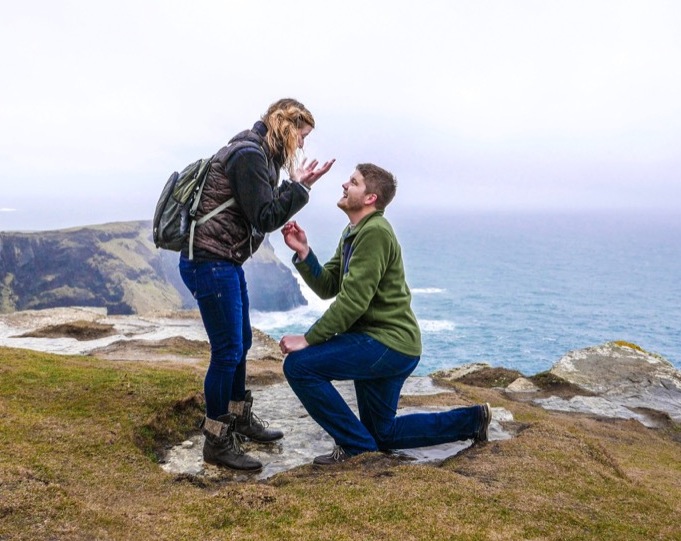 Hello Susan, I just wanted to thank you again for all of your help planning our amazing proposal trip! Maggie says she was beside herself the whole time and owes you a big thank you!. I made a little video of our trip which I thought you might want to read and watch! Thanks again for everything!!! 
Story Link: http://howheasked.com/marriage-proposal-at-the-cliffs-of-moher 
Joshua Phelps & Maggie, Indianapolis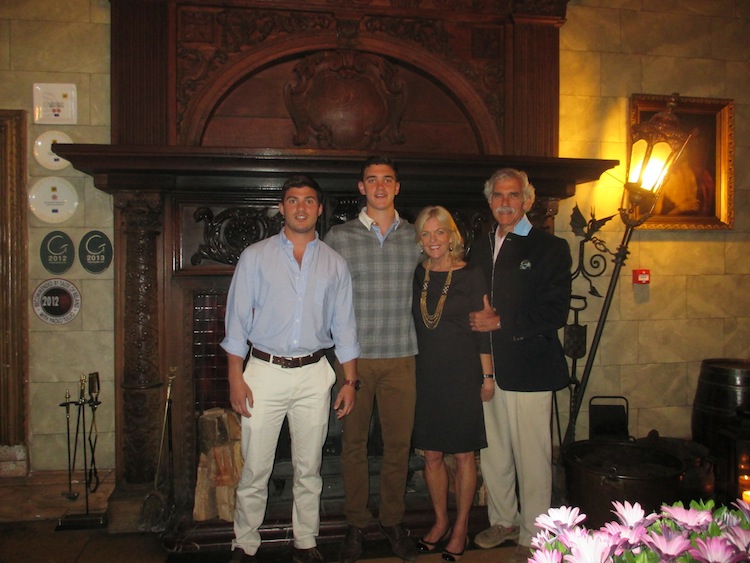 Hi Susan — I have wanted to email you for some time — our trip to Ireland was just amazing.  My family had a wonderful time and we so enjoyed the places and hotels you suggested — particularly Clare Island, Belleek Castle and the Delphi mountain adventure resort! I am telling all of my friends about our trip and how very helpful you were!    
Elizabeth Rubin, Philadelphia, USA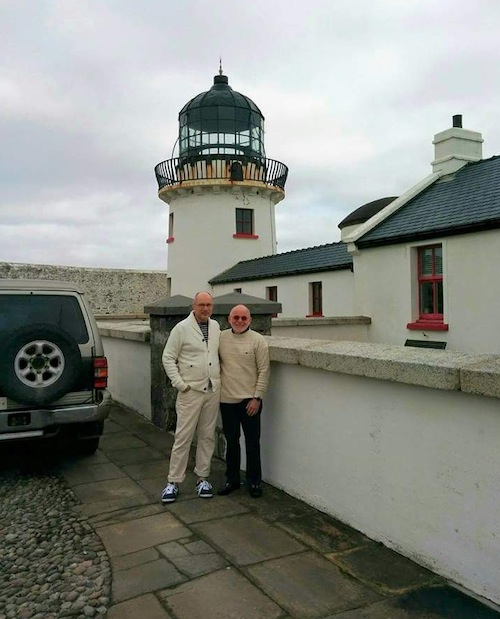 Thanks Susan for such a thoughtful and special itinerary you arranged for us; I am certain we could not have managed on our own to find such unique accommodations​ much less think of the special touches you provided. We have several friends who are considering a trip to Ireland and  will definitely recommend you as well as contact you again when we return to Ireland in the future! We travel frequently and this was one of our best trips. 
Danny Cain & Don Bostick, Montgomery Village USA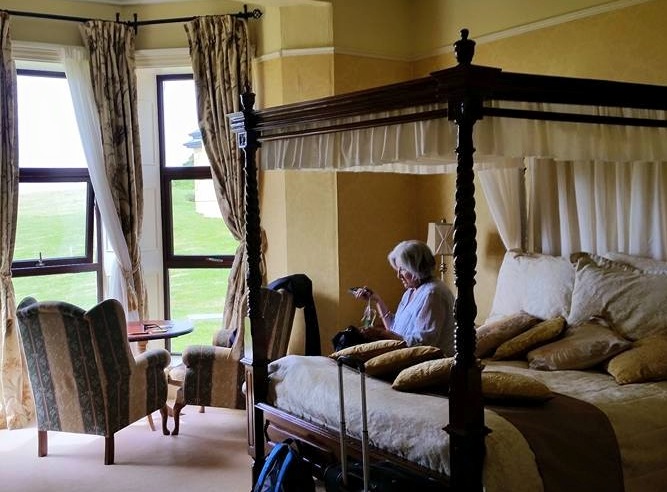 Dear Susan, we are back in the USA and wanted to thank you again for planning such an incredible Irish Trip for us.  We had a wonderful time.  The weather was beautiful. Everything was sooooo green and loved seeing all the sheep and stone walls. We met so many wonderful people.  Everyone was always so helpful. Ballinalacken Castle was such a beautiful place to stay.  The view outside our window was spectacular.  We could see the Cliffs of Moher. I could go on and on but we just thank you for arranging such a wonderful tour.  The nice thing was that we didn't have to take a bus tour which we really didn't want to do. We loved all that we did and enjoyed our time together.
Curt & Gloria Roy and Bill & Nanette Lowe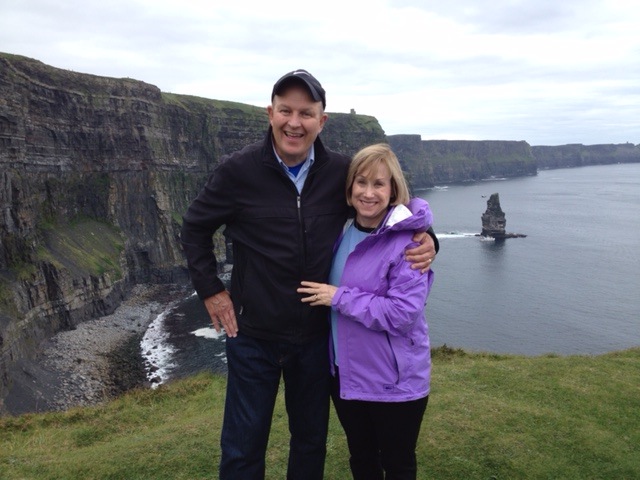 Back again!
Hi Susan, after our second trip to Ireland in three years we figured out your "magic". Susan, you create itineraries that encompass more than simply "Hidden Gems" but true adventures in Ireland. For instance, our day at the Cliffs of Moher, which is a true Irish treasure of uncompromising beauty, included a 5.5 mile hike with the passionate and purposeful Pat Sweeney. Another adventure occurred shortly after our arrival into Dublin on a Sunday when we stopped into a hotel, which contained a cafeteria-style restaurant that was filled with families and people of all ages. What made this Sunday such a special adventure is that the "regulars" were watching the national finals of Gaelic Football. What was so surreal about this experience is that we were in New York hours before and now a part of the "Irish Super Bowl" somewhere off the N5 highway. You will never discover this "magic" on a tour bus or in an American-style hotel. 
Christopher & Julie Bene, Vancouver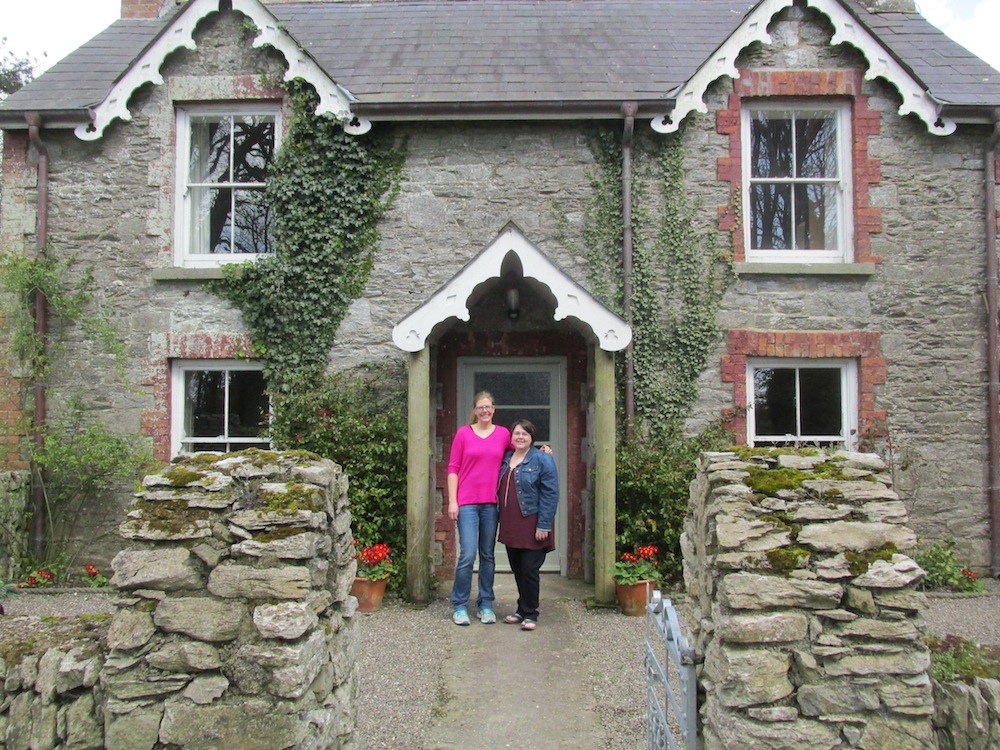 Hi Susan, our trip was a wonderful and an amazing experience, what a beautiful country and the weather was fantastic. We got one day of absolutely beautiful weather which we spent doing the Lakes of Killarney and Gap of Dunloe and another that was rainly and drizzley which luckily coincided with being in Kinsale where we enjoyed lunch in the Bulman and exploring this adorable little town. We felt you did a wonderful job arranging this trip for us and our Moms and will definitely recommend your website to friends and family considering a visit. I hope to visit again some day. Thank you again for putting it together for us! 
Blessings Katie harman Michigan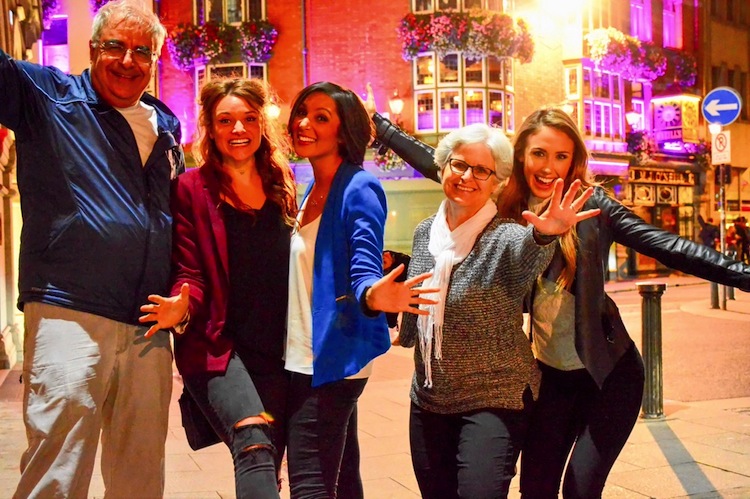 Hi Susan, we returned from our trip a week ago and had a fabulous 12 days. We spent three days in Dublin, then did a clockwise trip ending in Doolin, successfully (!) putting 800 miles on a Volkswagen Passat that we rented.  I would love to go back and explore the Burren and Connemara regions next year, especially in May or so. We spent much of a day on the Beara Peninsula and could have spent much more time there.  We saw the tapestries in New Ross as well as the Dunbrody.  In Dublin, we went on a Rural Pub Tour, visiting three pubs in the countryside outside of Dublin and met these 3 lovely young ladies!  Thanks for all the advice. We are already looking forward to coming back to Ireland!
Richard Pockat, USA July 
Howdy all, in case you're planning your next vacation, - on behalf of the whole McNutt family – we highly recommend that you consider Ireland. Its lush green fields, endless stone walls, and Guinness-drinking children did not disappoint. As the Irish would say, "The craic was ninety". 
The McNutt Family, Bermingham, Alabama, USA August