Irish history from ringforts to castles
Irish history can be traced through the castles you will see dotted throughout every county in Ireland today. They are the legacy of some 6000 years of occupation dating back to Megalithic times, when the Celts arrived here from mainland Europe. Impressive burial mounds such as Newgrange , ringforts and dolmens like those at Craggaunowen are attributed to these hunter gatherer tribes. The Celts were then followed by successive waves of invaders including the Vikings, Normans, English and even the Spanish, the French never quite made it. We finally achieved independence from England in 1916 for 26 of Ireland's counties while 6 in (Northern Ireland) still remain part of Britain. The commercial foundations of Dublin were laid by the Vikings (Dublinia) followed by the Normans who built impressive strongholds such as Trim castle where the epic movie 'Braveheart' was filmed. Our infamous claim to fame? some 2,000 bare-bottomed extras recruited from the Curragh Army Camp in County Kildare...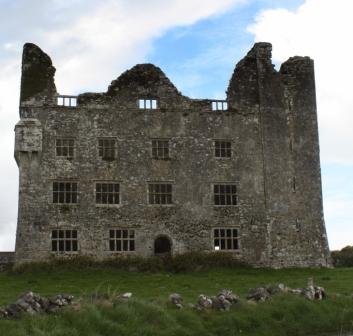 Other castles in Irish history range from large fortified towers with impressive keeps such as Bunratty Castle in County Clare, to smaller ones like Thoor Ballylee, in County Galway, former home of the poet and playwright Willaim Butler Yeats. Grand country houses like Tullynally and Birr were castle-ated with fairy tale parapets and towers as was the fashion during the reiqn of Queen Victoria. Many of these big houses and castles on vast estates were given to (often) absentee English landlords in return for military duty. As a result, many of these were ransacked and burned down during the 'troubles'. Others were saved and restored privately or are now under the management of Office of Public Works or the auspices of the Irish Georgian society and so have survived to tell the tale. There are hundreds of castles all over the country, many in ruins that you can explore freely, just be careful !
Good Tip Try hiding some 'treasure' ie a few coins in the walls for children to find, it will keep them amused for hours !
The 10 Best Castles in Ireland are....
1 Ardgillan Castle, Balbriggan, County Dublin 2 Birr Castle, Tullamore, County Offaly 3 Bunratty Castle, Bunratty, County Clare 4 Charleville Castle, Tullamore, County Offaly 5 Dublin Castle, 2 Palace St, Dublin 2. 6 Dunguaire Castle, Kinvara, County Galway. 7 Kilkenny Castle, Castle Rd, Kilkenny. 8 Malahide Castle, Malahide, County Dublin 9 Trim Castle, Trim, County Meath 10 Tullynally Castle, Castlepollard, County Westmeath
You can stay in quiet a few posh castles like well known Ashford or Dromoland Castles? Ballynahinch is much more atmospheric (it was once owned by an Indian maharajah) the 5 star Solis Lough Eske in Donegal or the delightful family run since 1940 Ballinalacken Castle in County Clare. Or you can go to a medieval banquet, throughout the summer in Dunguaire, Knappogue or Bunratty Castles. You can even rent a whole castle to yourself if you like, for a small kings ransom ?
View Ireland's Hidden Gems - Castles in a larger map
For more information on Irish History please click here.

To Book a medieval banquet in a castle please click here