Bunratty Castle & Folk Park
Bunratty Castle is a very fine, impressive and fully furnished, 15th century medieval fortress which has great views out over the river Shannon and the surrounding lands it was once protected. Visitors can enjoy a medieval banquet each night during the summer or simply wander around the Keep and Rampart during the day as part of their admission ticket to the complex, which will certainly keep you occupied all day, as you visit the various cottages and homesteads, that were once occupied by farmers, fishermen and shepherds.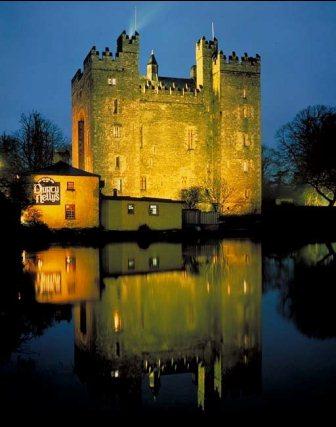 These buildings are the 'real' deal and not your usual theme park mock-ups, in fact one of the cottages was actually transported stone by stone from its original position in the middle of Runway No 1 when Shannon airport was being constructed nearby! Most though, have been faithfully rebuilt in the style of the day using vernacular materials, such as local Liscannor stone, and river reeds for thatching. You can see fruit scones being baked, 'sit in' on a school lesson or enjoy the 'craic' in the 'local' pub. It was said 'that a yard of a counter was as good as a farm of land' in the old days. Most grocery shops included a bar, some still do, thankfully....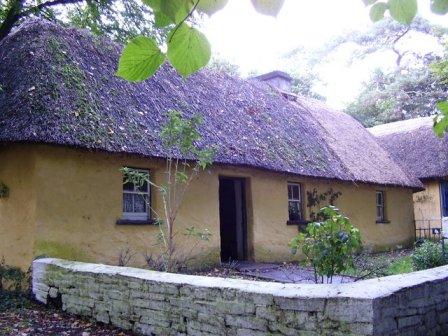 There is even a 'big house' with a walled garden, planted with original Irish varieties of flowers, fruit and vegetables, which depicts the landed gentry and tenant's lifestyles at the turn of the last century. Keep a good eye out for poachers and the illicit 'poitin still' down by the lake. You will hardly miss Diarmuid & Grainne, the Irish Wolfhounds, as they always have a big crowd around them and must surely be the most spoiled dogs in Ireland. It is not known how many Mars bars and the likes they have cajoled off visitors. And consider yourself blessed altogether if you land up at one of their special themed events like the Harvest Festival at the end of September, or at Christmas time when Bunratty takes a step back in time....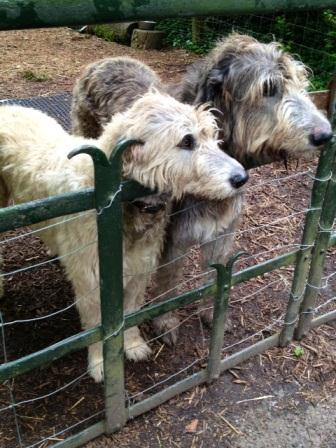 10 Hidden Gems near Bunratty Castle Park & Folk Park
1 Durty Nellys go next door for a pint of Guinness, some oysters and plenty of atmosphere.
2 Blarney Woollen Mills leave himself above & go across the road for some souvenir shopping? nice woollen hats and scarves and 'traditional' aran jumpers and homewares including Irish crystal and handcrafted pottery, good cafe & coffee shop upstairs.
3 Gallaghers Seafood Restaurant although renowned for its seafood there are plenty of other excellent alternatives on the menu, relax & enjoy the old world atmosphere of this lovely thatched cottage restaurant.
4 Dromoland Castle spoil yourself by staying nearby at one of Irelands leading 5 star castle hotels, majestic parklands, lakes and golf course.
5 Cliffs of Moher buy a combined ticket at Bunratty Castle for €12 and visit these impressive 700' high cliffs overlooking the wild Atlantic ocean.
6 Craggaunowen another faithful reconstruction of early Celtic life with lake dwellings, ringforts, dolmens and standing stones etched with Ogham inscriptions.
7 Thomond Park visit Munster Rugby Club's brand new stadium and home turf.
8 King Johns Castle is a large Norman castle in the centre of the Limerick city on the banks of the River Shannon recently revamped and re-opened to the public.
9 St Mary's Cathedral < the oldest and most historic building in Limerick, that is still in use, well preserved Romanesque architecture.
10 The Hunt Museum undoubtedly the best in Ireland, small but excellent collection of national and international treasures and artefacts, donated to the Irish nation by John & Gertrude Hunt.
For more Things To Do and See in Limerick City please click here

Book tickets online for Bunratty Castle & Folk Park here.