Northern Ireland
About Northern Ireland
Northern Ireland, not only have I jumped right in, as their advertising slogan suggests, I have fallen truly, madly, deeply in love with it, following a sublime day out on Rathlin Island a couple of summers ago. With several other trips 'up North' since, including Derry City and the wonderful Inishowen Peninsula the beautiful lakelands of Fermanagh and more recentlyBelfastagain! So, what makes Northern Ireland different from the South? well the Republic of Ireland has 26 counties and is Irish, while the wee North has 6 counties and is technically British, although the people up there are still divided as to which country it should really belong to? I know it's confusing, but thankfully 'the troubles' seem to be over and Northern Ireland is doing its best to rebuild its reputation as a safe and exciting destination to visit.
Belfast Castle, County Antrim
Belfast
Belfast is the capital or main city (I know it is impossible to be politically correct) and is enjoying a great revival since the opening of the Titanic Quarter in 2012 which focused the world's media attention on Belfast as is Kenneth Brannagh's movie of the same name! In 2014 the limelight shone on Fermanagh with the gathering of world leaders for the G8 summit that June. This normally, forgotten interior county of Ireland is well worth further exploration, as is Londonderry or Derry (as we call it) which was honoured in 2013 having been chosen as the UK's first City of Culture, which was a huge success and led to the city being nicknamed Legend-derry. If you do decide to visit, its iconic Peace Bridge designed to mimic a handshake of peace across the River Foyle is not to be missed....

Susan Byron, with the Peace Bridge in Derry in the background.
londonderry
Less than 2 hours from Dublin, Belfast is the gateway to the Glens of Antrim and the famous Giants Causeway and Dunluce Castle which is on every tourist's bucket list. But there is so much more to see 'Where the mountains of Mourne sweep down to the sea', Carlingford and its Lough founded by the Vikings in the 795 and the wonderful Ard's Peninsula which has not one but two wonderful stately homes, Castleward and Mount Stewart within a stone's throw of each other.
You can follow the Antrim Causeway Coastal from Carrickfergus, through Cushendall, Cushendun, Carnlough and Torr Head all the way around to Portrush, a very famous golf resort with its beautiful Whiterocks beach via Ballycastle and the Carrick-a-rede rope bridge.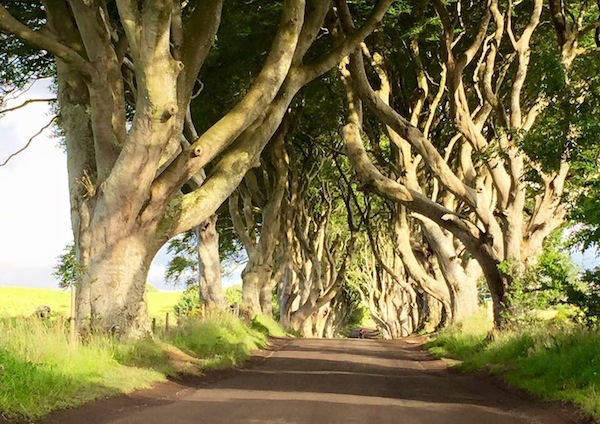 Glen of the Hedges or the Dark Hedges, film location Game of Thrones, Northern Ireland.
game of thrones
The Game of Thrones film locations, especially the Glen of the Hedges are proving wildly popular with day trips available from Belfast and Dublin. And while the Game of Thrones TV series is over they have just opened a new exhibition centre in the Linen Mills Studio in Banbridge which I hope to visit soon, will keep you posted.
And of course we tour most of Northern Ireland on my tours including Belfast, the Titanic centre, the Antrim Coastal Causeway Route and the Giant's Causeway. For more information regarding my Guided Tours of Ireland's Hidden Gems please click here.  
For more about Southern Ireland please click here.