Guided Tours of Ireland's Hidden Gems 2024
Guided Tours of Scotland's Hidden Gems 2024
Big Houses in Ireland
Big Houses in Ireland range from state owned and managed properties like Castletown House and Emo Court to private properties such as Beaulieu and Bantry which have remained in the same family until the present day. Unfortunately, they have had a chequered history, down through the years, with a large number of them actually having been torn down and burned during the 'troubles'. As they signified a connection to England which was not popular at the time, as many of them had been built on huge tracts of land granted to English noblity in return for military service to the crown. Known as West Brits, the families that occupied them often intermarried and became more Irish than the Irish themselves, despite their English heritage. Many of these grand houses and vast estates have since 'vanished' having been built at a time when labour was cheap and plentiful, which is obviously no longer the case with many of them struggling to remain open, never mind maintained....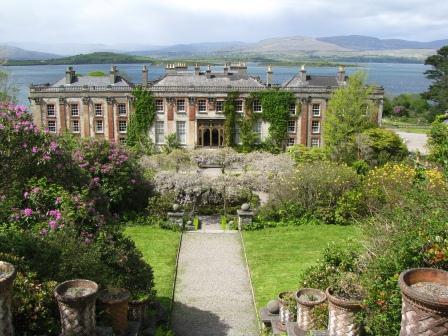 Bantry House, County Cork
Bantry House in Cork took the bold initiative of being the first to open its doors to the public in 1946 in the hope of raising an income and keeping a roof over their heads. Many others starting taking in paying guests for the summer months, which is a delightful way to vacation in Ireland, especially if you appreciate the elegance and comfort of bygone days. Others such as Aras an Uachtaran, home to the president of Ireland, currently Michael D Higgins and Farmleigh both belong to the Irish Government and are open to the public when not in use for state occasions. And finally the Swiss Cottage deserves a mention and inclusion here, while not officially a big house, this cottage orné was designed on a scale similar to the ethos and grandeur of the Trianon in Versailles that was built for the ill fated or favoured, Marie Antionette, Queen of France.
To get a flavour of what owning one of these properties entails please watch the following video....
The 10 Best Big House in Ireland are...
1 Aras an Uachtarain official residence of the President of Ireland, open to the public on saturdays on a first come first served basis ticket allocation from the Pheonix Park Centre next door.
2 Bantry House beautiful family owned house on the shores of Bantry Bay in West Cork with the most magnificent diningroom you will see anywhere in the world.
3 Beaulieu in Drogheda, County Louth the first unfortified big house in Ireland, open during the summer for guided tours by a local historian.
4 Castle Ward County Down, is really two houses in one! With a magnificent palladian facade and interior on one side of the house with a curious Victorian Gothic finish on the other to reflect the owner Lord Bangor and his wife's separate tastes.
5 Emo Court County Laois, fabulous house with magnificent interiors set in wonderful parkland with the longest avenue of Witsonias in Ireland.
6 Farmleigh a government owned house in the Pheonix Park used for visiting dignatories including Queen Elizabeth II when she visited in 2011, open daily to the public when not occupied.
7 Belvedere County Westmeath, another house with a curious history, in a beautiful raised setting overlooking Lough Ennell.
8 Fota House County Cork, it has recently been renovated and re-opened to the public and has a magnificent walled garden and orangery.
9 Castle Coole County Fermanagh is without the best big house in Ireland (in my opinion) but mainly because all of the original furniture commissioned by the architect James Wyatt is still in situ.
10 Swiss Cottage Cahir, County Tipperary one of only 3 cottage ornés in Europe, with rose covered arbours and hand made wallpapers from Paris.
View Ireland's Hidden Gems - Big Houses in a larger map