The Wild Atlantic Way
The Wild Atlantic way preview
The Wild Atlantic Way claims to be the longest defined coastal route in the world, covering some 2500 kms, which Google, or anyone else who has never actually driven in Ireland, will tell you is perfectly feasible to drive in 41 hours and 40 minutes....Good luck with that, as they say in Ireland!
While that might very well be the case on perfect roads elsewhere in the world, it certainly isn't true in Ireland, besides what hurry is on you? Having driven all over Ireland myself, I can reliably inform you that a round trip of 100 kms as in the Inishowen 100 in Donegal or the Beara Peninsula in West Cork both just tiny sections of the Wild Atlantic Way, will realistically take you a minimum of one day, preferably two, to do the scenery any kind of justice at all. Don't pay any attention to the 'elasticated' mileage signs (in kms of course) and endless photo opportunities. So, unless you can take a month off work, preferably six, I recommend doing the Wild Atlantic Way in the following small bite sized pieces.....
Or better again, join me on one of my Guided Tours of Ireland's Hidden Gems and I will show you the very best and most scenic sections of this wondrous and epic coastline, while you sit back in comfort and let someone else do all the all the navigating and driving.....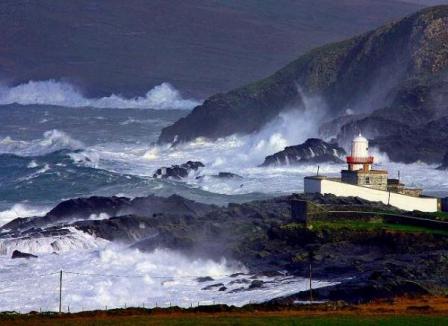 Cromwells Lighthouse, Valentia Island, County Kerry, Ireland
Wild Atlantic Way top 10 scenic drives
Susan's Top 10 Scenic Drives on the Wild Atlantic Way, with a few extras thrown in for good measure that I couldn't resist....
1 Inishowen Peninsula, County Donegal is superb, start in Derry City and / or take the ferry across from McGilligan Point, you can see the sea from everywhere on Inishowen. Don't miss Grianan an Ailleach at sunset for 360 degree views of Derry, Lough Foyle and Lough Swilly.
2 Fanad Head Drive, County Donegal inspired by fond memories of the Donegal Rally tearing around these coastal roads with sheer drops and stunning coastal views. Donegal has the best beaches in Ireland too, in fact Ballymastocker, was voted one of the Top 10 in the World.
3 Hornhead Loop, Dunfanaghy County Donegal, incredible especially at sunset when the low setting sun highlights the cliffs. One of my absolute favourites but then again there is nothing I don't like about Donegal including Arnold's Hotel and Muck and Muffin's Café or Shandon's spa. 
4 Slieve League Cliffs and on out to Malin Beg, Glencolumcille and Ardara via the Glenesh Pass. Twice as high as the Cliffs of Moher and totally unspoiled, as yet, with only a fraction of the visitors, these cliffs are well worth seeing. Don't come back without going out as far as Malin Beg, a perfect horseshoe beach with 100 steps leading down to it.
Ardara to Maghera is possibly the most varied and beautiful short drive in Ireland, backed by haunted glens, a beautiful waterfall, a white sandy beach with wind whipped dunes and a boardwalk and huge caves where the locals hid from Cromwell when he was on his murderous campaign throughout Ireland.
The drive down from Donegal to Sligo is spectacular in its own right even though it is on the main road, with Mullaghmore on the seaside and Ben Bulben, Ireland's own table mountain inland. 
Downpatrick Head, the Ceide Fields (the oldest field system in the world) and on out as far as Benwee Head and Bellmullet on Black Sod Bay are good too, if you have the time?
5 Atlantic Drive Achill Island, the original and best, it's fantastic! Drive up to the top of Minaun for 360 degree views of Achill, Keel Bay, Clew Bay, Croagh Patrick. The icing on the cake is the drive there or back taking the long way around via Corraun for enticing views of Clare Island. 
6 Westport to Louisburgh and on down to Leenane via Doulough hauntingly beautiful literally, as a lot of people died in this valley during the famine. And then on out to Clifden via Kylemore Abbey with a detour to take in the Sky road and then back through Connemara surrounded by the Twelve Bens Mountains to Galway.
7 Black Head Drive, the coastal route from Kinvara, which must be the most photographed castle in the West, Dunguaire via Ballyvaughan, a charming seaside village with thatched cottages and on out through the karst limestone region of the Burren to Black Head, Doolin and the Cliffs of Moher. 
Loop Head is excellent too, start in Kilkee another perfect horseshoe bay and Victorian styled seaside village, don't miss the Bridges of Ross, or the Ark in St Mary's Church, have a pint in the most westerly pub in Ireland, Kealy's or something to eat in the Longdock in Carrigaholt which does excellent seafood.
8 Slea Head Drive Dingle is famous the world so you can't go wrong, Inch Beach, Dingle, Coumceenole, the Great Blaskets, Dun Chaoin, the heritage centre there, the beehive huts and lots and lots of tourists. Although, I prefer the far side of the Dingle Peninsula over towards Brandon Creek and Kilmalkedar Church which covers every period in history as it is far less crowded.
9 Ring of Kerry ditto, spectacular but busy, busy, busy in July and August, my tip leave late and travel anti clockwise via Kilorglin, against the tour buses. It's bright in Ireland in summertime until about 11pm, so there is no need to be up at the crack of dawn, by late afternoon you will have the roads to yourself.
Or do the smaller loops around Valentia Island or Ballinskelligs where the tour buses can't go, much quieter and every bit as spectacular. Drive up to the top of Geokaun for 360 views of Dingle, the Blaskets, Cahirciveen, the Magillicuddy Reeks and the Skelligs. Walk in the 385 million year old footsteps of the dinosaurs or sip hot chocolate in the Skelligs Chocolate Factory overlooking St Finan's Bay.
10 Beara Peninsula, still one of Ireland's best kept secrets and one of the most beautiful places in Ireland, you could spend days down here and never be found again, with any luck! Highlights include Uragh stone circle, organic mussels in O (without the apostrophe) Sullivan's Pub in Lauragh and the vertiginous Healy Pass.
The drive out to Mizen Head via Crookhaven in West Cork is good too, also Sheep's Head which is a walker's paradise. Three Castle Head is possibly THE most beautiful place in Ireland?
For a short taster watch the following video clip by Tourism Ireland...