Slieve League Cliffs, Donegal
Tourists tend to flocks to the Cliffs of Moher which clocks up a million plus visitors a year, but did you know that the cliffs at Slieve League (or Sliabh Liag as Gaelige) are twice as high with a sheer drop of 2000 feet into the Atlantic ocean. Mind you, they are still only the second highest cliffs in Ireland, as Croaghaun on Achill Island although inaccessible (to most people) are close on 3000 feet high. A visit to Slieve League Cliffs is a different experience altogether than the Cliffs of Moher, for starters very few tourists go there, and there is no interpretative centre (yet so it's free) the locals quite rightly are dead against the area being spoiled. However, there is a nice new tarmac road up to the viewing area, you can drive or walk up, which is well worth it believe me as you might just catch a local farmer and his sheepdog rounding up his sheep who don't seem to mind the vertiginous cliffs at all. And while the cliffs are fenced off you can hike (carefully) up as far up as self explanatory 'one man's pass' to the summit.....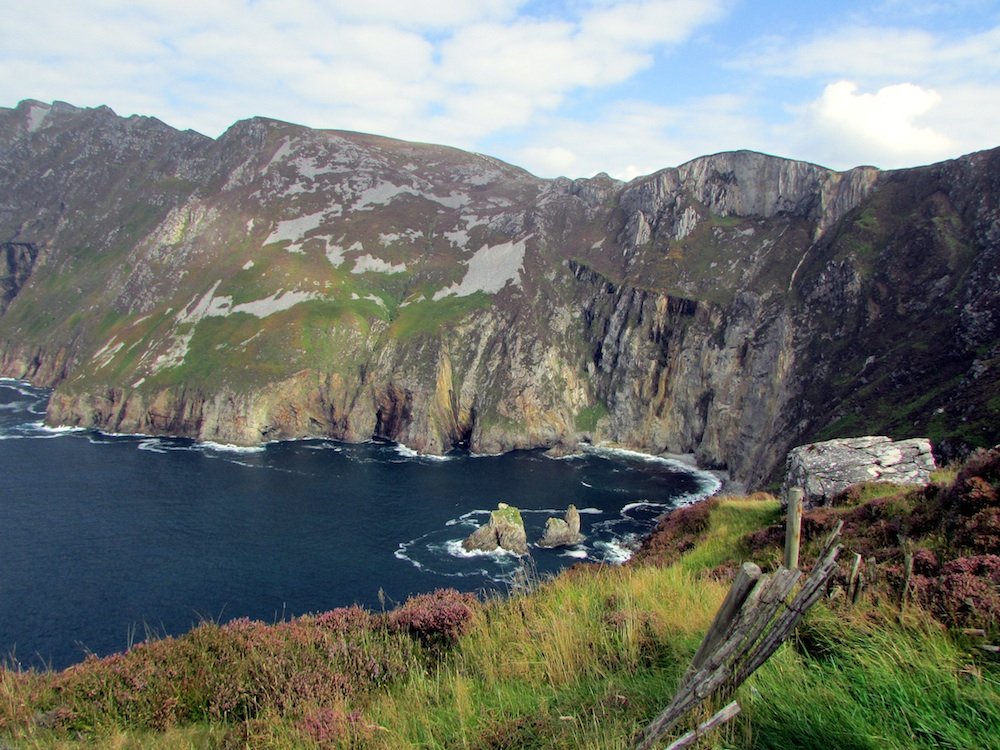 Keep an eye out for dolphins who often play at the base beside the Giant's chair and sea eagles. Once upon a time an eagle snatched a child and flew out to sea with it and all the people gathered to pray at a local holy well for the safe return of the baby. This, apparently, is a true story told to me by Paddy, who along with his wife Siobhán run Tigh-Linn which is an award winning cultural centre nearby in Bunglass, which also has an excellent café / restaurant and craft shop. Paddy is a deep sea fisherman turned barista with a masters in archaeology and a degree in tourism, he is an expert guide and storyteller (the baby was returned by the way). They both share the cooking which consists of freshly baked scones and cakes, super coffee, homemade soups and seafood salads throughout the summer.
You can take a boat tour of the cliffs on the Nuala Star from the harbour at Teelin, or visit one of Irelands biggest fishing ports at Killybegs and from there the heritage town of Ardara. Or take the coastal route a bit further west to Malin Beg with its perfet horseshoe bay and then following the spectacular Wild Atlantic Way coastal route north into Glencolumkille, where the saint of the same name established Christianity in the area. You can visit the Folk Village at Glanbeg or take an Irish language course in Oideas Gael but above all you can drink in the scenery, kick back and enjoy the ceoil agus craic (music and fun) in this far flung corner of Ireland. By the way in case you don't have the time or energy to walk to the top of the summit of Slieve League you can get a feel for here.