Guided Tour of Ireland Hidden Gems 
Introduction
Planning a Trip to Ireland in 2024? Do you dream of fairytale Irish castles, enchanted green landscapes & spectacular ocean scenery? How does a luxurious, personally guided, small group tour (24 people max) at an affordable price sound to you? Good, then why not  join me (Ireland Expert Susan Byron) on a magical Tour of Ireland's Hidden Gems next year? And don't worry we will tick all of the Big Boxes too! Experience the unique, colourful history and pristine environment that has crafted modern day Ireland's vibrant culture and lifestyle that we enjoy today that is the envy of the rest of the world.
Each tour lasts 15 days with two free days in Dublin at the start of your trip, with 48 hour Dublin Sight Seeing Bus passes for independent sightseeing included in the tour price. You will also have another free day in Galway at the end of the first week's tour, to let you catch your breath!
Not that it will be in the least bit manic, there will definitely be no rushing about or flag following involved! Just a nice, relaxed,  gently paced Tour of Ireland, taking in most of the major sites and tourist attractions as well as those Hidden Gems, that I am so passionate about, that you would never get to see on a regular tour, not to mention Ireland's magnificent scenery.....
Inishmurray Island, County Sligo
About Susan's Guided Tour of Ireland
As many of you probably already know, I have spent the last 15 years travelling the highways and byways of Ireland, seeking out new Places to Visit and interesting Things to Do and See for my website Ireland's Hidden Gems. Well, now is your chance to come and see them with me, Susan Byron on an intimate, personally Guided Tour of Ireland. And we'll have fun, trust me, I am born and bred Irish, so it kind of goes with the territory! My tour will start and finish in Dublin and take in all of Ireland, which is why it takes two weeks, as you can't possibly 'do Ireland' in any less time than that....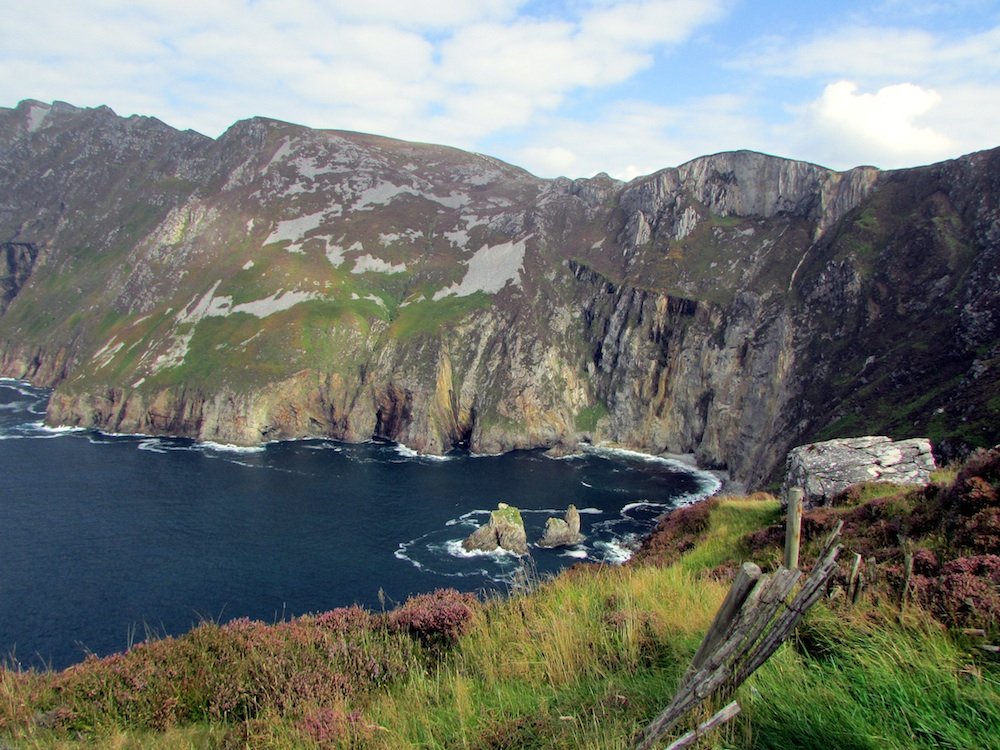 Sliabh Liag, County Donegal
After a couple of independent sight seeing days in the capital city of Dublin, we will visit the Royal County of Meath first, taking in the neolithic complex of Newgrange (Brú Na Boinne) the Hill of Slane and Monasterboice before travelling North to Belfast. Where we will visit the Titanic Museum, Belfast Castle, the Giant's Causeway and Londonderry. Then we will cross over into Donegal (which most tours skip) I can never understand why? As the scenery up there is so beautiful, it will make you cry. Where we will be visiting Grianan an Ailleach, Burt's Chapel, Glenveagh Castle, Sliabh Liag and Glencolmcille before making are our way down the Wild Atlantic Way to Westport, Connemara, Kylemore Abbey and Galway where we will pause for a 2 night break. Tickets to Trad on the Prom, only the very best Irish music and dance show in Ireland, will be included while you are resting up, having covered the first leg of my exclusive Guided Tour of Ireland.....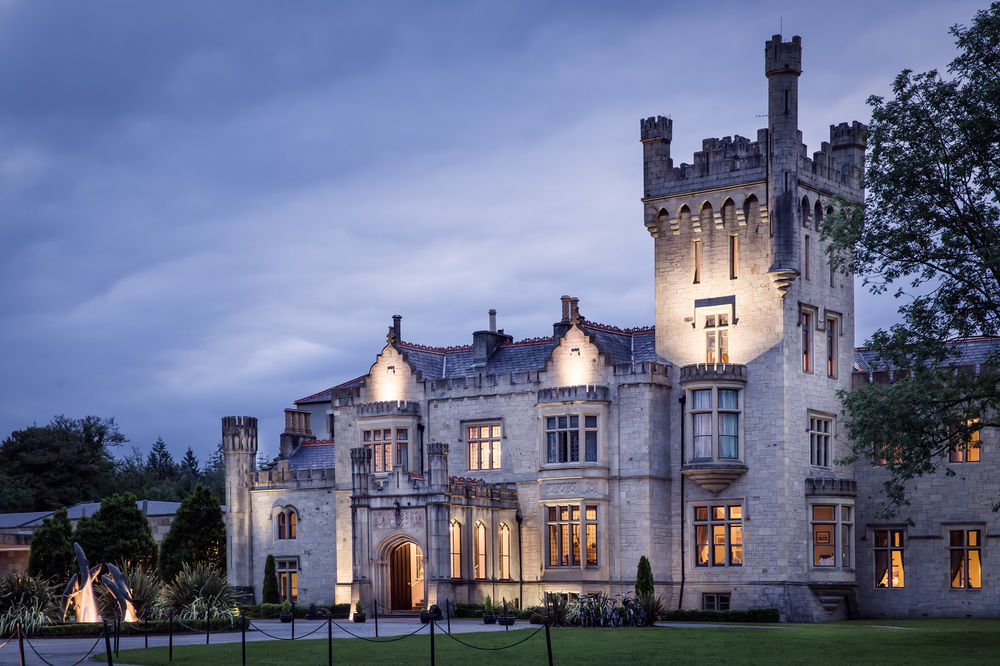 Lough Eske Castle, Donegal, where we stay for 2 nights.
Accommodation & Food
We will be staying in the best hotels, manor houses and even gorgeous Lough Eske Castle (pictured above) throughout our journey, where your comfort and satisfaction will be guaranteed. Dinner will be included in the hotels on alternate  nights with an opportunity to savour some of our gastronomic pub grub on the other evenings. Or sample some of Dublin or Galway's many fine restaurants on rest days if you fancy or perhaps just go easy on the scales!
You will be staying in luxurious rooms with king size beds and private bathrooms. Breakfast is included every morning, which will be generous enough to keep you going all day long, although you can always opt for a continental breakfast either delivered to your room, if you prefer? We will be stopping regularly for rest stops, cakes and coffee and /or a light lunch most days or whenever the mood or humour takes us.....Special dietary requirements are well catered for in Ireland, just let me know at time of booking and you will be well looked after....
Organic mussels fresh from the sea with a pint of Murphys!
Sightseeing and Entertainment
There will be no rushing from A-B on my luxury Guided Tour of Ireland, I assure you and I am more than happy for folk to stop up and take photographs, I do it all the time myself ! Group sizes are limited to 24 people but usually average out at 20/22. We will be travelling in style in a luxury Mercedes coach with air conditioning, free wifi, bottled water and umbrellas should we experience the odd drop of rain! Plus my own personal selection of easy listening Irish music for when I am not regaling you with Irish history, tall tales and old yarns....
And we won't ever be driving ridiculously long distances either (1 - 2 hours maximum) as I have plenty of Hidden Gems to show you en route, that I know will surprise and delight you.....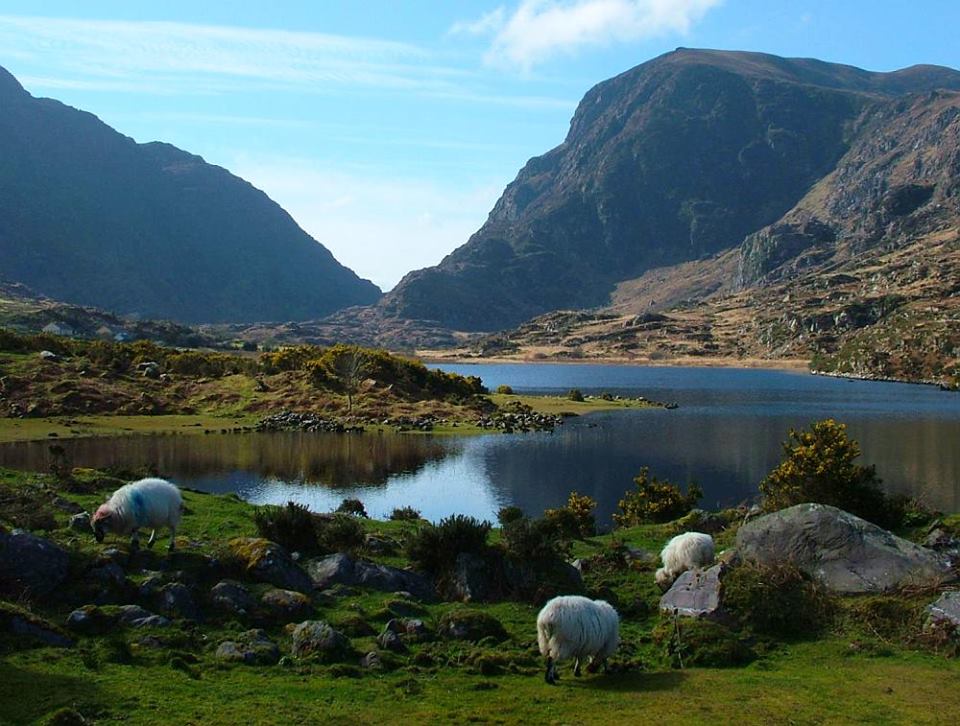 Gap of Dunloe, Killarney, County Kerry
From Galway, we will continue South on our Guided Tour of Ireland along the Wild Atlantic Way, down through the Karst limestone region of the Burren to Doolin and the Cliffs of Moher with a wild flower walk and weather permitting a sight-seeing cruise. From there we will head further South to Dingle and the spectacular Slea Head Drive before continuing our journey to Killarney where we will be staying for 2 nights in Muckross Park Hotel, another luxurious 5 star resort with an outdoor hot tub and adult only spa. From our base in Killarney you will have the option of doing the Ring of Kerry (Susan style) or taking a boat trip on the famous Lakes of Killarney or jaunting car ride through the grounds of beautiful Muckross House and Gardens in Killarney National Park....I can also organise golfing or fishing trips if required for any clients with a special interest in either pursuit and indeed any other special requests.....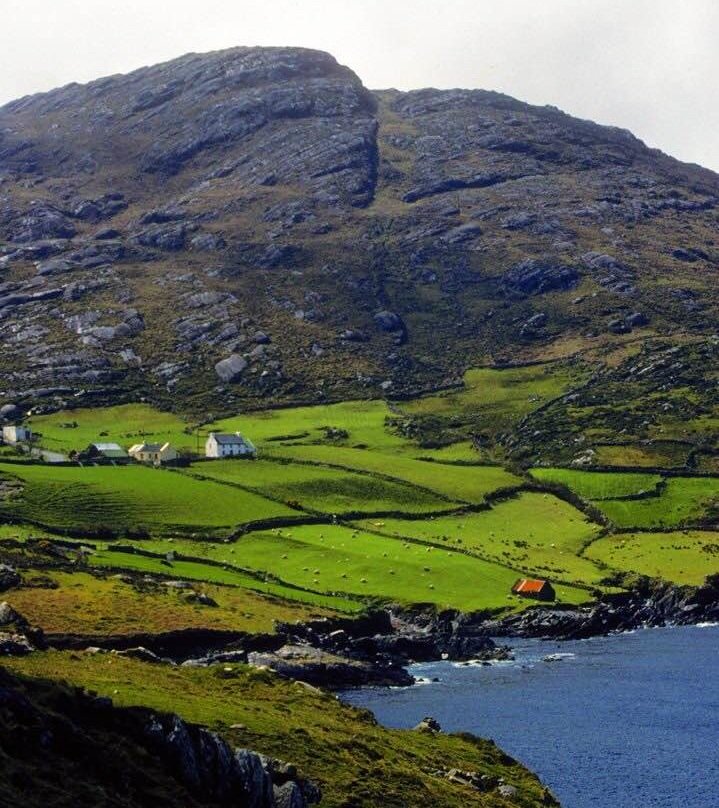 The land that time forgot, the Beara Peninsula....
We will then step back 5000 years in time at the Uragh Stone Circle on the beautiful Beara Peninsula in West Cork and stay overnight in the colourful little seaside town of Kinsale which is chock full of delightful craft shops, galleries, bookshops, cafés and restaurants, perfect for souvenir shopping! Before making our way slowly back to Dublin via Kilkenny, with a private tour and Irish whiskey Tasting at the Jameson Distillery in Middleton, followed by a visit to the iconic Rock of Cashel en route, before overnighting at the Lyrath Estate in Kilkenny, another magnificent 5 star country house hotel with a visit to Kilkenny Castle and Craft Centre the following morning, before hitting the road for Dublin, with a final stop at the Irish National Stud in Kildare, before dropping you off at one of Dublin's finest airport hotels that evening prior to your flight home the following day....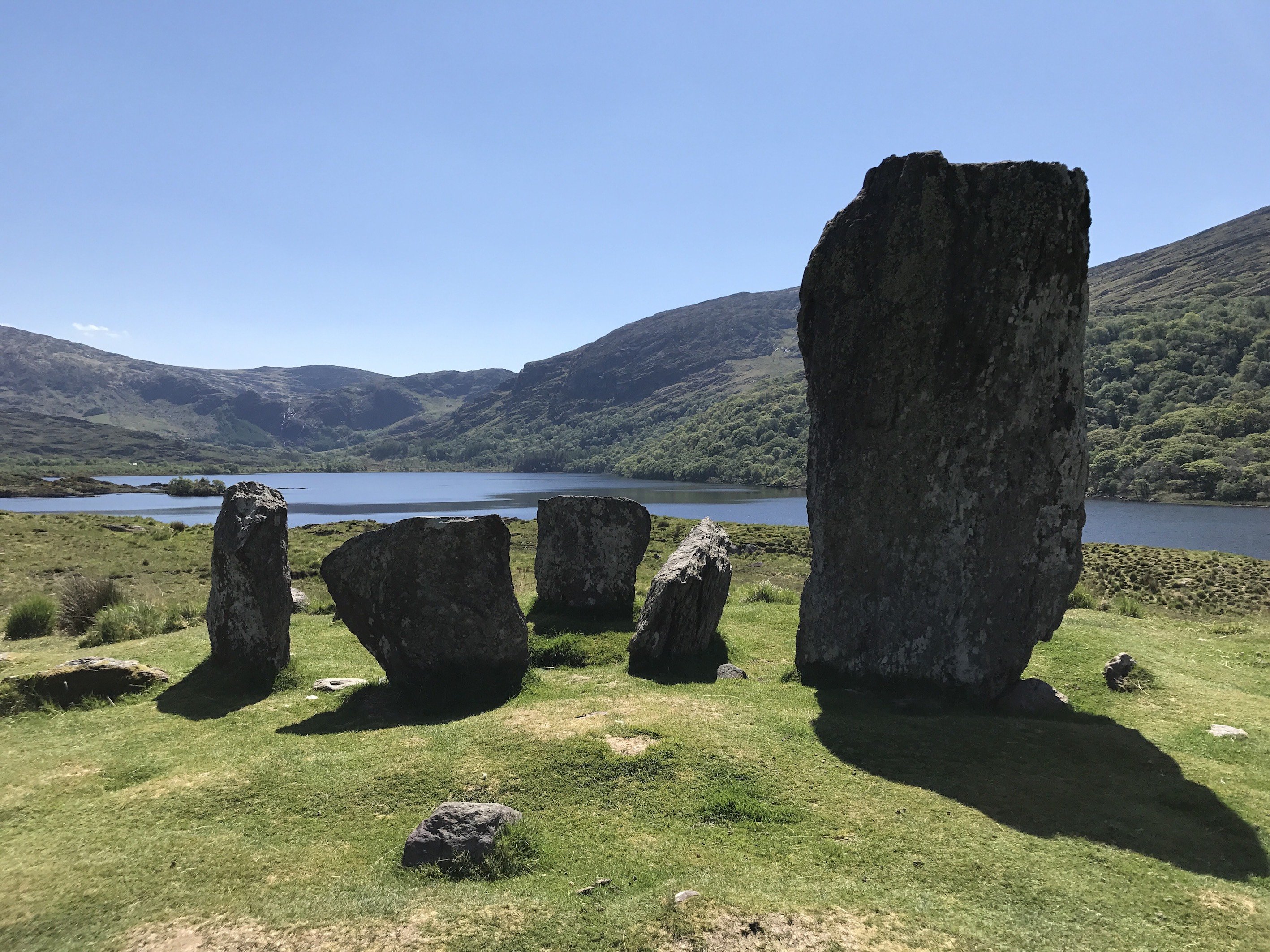 One of Ireland's Hidden Gems, Uragh Stone Circle....
And those my friends, are only a few of the Highlights of my Guided Tours of Ireland for 2024. There will be plenty more Hidden Gems included that I will keep under wraps for now, although if you register your interest by filling out the form below, I will gladly send you a much more detailed itinerary. Admission charges to all of various visitor attractions mentioned above as well as special excursion tickets will be included, also complimentary 48 hours Dublin Bus Sightseeing passes in Dublin, tickets to Trad on the Prom in Galway and an Irish whiskey tasting session at the Jameson's Distillery in Midleton en route...

tour Dates & Prices
Ireland's Hidden Gems Tour Dates 2024
Tour No 1 8th - 22nd of June 2024 €5950 per person sharing, arrival date on or before the 8th of June, departure date Sunday the 23rd of June 2024 Sold Out

Tour No 2 29th of June - 13th of July 2024 €5950 per person sharing, arrival date on or before the 29th of June, departure date Sunday 14th of of July 2024 6 spaces left
€450 discount per person on the July Tour of Irelands Hidden Gems 2024 ends on November 30th 2023
Tour No 3 7th-21st of September 2024 €5950 per person sharing, arrival date on or before the 7th of September, departure Sunday the 22nd of September 2024 Sold Out
The tour price of €5950 includes all accommodation, food, visitor attractions & special events, government taxes, charges & gratuities, but excludes flights. Prices quoted are per person sharing in a double or twin room, with private bathroom. A single supplement of €1000 applies to solo occupancy. To secure your place on one of the above tours you will need to pay a €500 deposit with the balance payable in two instalments.
If you wish to register your interest and receive a detailed Itinerary for the 2024 Tours please fill out the form below or you might like to read some of the reviews posted by previous tour participants at the following link Ireland's Hidden Gems Tour Reviews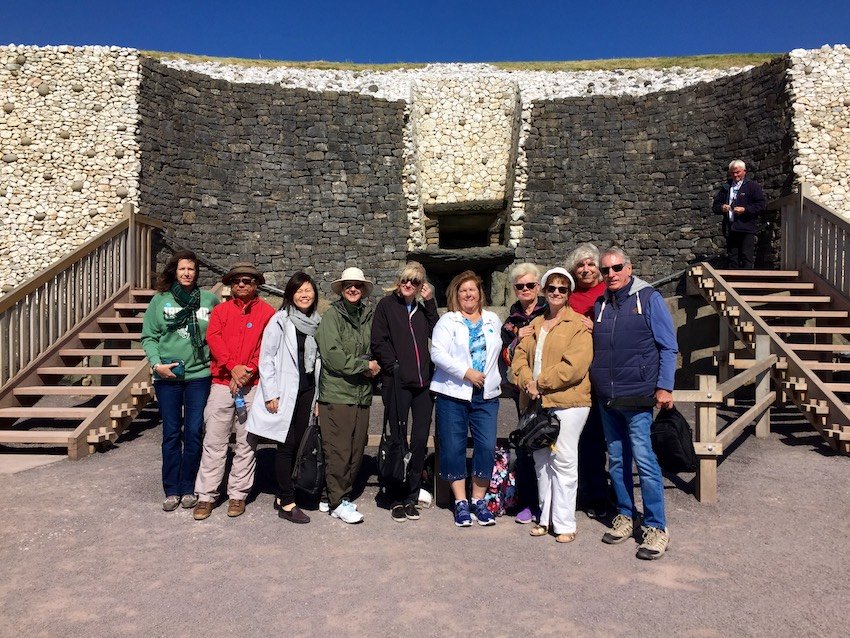 May 2017 Tour Group Photo at Newgrange, County Meath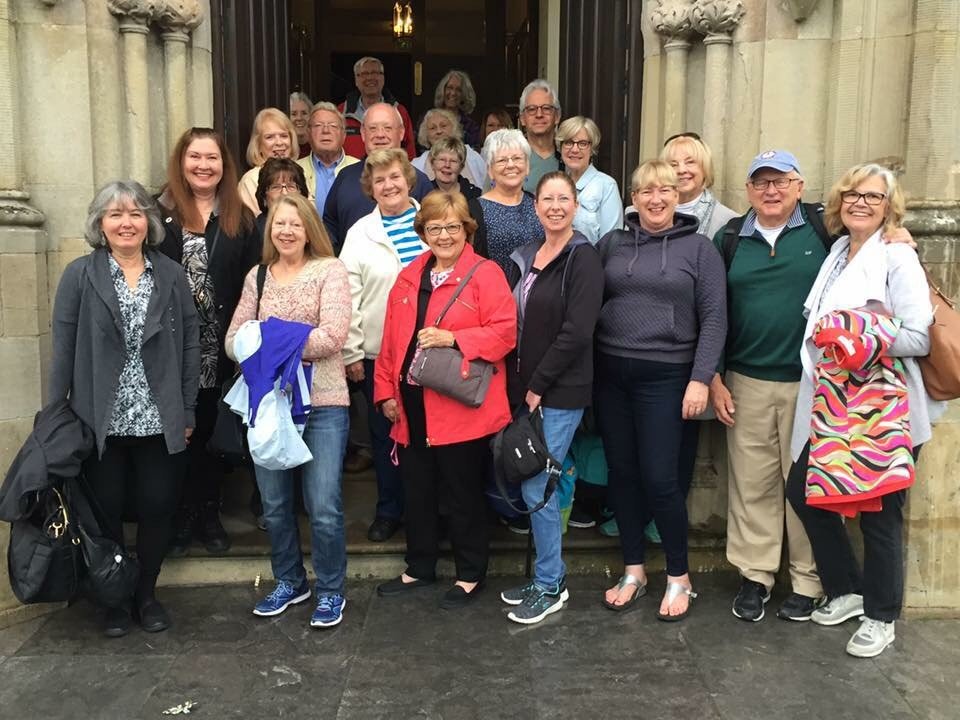 June 2017 Tour Group at Lough Eske Castle in Donegal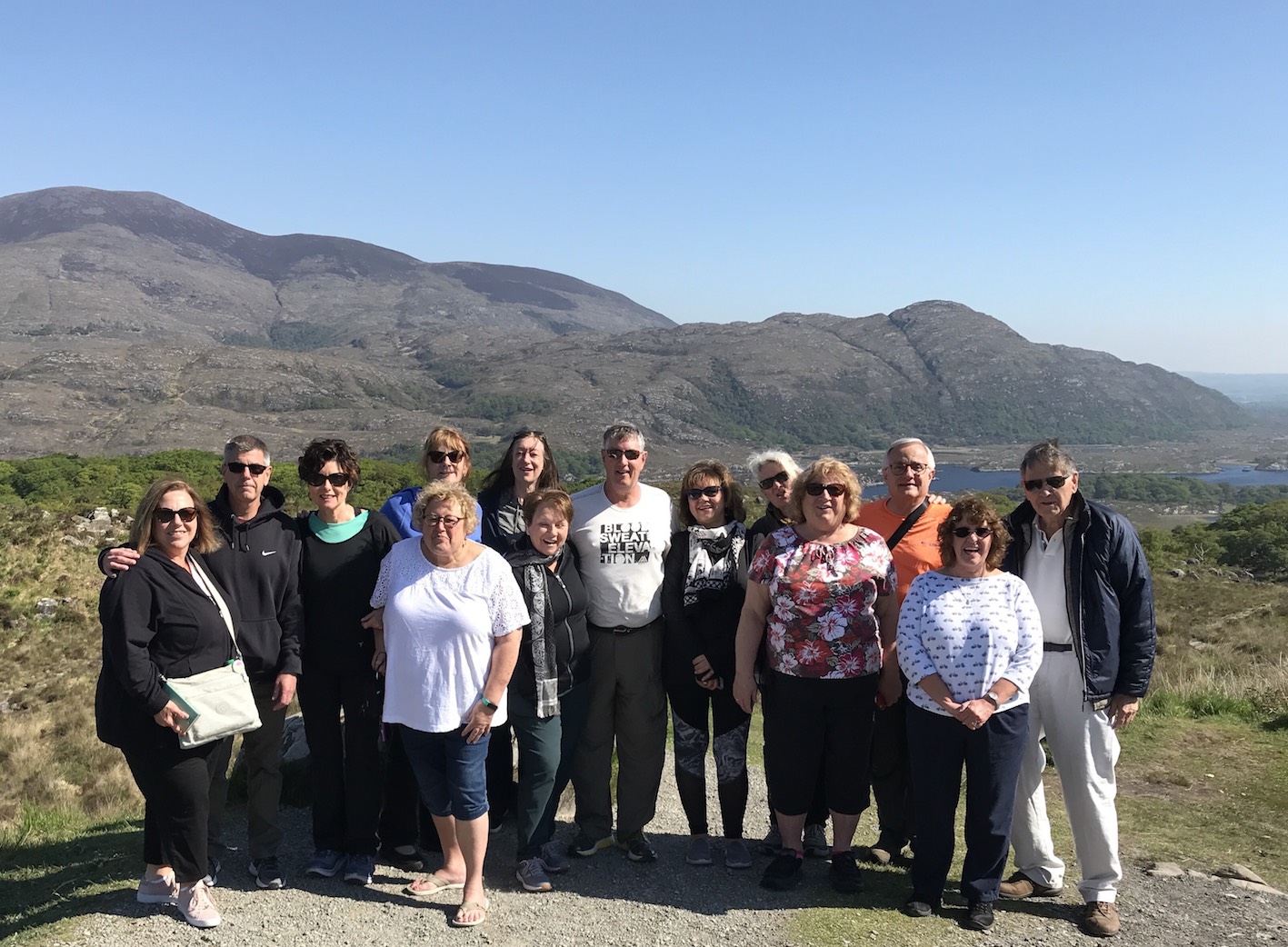 May 2018 Tour Group at the Ladie's View, Killarney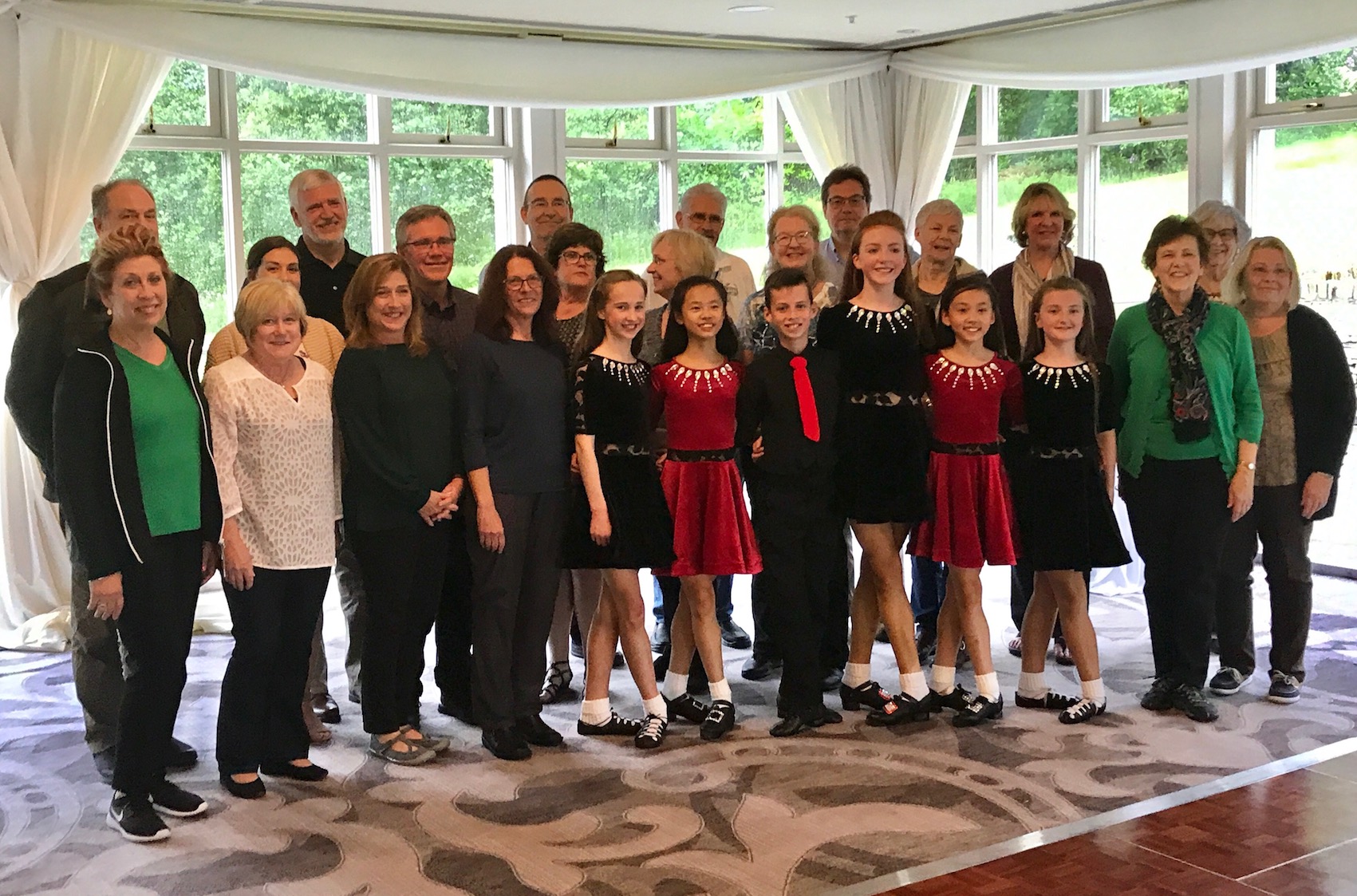 June 2018 Tour Group with young Irish dancers in Donegal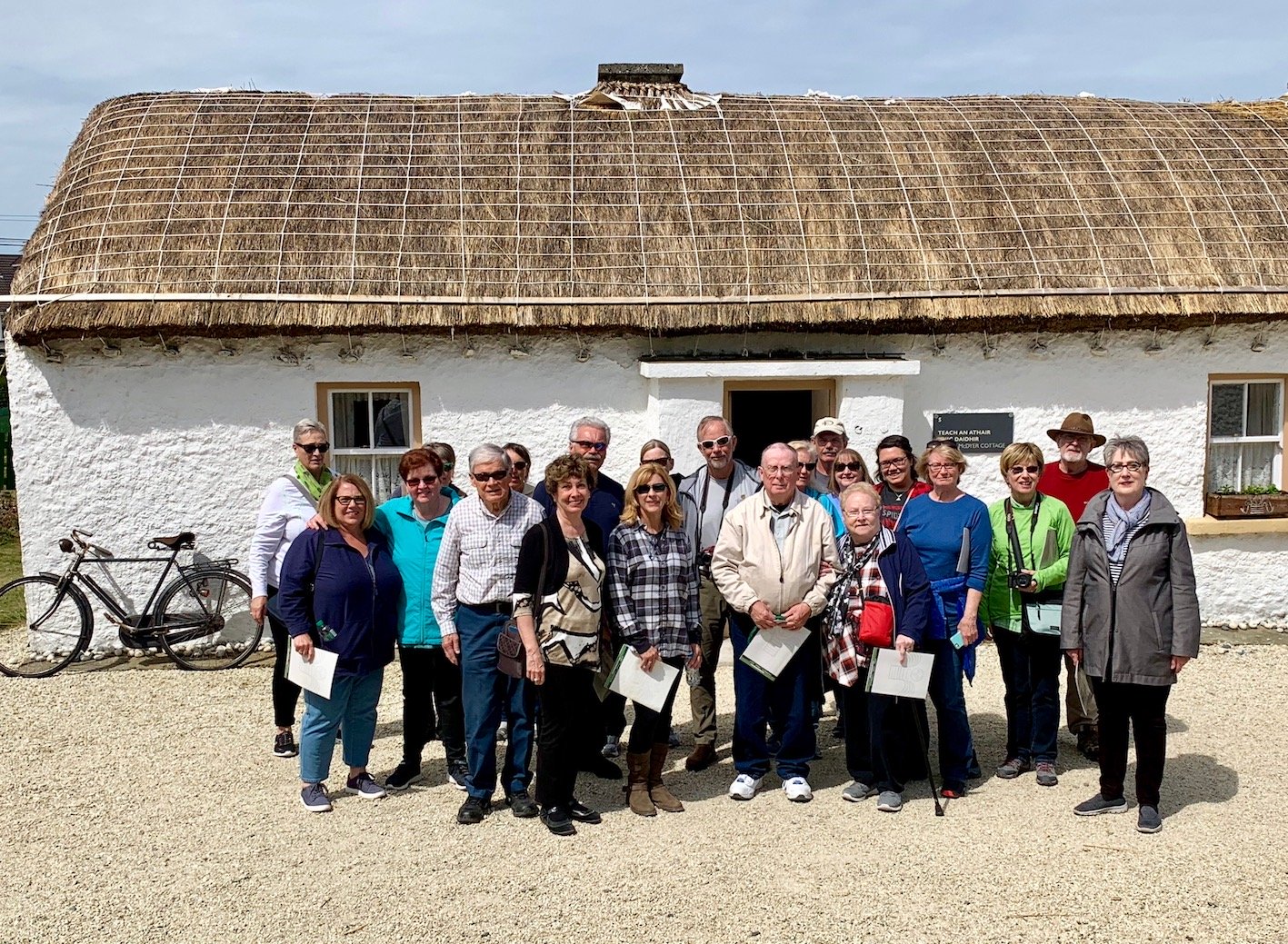 May 2019 Tour Group in Glencolmcille Folk Village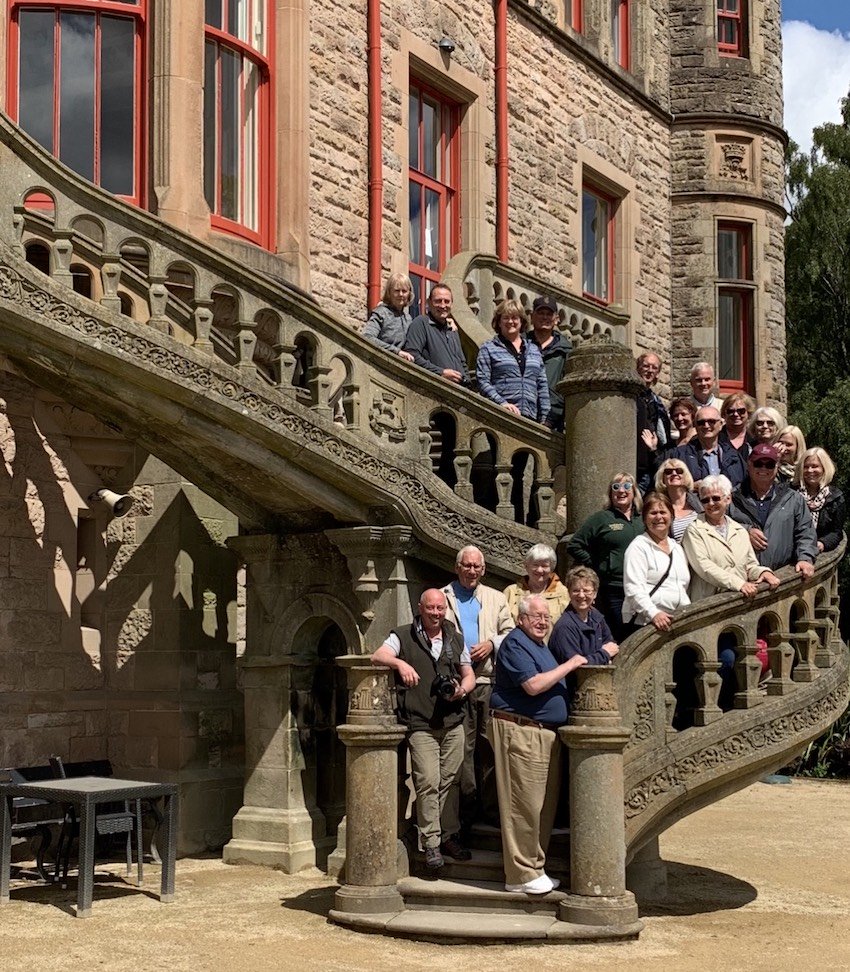 June 2019 Tour Group at Belfast Castle, Belfast
2019 September Group, Lough Eske Castle, Donegal
                                Covid Break 2020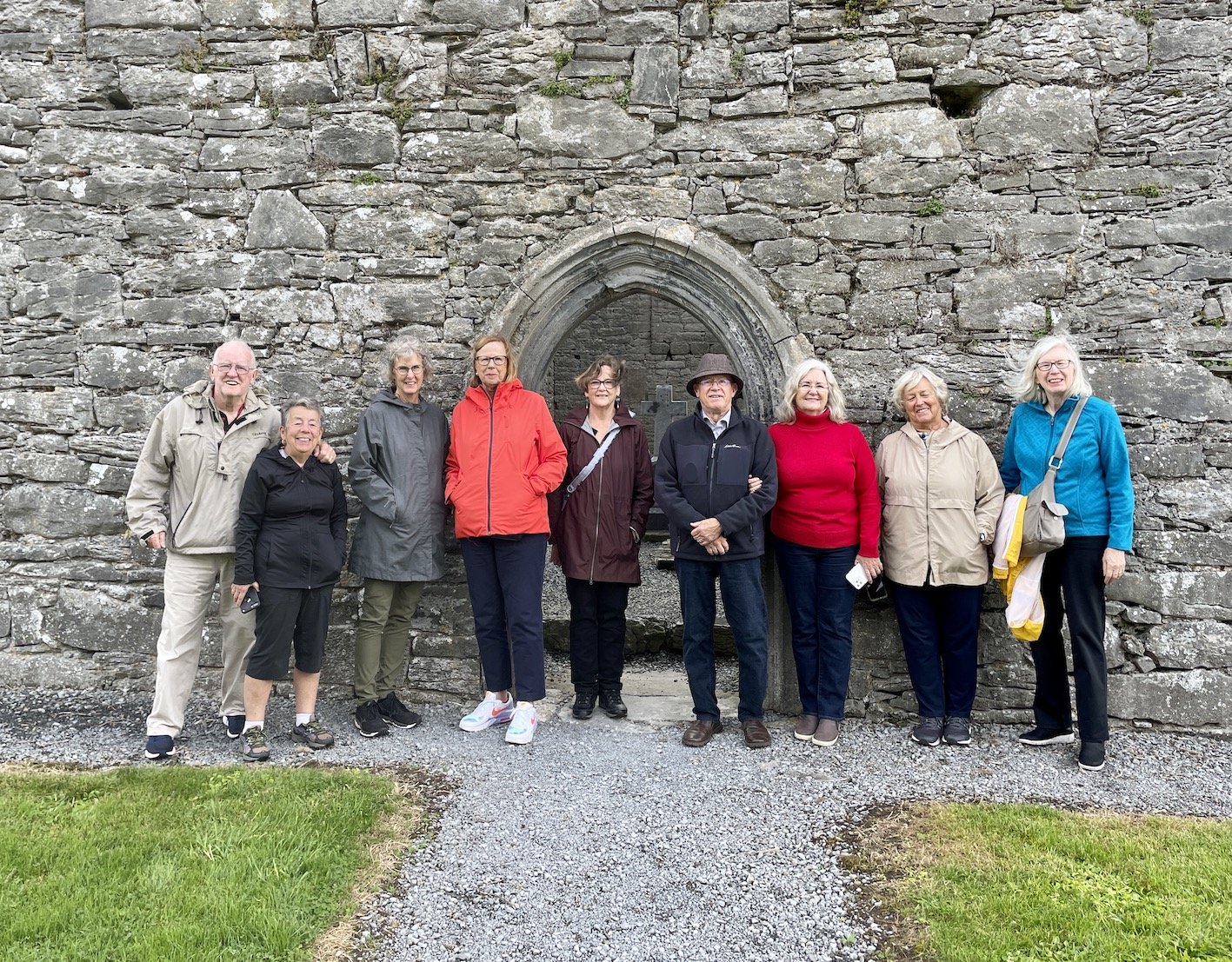 September 2021 Classic Tour Group at Corcomroe Abbey, County Clare
September 2021 Reunion Tour Group at Ashford Castle, County Galway
June 2022 Tour Group at the Rock of Cashel, County Tipperary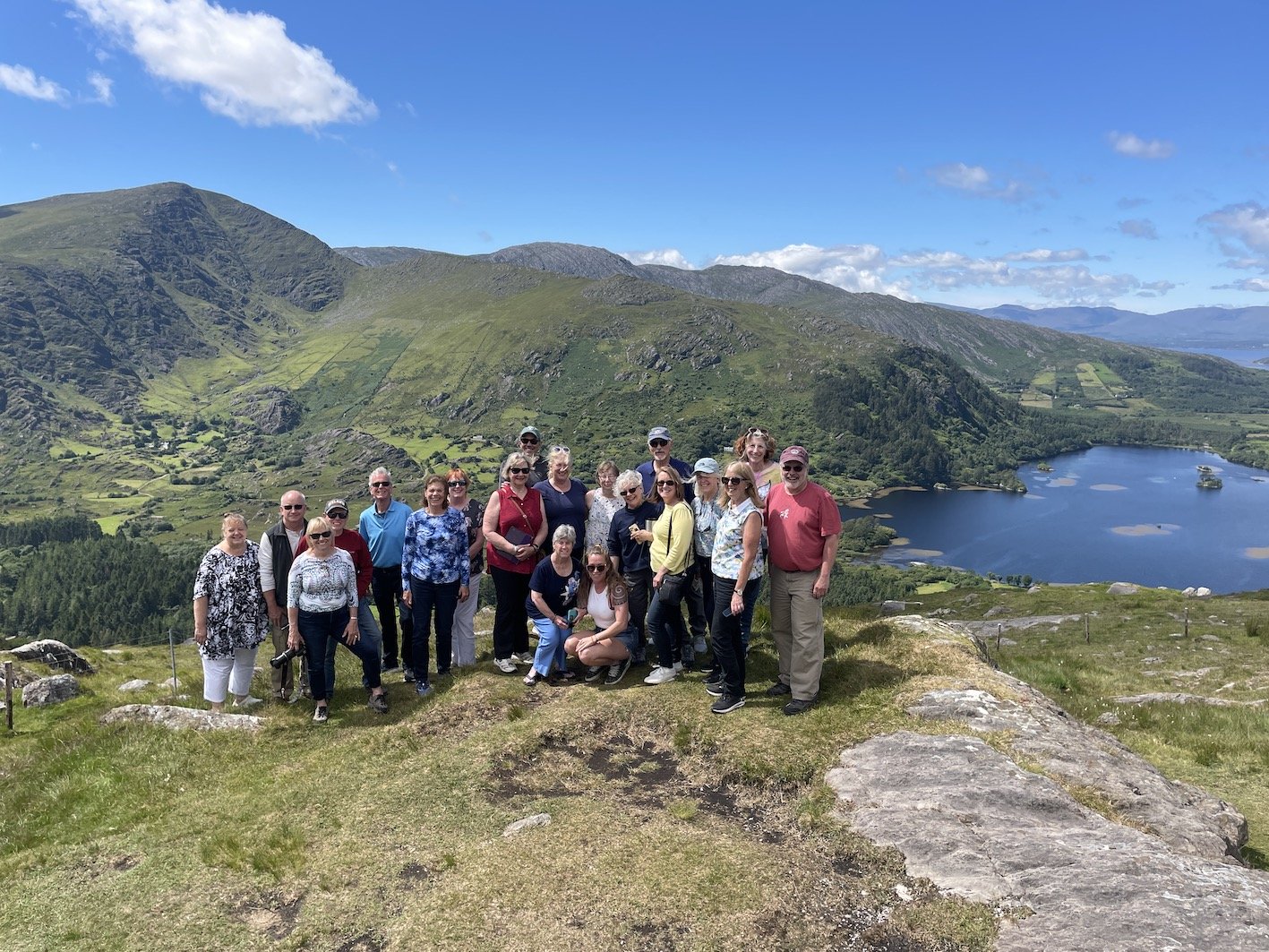 July 2022 Group Healy Pass, County Kerry
2022 September Group Parke's Castle, County Leitrim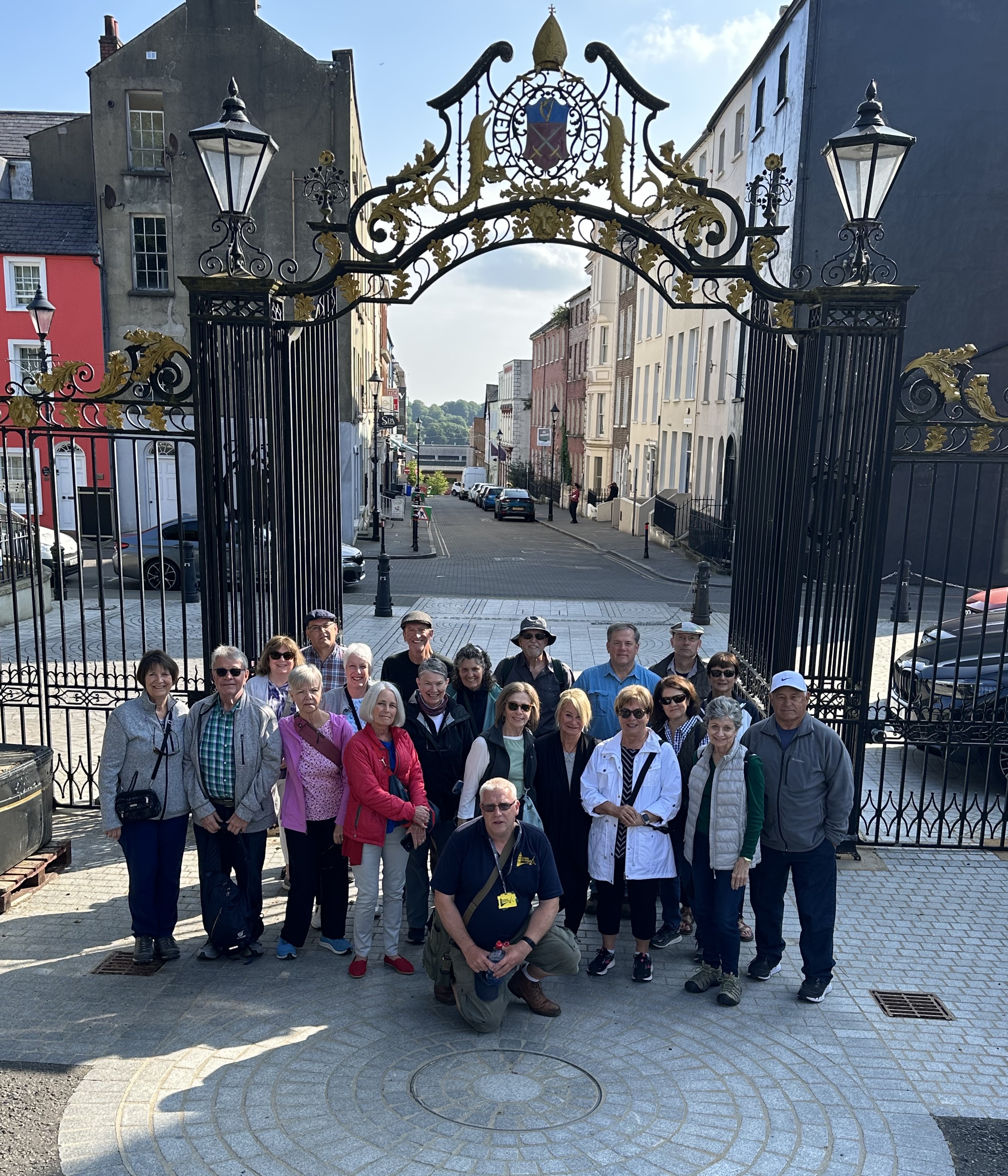 June 2023 Tour Group, St Colman's Cathedral, Londonderry
2023 July Tour Group, Choctaw Monument, Middleton, County Cork
Or if you would prefer to email me directly re any aspect of my Guided Tours of Ireland I would be delighted to hear from you and happily answer any queries you might have, Susan Byron
I will leave the last words to Jane who has fallen truly, madly, deeply in love with Ireland who came back again with her husband Rod to join me on the Reunion Tour in 2021...They will soon be travelling with me on my Scottish Tour in 2023.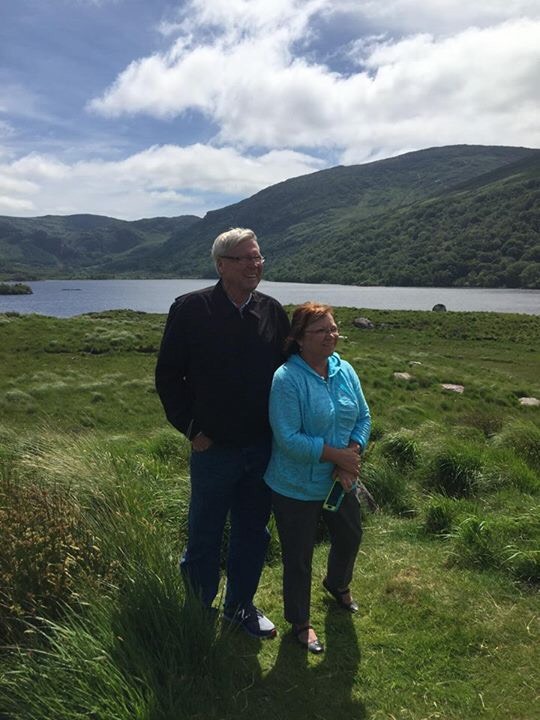 Jane & Rod Mullins at Uragh Stone Circle in West Cork
After our second trip to Ireland in October of 2016, my husband remarked to me that he wasn't done with Ireland yet.  And shortly after that, Susan Byron's Facebook postings caught my eye.  It was her way with genuinely expressing in her posts her love for her country.  In the past, we had traveled with guides who lived outside of Ireland.  I knew she was the one who would make Ireland grow into our bones.  And we weren't disappointed with our 15 day tour around the whole isle. From the very beginning in Dublin, she displayed a true love for the history, culture and mainstay of her homeland.  She did not disappoint us in her stories, either.  We learned more about the country than previous trips exposure.  The trip allowed us to meld with the true Irishmen.  I remarked to her one day, that I finally understood the culture through the love of telling a good story, to knowing a good song or dance, and being immersed in a community; something solely missed in the United States at this time. The places we visited were an extension of the best sites to feel this immersion.  And her ever smiling face and warm welcomes to establishments that she personally knew their reputation and supportiveness of true entrepreneurship of the locals.  It is a trip that we will always cherish..Susan, thank you for sharing the true Irish spirit (s) with us…much gratitude for a front row seat!
Jane & Rod Mullins, Ohio, USA