Belfast City
There is no escaping the fact that Belfast was a troubled city, it is evident in the architecture, the Europa Hotel's famous claim to fame as the most bombed hotel in the world and yet there is a resilience in its people who have endured so much that is truly endearing. On the 25th anniversary of the Good Friday Agreement which signalled an end to "The Troubles" the city is enjoying its new found peace and economic growth. So, I would urge to go and see this wonderful city that is working hard to go about its business normally and build a thriving tourism industry. Belfast's flagship is the magnificent new Titanic Museum which opened in 2012 on the 100th anniversary of the sinking of the Titanic, that was built in the Harland and Wolf shipyards, that has now expanded into the fantastic Titanic Quarter......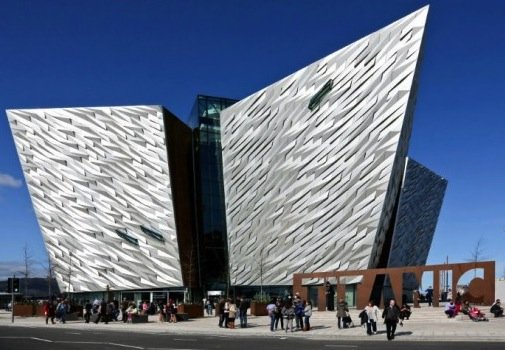 Which includes a new hotel where my groups stay and Mac, a new contemporary Arts space. WI5 an award winning children's science museum, as well as several stained glass panels depicting various scenes from the popular series Games of Thrones. To get your bearings and a handle on the history of Belfast I strongly recommend you take a Black Cab Tour of the city which takes you around the infamous landmarks associated with the 'troubles' and explains the history behind them in a balanced and neutral way. My driver was a Protestant married to a catholic which would have been a very difficult if not impossible situation 30 years ago. You can sense the tide has turned since the Good Friday Peace agreement in 1998 it is just going to take a long time for the wounds to heal on both sides. (Tip) don't forget you will need sterling up the North.
 Top 10 Things To Do and See in Belfast
1 Black Cab Tour this is my No 1 thing to do in Belfast especially if you don't know or understand anything about 'the troubles' excellent for getting your bearings, you can book online or at any hotel, where they will also pick you up and drop you back.
2 Belfast City Hall beautiful Edwardian building and centre of administration for Belfast, in the middle of town. You take a guided tour or visit its own poignant memorial garden to those lost on the Titanic. 
3 Belfast Castle visit the castle and cat themed gardens for free and enjoy the beautiful views out over Belfast City by day or night from its elevated site on Cave Hill in North Belfast..
4 Belfast Zoo another timeless, classic similar to Dublin Zoo, close to the above on the Antrim Road. My Belfast born and bred Facebook fans voted this their favourite visitor attraction. Very reasonable admission prices (50% cheaper than the South of Ireland) £8 adult, £4 child and £21.60 for a family with free car parking. 
5 Crowne Liquour Saloon is a wonderful Victorian pub interior with original gas lighting, stained glass windows, painted mirror and plenty of snugs, good restaurant upstairs with an excellent beef pie with pastry topping, service could be a little more friendly?
6 Metropolitan Arts Centre is a brand new art/dance/ theatre space in Belfast, their current exhibition is a major Andy Warhol retrospective the first in Northern Ireland.
7 Stormont Castle will be instantly recognizable from all the TV coverage it is the seat of the British government in Northern Ireland and office of the First Minister, currently Peter Robinson. You can take a tour of the castle or a walk down the famous avenue.
8 Titanic Experience superb architecture, fantastic layout and exhibits, I liked the scrolling floor plan and the replica seabed theatre. Tip book your tickets online and afternoon tea beside the Grand Staircase.
9 Ulster Folk and Transport Museum on the way out to Bangor consists of a reconstructed street scape, cottages farms, houses, shops etc with costumed guides depicting how life used to be in Northern Ireland and the kind of trades that were popular and unique like the linen trade.
10 WI5 in the Odyssey Centre in Belfast is an award winning interactive children's science museum designed to engage the 5 senses and answer the eternal who,what,where, why, when questions.
For more information  on Belfast City please click here.