Tour reviews 2023,2022,2021, 2019,2018, 2017
Latest news and reviews.... Three Tours of Ireland completed this year and one more to go in Scotland. It's all go and wonderful to be back on the road again with Paul. We have had three lovely groups this year already with fantastic weather on the June & September Tours lots of warm sunshine with the mercury tipping 27 degrees which is rare in Ireland, but then again you never know what to expect weather wise! Susan
Dear Susan,
This trip exceeded our expectations! Your wit, charm, attention to detail and tireless effort on behalf of the group made our visit special. The opportunity to meet local people, visit out of the way sites and enjoy the spectacular landscapes of Ireland made touring with you beyond anything we could of imagined...
Thank you Roger & Mary Brown (Florida) 
Susan,
We are truly grateful to you for making our Ireland trip the perfect celebration to remember for our 50th Anniversary. The trip has been truly amazing with great descriptions of history and geographical detail. You and Paul kept it lively, colourful and humorous. The day goes too fast. We are looking forward to telling friends and family about this trip and your expert knowledge, 
God bless you,  Jallene & Giles Dixon (Alabama)
Dear Susan,
How can we thank you? We loved every minute of our fabulous visit to Ireland, thank you so much...
Noreen & Joe McCall (Florida)
Dear Susan,
Go raibh maith agat. Your efforts created a collection of treasured memories..
Dia a bheith leat Tom & Boyoung Frost (Viriginia)
Dear Susan,
We can't begin to thank you enough for putting together this wonderful trip. We have seen the most amazing sites and enjoyed many unique experiences. We have also learned so much history along the way in a most enjoyable way. The whole tour has lived up to and exceeded its name Hidden Gems you are certainly one as well! We hope to see you on the road less travelled again...
Blessings to you & yours Anne & John Savage (Alabama)
Susan, 
Thank you! I truly enjoyed every bit of this trip! Your kindness and graciousness were a true delight. The food was grand, the accommodations great at every stop. I feel as though I have fallen in love with Ireland....
With a grateful heart, Dr Nancy Wade (Michigan)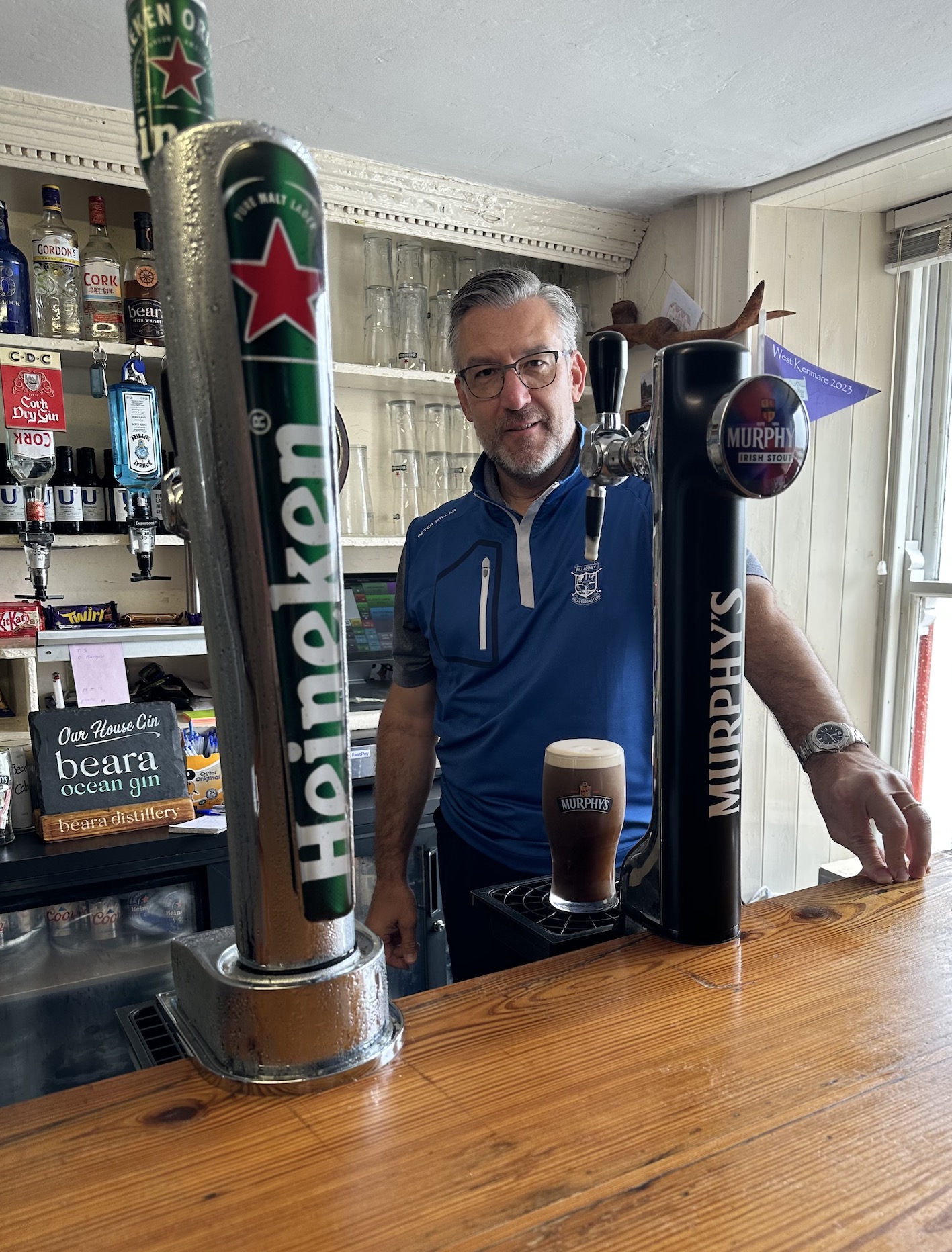 Rich Ramassini learning how to pull a perfect pint of Murphys
The weather was a little mixed, okay it rained quite a bit on the July 2023 Tour but nobody comes to Ireland expecting to get a suntan and it certainly explains our 40 shades of green ! In fairness it didn't dampen the group's spirit's one bit, maybe that had something to do with being above on high stools in Helen's Bar on the Beara Peninsula.....
The weather was a little mixed, okay it rained quite a bit on the July 2023 Tour but nobody comes to Ireland expecting to get a suntan and it certainly explains our 40 shades of green ! In fairness it didn't dampen the group's spirit's one bit, maybe that had something to do with being above on high stools in Helen's Bar on the Beara Peninsula.....
July 2023 Tour Group at the Choctaw Scuplture in Midleton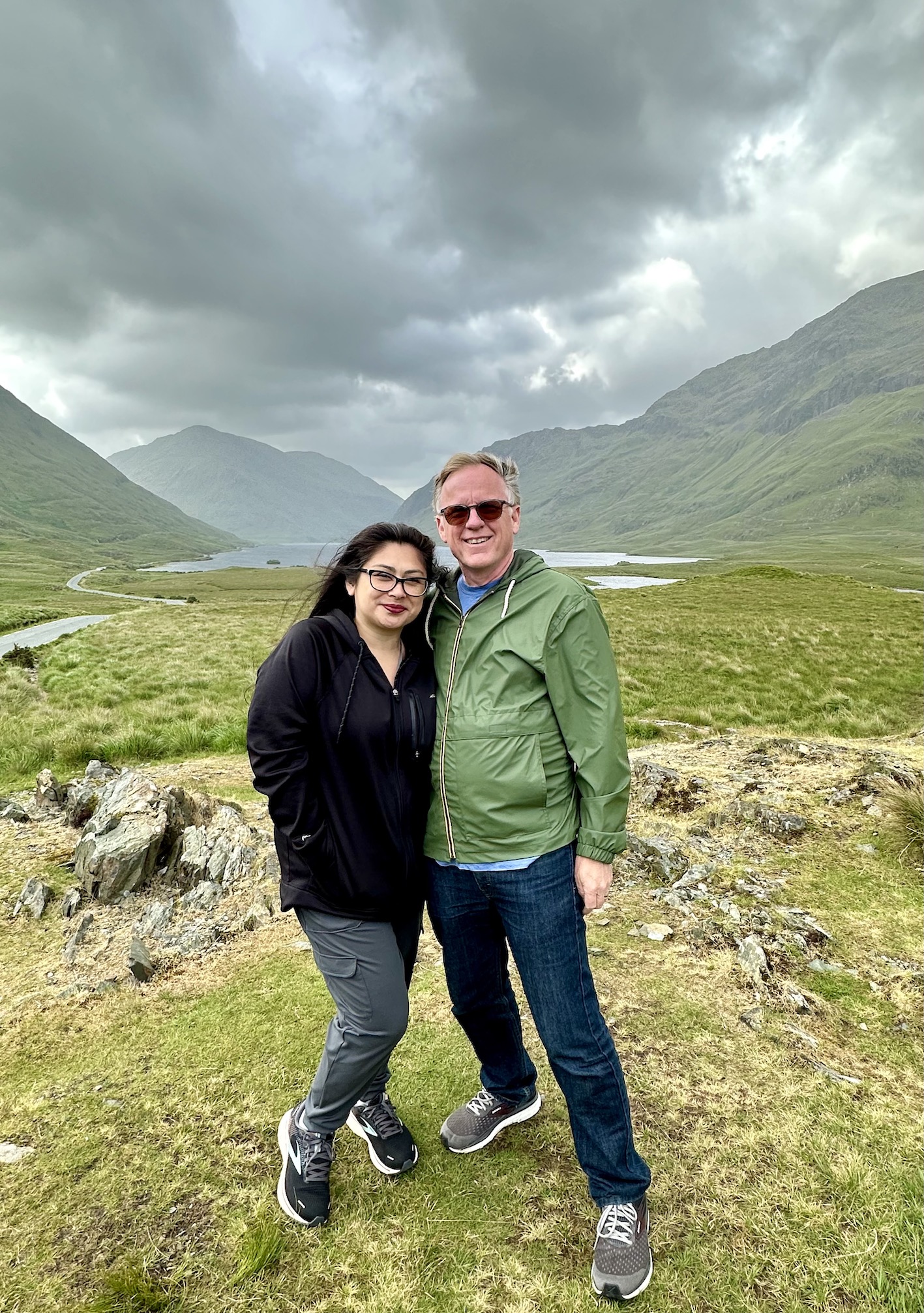 Susan, months ago we were excited about the itinerary of our upcoming Ireland trip. But we had no idea how great the experience would be, thanks to you, a leader who every day brought a wealth of information along with joy and positivity. This was the trip of a lifetime and we thank you for your commitment and kindness, Don & Marie Bott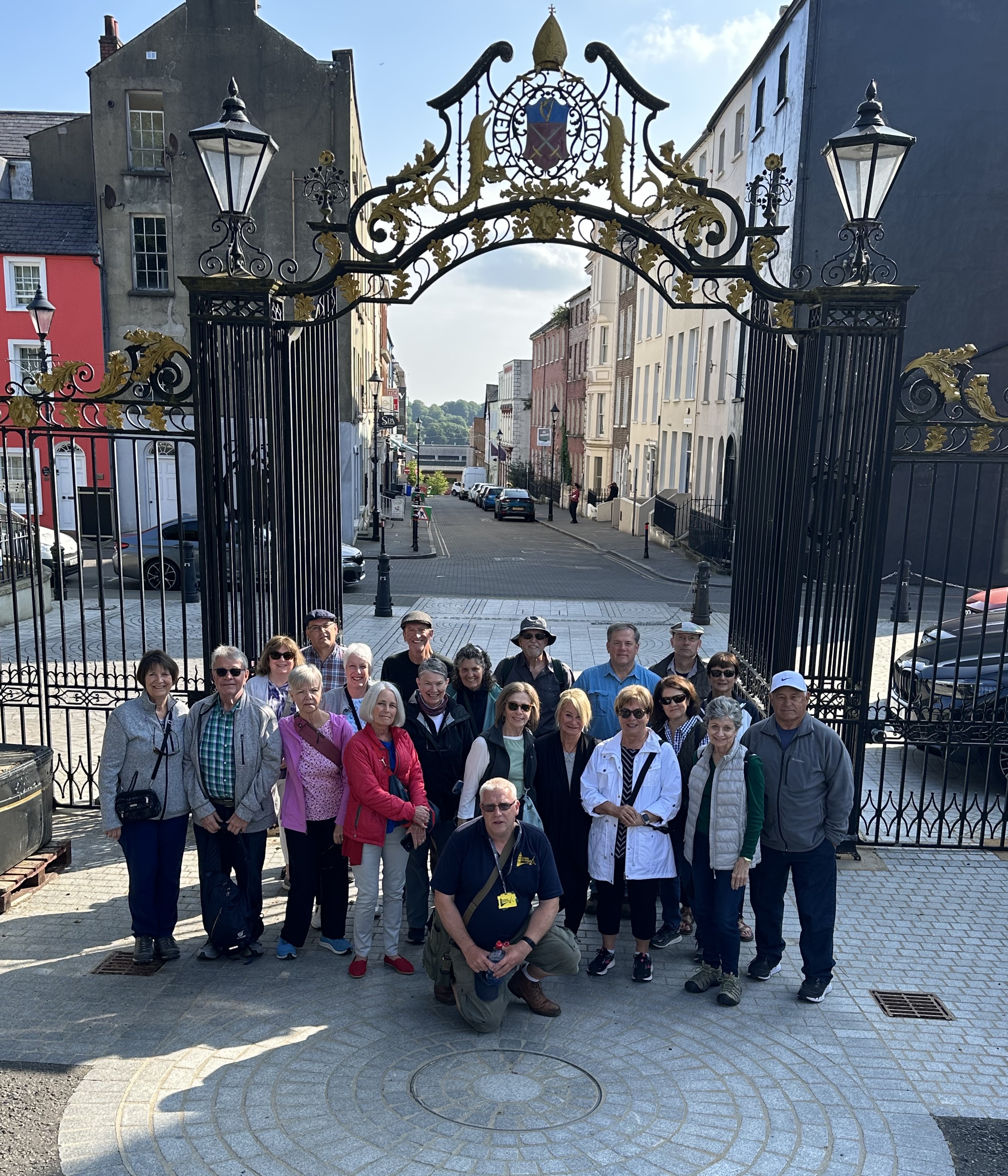 June 2023 Tour Group, St Colman's Cathedral, Londonderry
Patti Bettencourt, wrote this wonderful ode to the July 2023 Tour of Ireland's Hidden Gems....it pretty much tells you all you need to know about the trip, thanks a million Susan
T'was a fine trip to Ireland, a ten-hour flight.
Hop on/hop off to see Dublin's sights
A stroll across the Liffey is not very far.
Two beautiful cathedrals and roam Temple Bar.
Explore "Book of Kells" and authors of knowledge.
Too many to mention in Trinity College.
Learn about ancient Vikings and many new things.
Touch Molly Malone go to St. Stephens Green.
Newgrange and Knowth, Neolithic-stone art.
A prehistoric society under a green mounded part.
The Hill of Slane, a quiet Monasterboice.
Pray under high crosses, read poems by Joyce.
Motor to Belfast, they built the Titanic.
Her maiden voyage ending in panic.
An interesting museum tells "all" about the ship,
Construction, and people, on that ill-fated trip.
The Antrim Causeway with scenic routes.
A rope bridge and islands, dramatic photo shoots.
Giant's Causeway a geological site,
Volcanic basalt columns, and rare gulls in flight.
Londonderry's medieval "walk the wall".
William vs. James, and William took all.
Grianan an Aileach sits high on a hill.
A "ring fort" of stone with no mortar fill.
St. Aengus' Catholic Church, a stop, very quick.
A short little prayer and a candle was lit.
Glenveagh Castle a "curse" told in folklore,
Murder, then eviction of the hungry and poor.
A stay at Llough Eske , a luxurious estate.
Lush gardens and spas, truly first rate.
Sliabh Liag, the high towering cliffs.
Beauty and splendor give spirits a lift.
Glencolumbcille folk village, a primitive life.
Hard working existence for a man and his wife.
Studio Donegal weavers, the best in the land.
A 100-year tradition, craft products by hand.
This one-stop-shop to buy all you need.
Blankets, scarves, "jackets" and hand-loomed tweed.
The Wild Atlantic Way, so much scenery to view.
Overlooking Classiebawn Castle in a picture or two.
Parke's Plantation Castle with a traditional forge.
A defensive fortress surviving many wars.
A Country Life Museum shows a typical day,
weavers and thatchers using rushes and hay.
McCarthy's bar – Paul and Susan in song.
A jamming good session we all sang along.
Matt Molloy's Pub -Chieftan Matt played his flute.
Jammin' and singin' and drinkin' to boot.
Some fabulous craic we drank Dingle gin.
Could do this day over, again, and again!
Killary Sheep Farm with white wooly lambs.
We held some and cuddled and fed them by hand.
Shearing the sheep herded by REX a sheep dog.
Cutting the turf on the family-owned bog.
Kylemore Abby- its occupants are nuns.
Gothic church, creamy chocolates, and a mausoleum.
A trot down to Galway, a place called Eyre.
Shopping and pubs dominate the town square.
Trad on the Prom, a musical treat.
Fiddlers and banjos and drums keep the beat.
World winning dancers are vibrant and fast.
Blend modern and traditional dance of the past.
Off to the Burren, a beautiful green walk.
Susan points to her house, gives a wildflower talk.
A cruise along the bottom of the Cliffs of Moher.
Jaw dropping views more pictures galore.
St. Brigid's Holy Well is very close.
But don't touch the water, it's said to be gross.
A dinner fit for royalty a "Susan" menu.
A perfect end to the night, a storytelling venue.
Lets "smell the roses" in the city of Tralee.
Hundreds of species, all colors to see.
Then, Dingle, and Slea Head Drive.
Steep cliffs, high hedges - Paul keeps us alive!
A car CLOGS the way, it's embarrassing to admit
An American driver....... a fekken eejet!
Half go with Susan to the Ring of Kerry.
A chocolate factory, stone fort of a fairy.
Half tour Muckross, and an Abby to explore.
3 traditional farms, crops, animals and more.
Uragh Stone Circle, a rare sacred gem.
Your heart feels a flutter, it's warm deep within.
This "riddle of rocks" this feeling that's felt.
A mysterious people lived before the Celts!
Organic mussels, and Guinness beer,
Lunch at Helens makes you happy you are here.
Kinsale, a cute seafaring town.
Sailboats and yachts, and pubs all around.
The Jameson Distillery, the tour was POP!
Information and drinks and quite a few shots.
During the famine the Chocktaw sent aid.
A memorial of appreciation then the Irish repaid.
Rock of Cashel, its towers so tall.
Buit in the 1200s with fortified walls.
Off to Kilkenny a dinner of farewell.
Our last big gathering in the Lyrath Hotel.
The Kilkenny Castle is known for its rugs.
really beautiful tapestries without any bugs.
The final destination, Irish National Stud
"Invincible Spirit" that stallion's no dud.
Ireland Hidden Gem Report Card.
Here is your score.
Turdy tree and a turd....times tree =
But there's more.
Love your country, your people, the gems large and small.
Two gems most brilliant, are Susan and Paul.
Thank you and warm fuzzies,
Patty and Dennis
There are loads more reviews and photos to post and I will get around to them all soon. In the meantime if you are interested in joining me on one of my 2024 Tours of Ireland please fill out the registration form below and I will send you the full itinerary and details of my Early Bird Discount?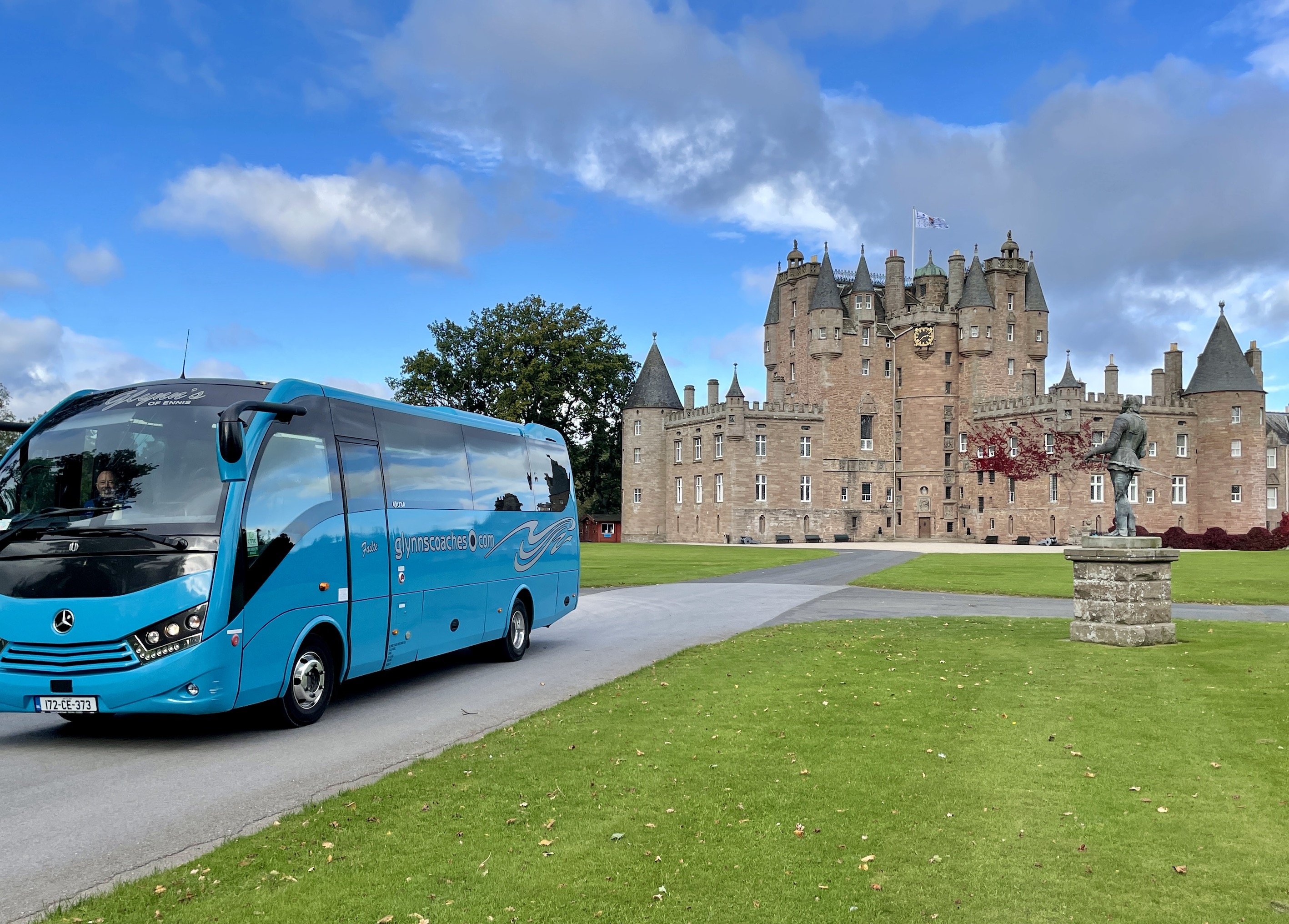 2022 Scotland Tour at Glamis Castle
2022 was the first year we went on a Tour to Scotland's Hidden Gems and what a blast we had and another super adventure with friends of old. The group was filled with people who had travelled with us in Ireland, so friendships were renewed over many's a dram of fine whisky and good food. We enjoyed a highland fling in Maryculter and a Jacobite themed dinner as well as petting Highland Cows and ticking castles of bucket lists. The scenery was stunning especially above in the Cairngorms and out on the Isle of Skye. We even managed to catch the Harry Potter express steaming along....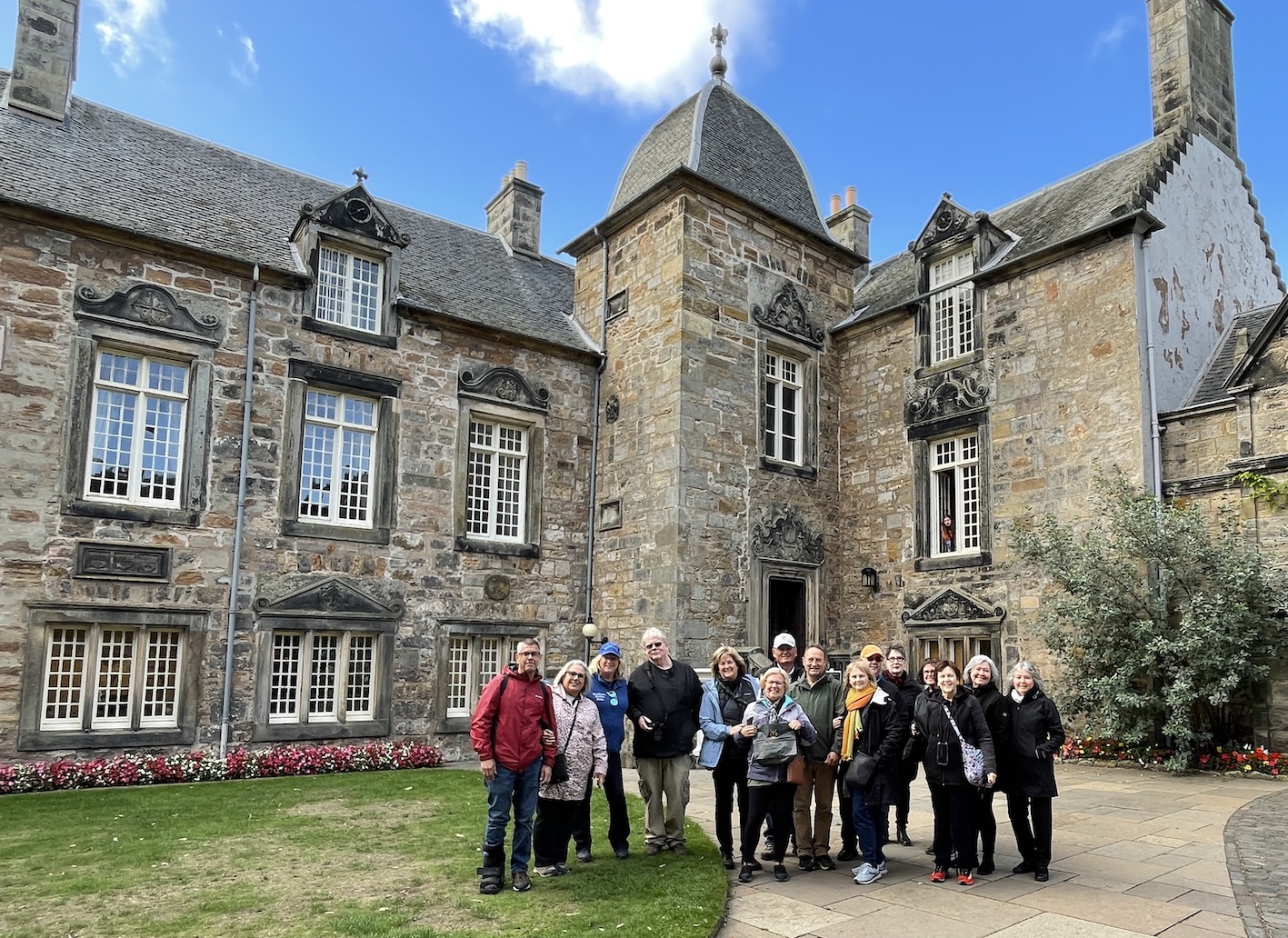 2022 Scottish Tour Group, St Andrews
We had a lovely group in June 2022 and were royally entertained by Shanty Bob who sang his way through the tour and did his best to rope us all in! Young Kyle travelled with his lovely grandparents Cindy and Bob Porter was a delight and quickly established himself as the official Tour Photographer! We had great fun and lots of laughs, the weather even played ball with lots of blue skies and picture postcard pretty photos. Smaller groups are much more intimate and new friendships were certainly forged, so no doubt we'll be seeing these same lovely faces again on another tour? 
June 2022 Tour Group at the Rock of Cashel
Susan, Thank you so much for planning such a wonderful vacation for us all. You've ruined me for travelling any other way...
Elizabeth Ibex & Jennifer Moran, Gettysburg, USA
Dear Susan, 
What a wonderful trip to Ireland we've had. Really enjoyed your humour, the Hidden Gems, the history, culture, music and food these last few weeks. Your kindness was outstanding and you care and attention was appreciated, best wishes
Cindy and Bob Porter, Oil City, USA
P.S. You are the best tour guide I've had. I had a blast coming here. I hope to come on the Scotland Tour Kyle
Susan, I feel like I have really SEEN Ireland....all the backroads, the off the beaten track things....
Karen Wiley, Omaha, USA
Dear Susan,
-for you kindness and patience in sharing your delightful country with us -for your particular friendship and insight-for your encouragement and positive attitude and love of life, God Bless you and keep you always....
Linda Considine, Florida USA
September 2021 Classic Tour Group, Doolough, County Mayo
"Why wouldn't anyone ever want to leave such a beautiful country ?"
Mary & Lee Schwartz, Gulf Shores, Alabama, USA
"A great trip to see things that I would not see if traveling on my own, beautiful places to stay including the spas, and great food  and a wonderful group of follow travellers. And kudos to Susan for arranging a most memorable trip. Hope to see you again on other travels"
Sheryl Snapp, Bend, Oregon, USA
"A great group, great guide and a great pint at the pub!  It doesn't get any better than this.  Many thanks for a memorable trip."   
Kathleen & Jeff Booreen, Portland, Oregan, USA
"Thank you once again Susan for being our leader, for your excellent taste is locations to visit and especially the more alive and personal ones.  I loved your sense of humor and listening to your accent and phrases.  AND marveled at how much information you have in your head......
My favorite parts were :-
Meeting the tour group and getting to be friends,
Your favorite priest and his blessing,
Rex, the sheep dog performing, and getting to hold that fragrant little black pup,
You and Paul singing for us,
The wool weaving at Studio Donegal,
The tour and the stunning horses in the field, 
LOVED being able to be in the 5 pools that we used at the hotels,
The Jameson tour, and the local market set up outside Kilkenny Castle,
The Crafts and shopping there too were the best I found for gifts,
The scary steep Healy Pass.  Wish we could have turned around and gotten a photo looking back up,
Your wild-haired storyteller in the bar,
All the brilliant flowers spread all around homes and towns,
Martin's walking tour in Derry 
People-watching everywhere, families, children, and couples holding hands often
The Titanic Museum…so well put together,
The really incredibly delicious meals in the hotels and restaurants,
The excellent quality bedding and beds in our rooms, and fine bathrooms.
All the historic sights with your narration which helped us know Ireland,
And ALL the SUNNY DAYS we were blessed with to enjoy the whole trip"
 Mary Margosian, USA
September 2021 Reunion Tour Group, Ashford Castle, County Galway
"Thank you Susan for the wonderful time we shared on the reunion tour with our friends old and new. Only you would come up with the unique idea of giving your past tour participants the opportunity to meet up again with their fellow travellers, exploring an entirely new itinerary and learning more about beautiful Ireland and all that it has to offer. It truly was a welcome respite from the difficulties brought on by the pandemic. Speaking from the perspective of having toured with you three times, I can honestly say that each time offered spectacular accommodations, outstanding food, exploration of truly hidden gems and great craic provided by Ireland's best tour guide hands down Looking forward to the next time, in Scotland, perhaps?"
Liz Anne & Jimmy Capelonga, Florida, USA (3rd trip)

"Susan, once again you expanded our horizons of the culture, history and lifestyle of your homeland for which we are both indebted. Looking forward to our Scottish Trip with you which I am sure will be delight, in light and love...."
Rod & Jane Mullins, Brookville, Ohio, USA (2nd trip)
"Susan, thank you for another magical tour of all the special Hidden Gems of Ireland, the craic, the scenery and the experience"
Cathy & Jeanne Reynolds, Phoenix, Arizona, USA (2nd trip)
"Susan, thanks for another wonderful trip, I really appreciate all the hard work you put into making our vacations special. I hope to see you in Scotland next year"
Kevin Walsh, Hicksville, New York, USA 9 (2nd trip)
2019 September Group, Lough Eske Castle, Donegal
2019 Tour Testimonials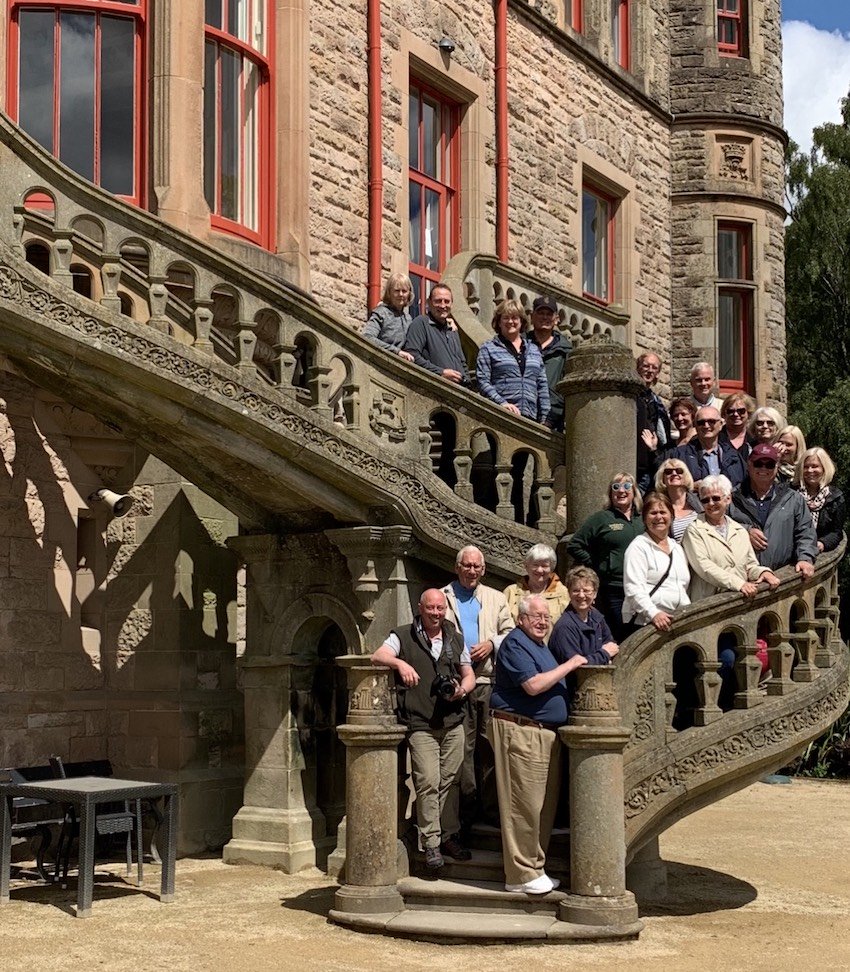 2019 June Tour Group at Belfast Castle in Northern Ireland
Pete & Anda Kett, Malin Beg, County Donegal
Dear Susan, We just wanted to say thank you again for the wonderful June tour.  All of the accommodations were great, the scenery and history unforgettable. All was meticulously planned.  A wonderful bunch of people that you managed to bring together.  Tell Jess how much we enjoyed having her along on the first leg.  And what can you say about Paul.  A terrific, talented guy, and a great driver.  This was a trip that we will never forget!
Anda & Pete Kett, Ontario, Canada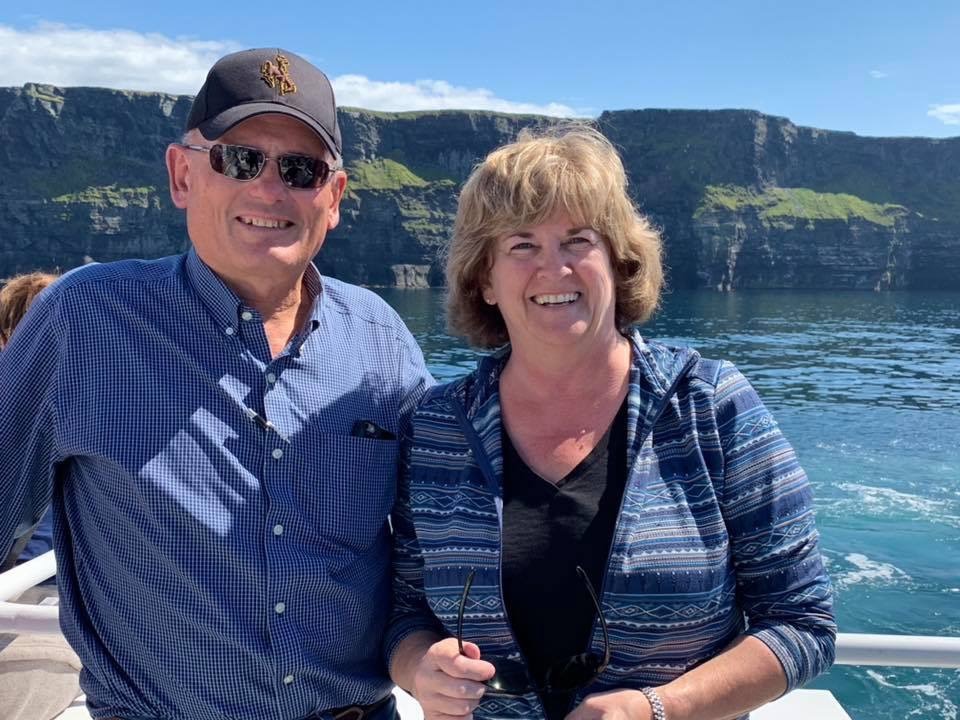 Lorene & Bob Schidmt, Cliffs of Moher Cruise, County Clare
Dear Susan, What a grand two weeks we had touring with you! We felt very much like family with your welcome and heartfelt love of your home as you shared so many wonderful sites and stories. I know my favourite spots are the "ruins" of days gone by, but the stone circle tops the list! We thank you so very much for quite the adventure in Ireland and extend an invitation to visit us in Wyoming, yours sincerely
Lorene & Bob Schidmt  Wyoming, USA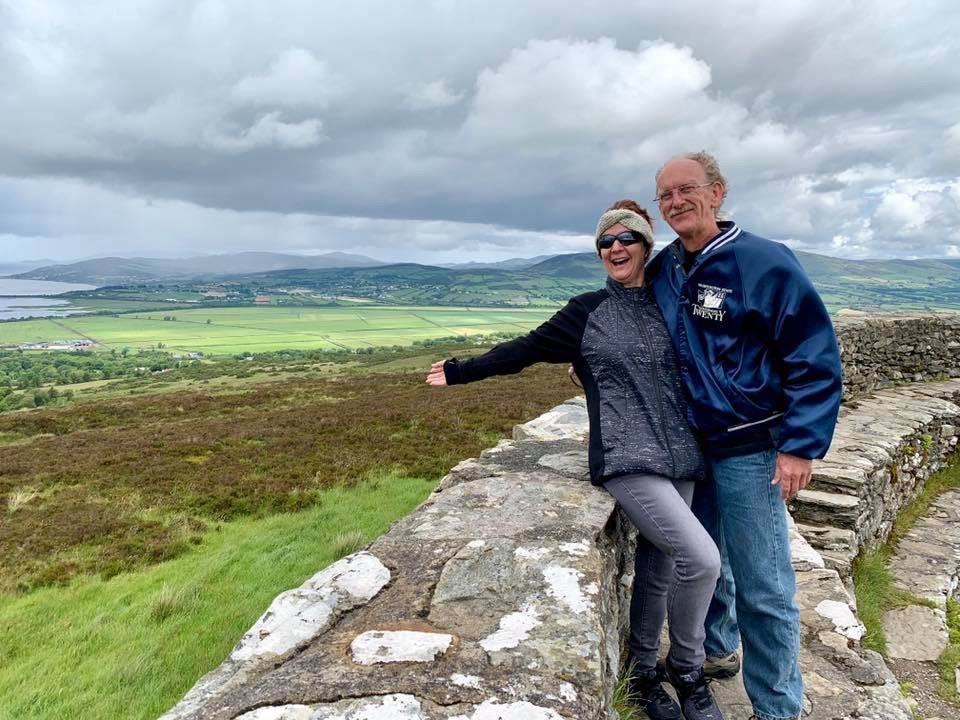 PJ and Dave at Grianan an Ailleach, County Donegal
I could begin my review with EVERY superlative and none would begin to do justice to Susan and Paul? I researched all the tours of Ireland and read EVERY review. What came across was Susan's passion for her homeland, her attention to detail and 'customer service'. She does NOT dissappoint, people. I was left with a feeling that I had made friends in both her and Paul, as well as learning such an abundance about the lovely place they call home. I have been to 11 countries, but as Susan says, Ireland "just sticks with you."
The tour was laid out just right, never too long on the bus, absolutely fantastic scenery and special 'treats' we would not have had with larger tours, such as Tom's sheep farm. The flexibility of allowing our golfing guys to their thing to me visiting my woollen shop spoke volumes. What a gal! 
Pj Brenden & Dave Freitag Oregan, USA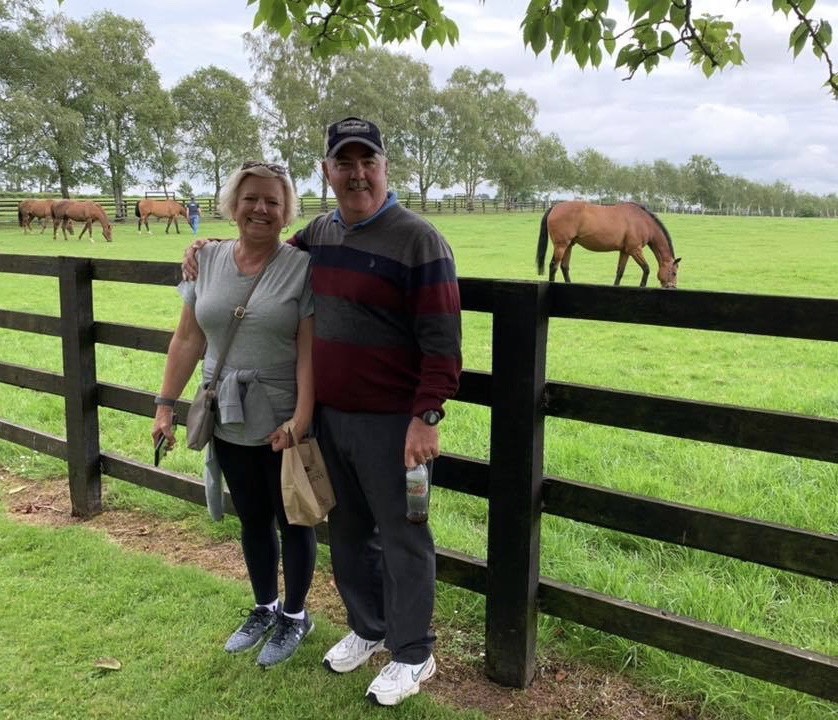 Donna and Mike Cushing at the Irish National Stud in County Kildare
Dear Susan, Mike and I want to thank you for such an amazing trip. Your tour is amazing. We loved every moment. We especially loved your sense of humour with regards to the people we ran into along the way. We really hope you can make a reunion tour happen. Thanks again for the most incredible tour....
Mike & Donna Cushing, Virginia, USA

Denise and Greg Selkrig on the Healy Pass, County Kerry
Susan your tour was spectacular, you know your country and are so proud to show and share it with us. You literally know the hidden gems and are continually finding them to include in your tours. What attracted us to your tour was that it didn't go to the predictable tourist sites. It is a personal tour guided by you showing us your country. 
The scenery and people of Ireland are the true gems of the country that is Ireland. The friendliness of the people and the scenery that can take your breath away.
Yes we had a schedule but it was a leisurely schedule and there was enough time to see what you wanted to see and if you needed more time or wanted to see something in or near the tour route then you would go out of your way to try and accommodate us. 

We had some golfers (myself Greg being one of them) on the trip and Susan being Susan made arrangements for a few games. We experienced golf in Ireland that was such an unbelievable fantastic experience and none of us golfers would have missed it. Over and above our expectations.

Susan our tour was wonderful and could not have done it without our driver, Paul, who is a fantastic genuine person and even as a bonus sang a few songs a couple of nights. Not to forget the beautiful Jess who was part of tour in the first week. 
We could not recommend highly enough, in fact may be we shouldn't as we want to go back and Susan you may get to popular and we could miss out! "Be sure to book this one early stick it in your diary and do it! And do some research to enhance your experience" Susan we are privileged to have met you.
Thank you once again.

Greg & Denise Selkrig, Melbourne, Australia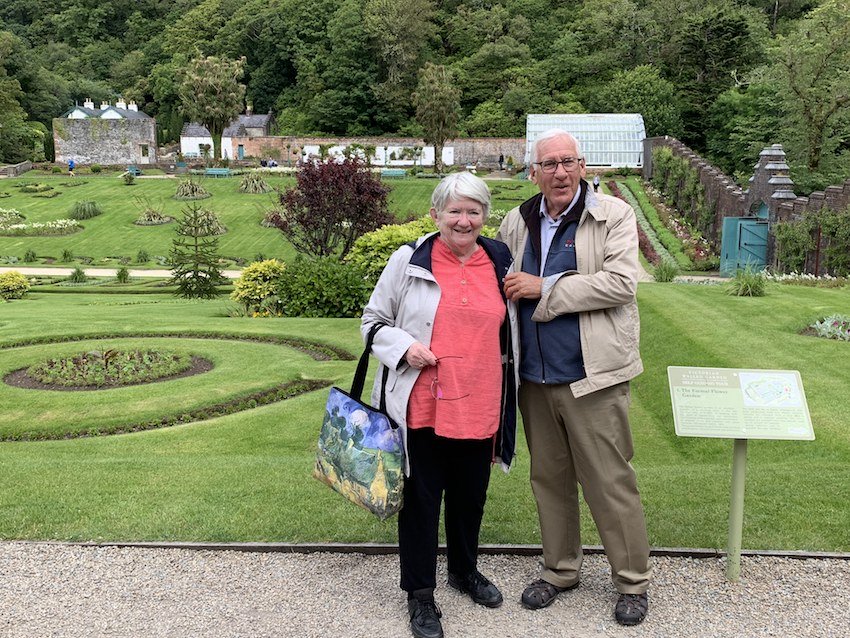 Kate Merry and Gerald Tibbits at the gardens in Kylemore Abbey in Connemara
Ireland is a magical and enchanting place. And this tour is a grand introduction to the country and its wonders and history. Everything is well-considered and planned out and accommodations range from first-rate to gorgeous. The food was fantastic and there was time to make one's own restaurant discoveries. Everything left us wanting more than just one trip to Ireland. Highly recommended. All the best and so very many thanks for your tour and the opportunity to meet you and Paul.
Gerald Tibbits and Kate Merry, British Columbia, Canada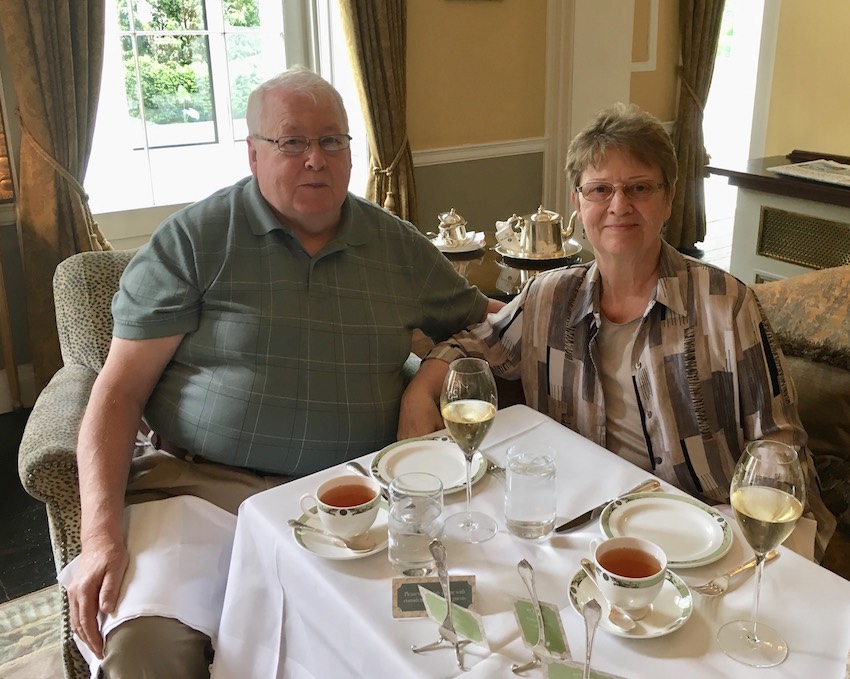 Sandra Balch and Ken Jacobsen having Afternoon Tea in the Merrion Hotel in Dublin
Dear Susan, We are now home and pretty well settled in again.  We have talked non-stop about this trip … the good and entertaining leadership (you and Jess), the phenomenal driver (Paul), a group of people that couldn't have been better to travel with.  And add all that to the amazing things we experienced in Ireland. Thank you so much for an absolutely unforgettable trip!  
Sandra & Ken, Port Angeles, USA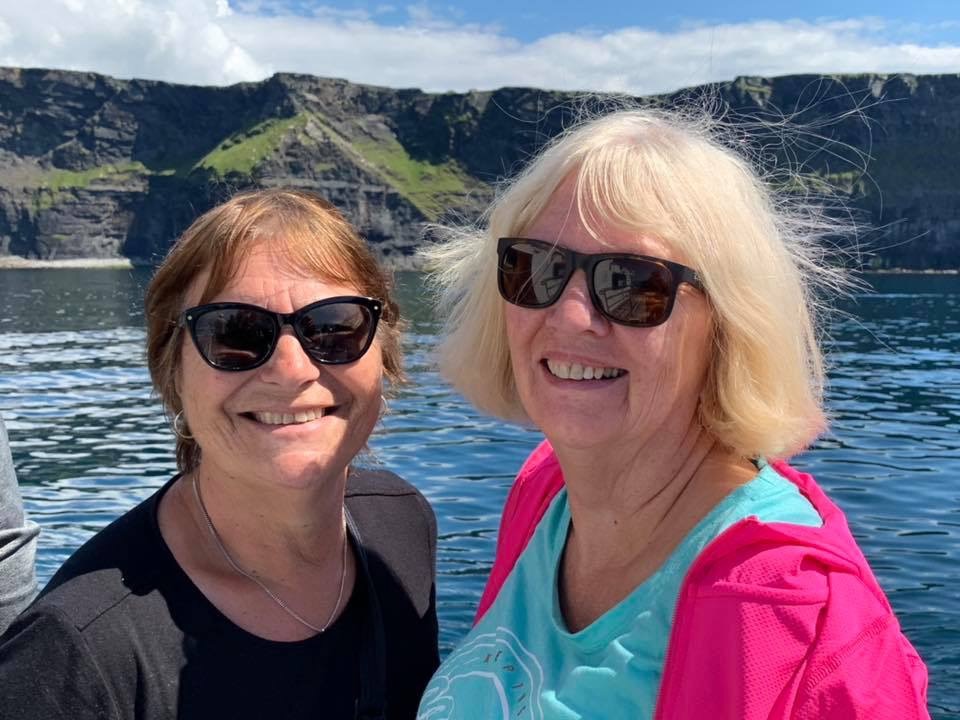 Kerry James & Valerie Jones on the Cliffs of Moher Cruise from Doolin
The best holiday I ever had. Ireland is so beautiful, interesting and diverse. Enjoyed all and those luxury hotels felt so special, Castle and even a red carpet in one. Thanks to you Susan, you treat everyone like friends and we had great craic. Thanks to Paul, you kept us safe and even entertained us. I recommend this tour to everyone and have. Great new friends it was great. Our group was fantastic, love to meet them again one day. Thanks again Susan, it is such a great tour.
Kerry James & Valerie Jones, Perth, Australia

IRELAND'S HIDDEN GEMS TOUR May 2019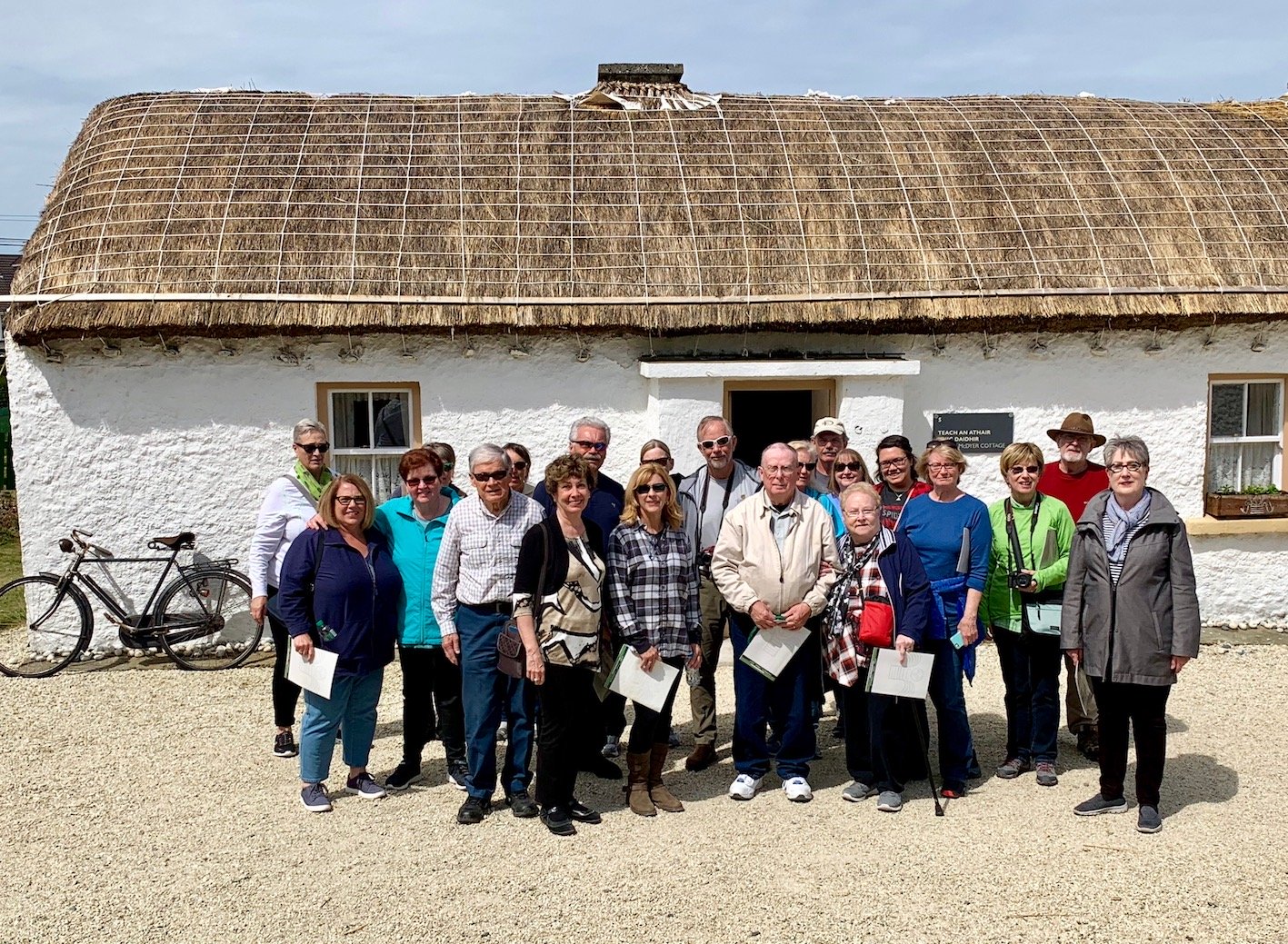 2019 May Tour Group in Glencolmcille in Donegal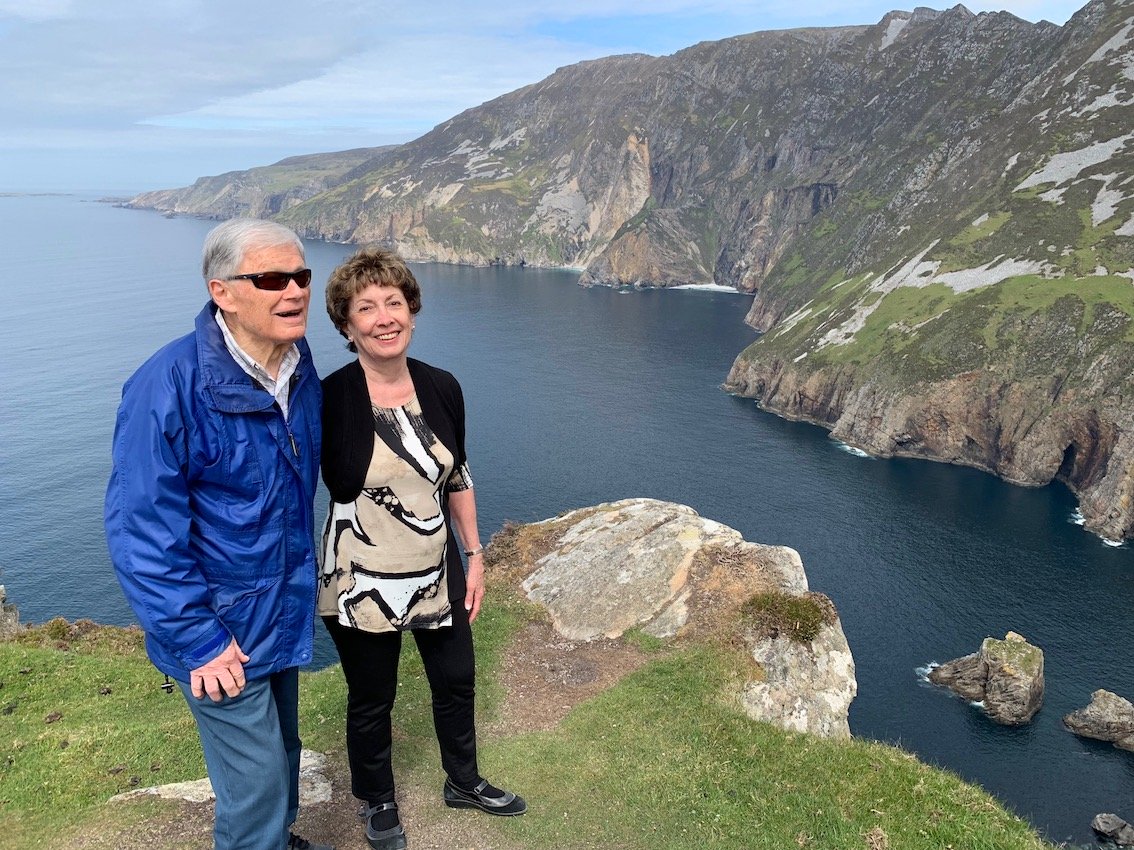 Jack & Marilyn Lieby at Sliabh Liag Cliffs in Donegal
Susan, Jack and I had a grand tour of Ireland and the craic was second to none. Thank you soooo much for all your individual attention for these great two weeks. We will remember you always and treasure our memories, God Bless you Marilyn
Marilyn & Jack Leiby, USA
Lura Lewis and her daughter Vanessa Galeno at Skellig's Chocolates in Kerry
Susan, you are the absolute best tour guide in the world. This is the best experience traveling we have ever had and it is all thanks to you. Your kindness and love for this country really comes through and this has been a trip like no other!
Lura Lewis (South Carolina) & Vanessa Galeno (San Diego)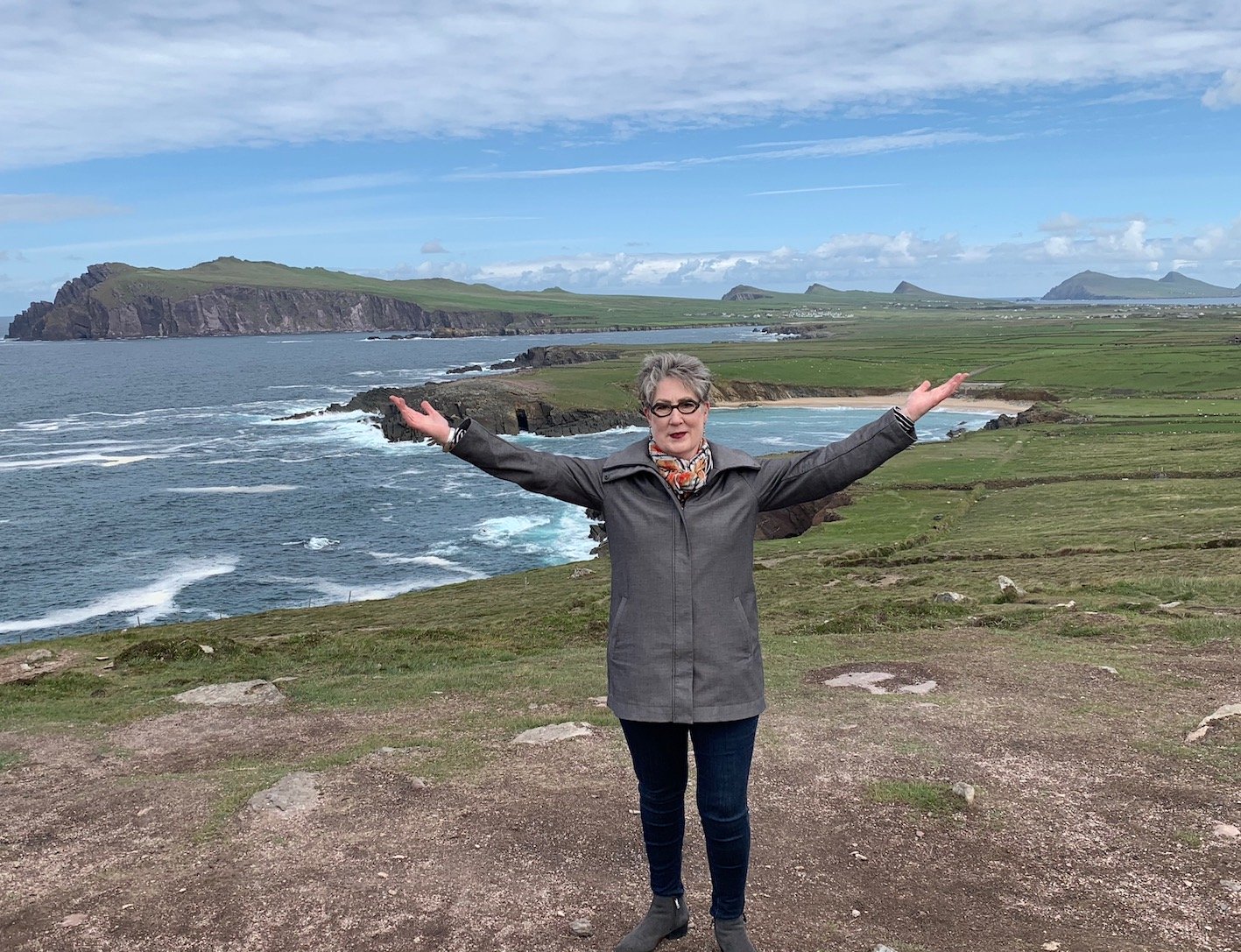 Marylou Colver celebrating her birthday on the Slea Head Drive in Dingle
Dear Susan, I loved every minute of your tour, thank you. It was great craic, lovely scenery, good company and wonderful food. It couldn't of been better, Cheers Marylou
Marylou Colver, USA
Shirley Byron and her sister Susan Jacobi at Belfast Castle
Susan, how wonderful to be introduced to Ireland through your love of country and people, wisdom, wicked sense of humour, knowledge of the hidden gems. You are a Hidden Gem, Susan Byron, thank you.
Shirley Byron and Susan Jacobi, Canada
Berl Wyatt enjoying one of many beers in Ireland!
Susan, what can I say except it was all we expected and more! We have traveled on a lot of "bus" tours and were apprehensive at first. However, the size of the bus allowed us to go places off of the beaten path. That allowed us to see the real beauty of Ireland! Of course, my own agenda included tasting the beers and whiskeys of Ireland as well. I think you will agree that I succeeded with the help of you and Paul. A special shoutout for Paul as well. In addition to getting us safely around the roadways, his guitar and sing along sessions made the trip more memorable. Great craic for all!
Marge & Berl Wyatt, USA
Tony & Linda Harkins and family in the Tea Rooms in Ballyvaughan.
Two glorious weeks in Ireland under Susan's guidance provided numerous experiences that would never have been the same without her. She exposed us to a variety of facets and landscapes from cosmopolitan Dublin and Belfast to Slieve League and scenic Donegal. How we enjoyed the craic on the bus! We'll always remember the informative Killary Sheep Farm and entertaining Trad on the Prom. Oh and those gorgeous, incomparable rhododendrons! Despite rain, we loved the Ring of Kerry, commentary by "assistant tour guides". and not-to-be missed Skellig's Chocolates! (I wish I had purchased more). Accomodations, including castles transformed into hotels were always five. Last but not least, I was most impressed by Irish friendliness. I will never forget our stopping for photos in Inishtioge in the rain when a local resident opened up his lavender gate to his stunning rose garden, it doesn't get any better than that! Erin go Bragh!
Tony & Linda Harkins, USA
Marion and Dennis Boston, Lough Eske Castle, Donegal.
Susan, thank you for making our trip to Ireland so enjoyable. We saw and learned things we never would have tried to tour on our own. You really showed us Ireland's Hidden Gems! Your humour made the trip so pleasurable (you could have a second job as a stand up comedian) and your knowledge of the island in unsurpassed.
Marion & Dennis Boston, USA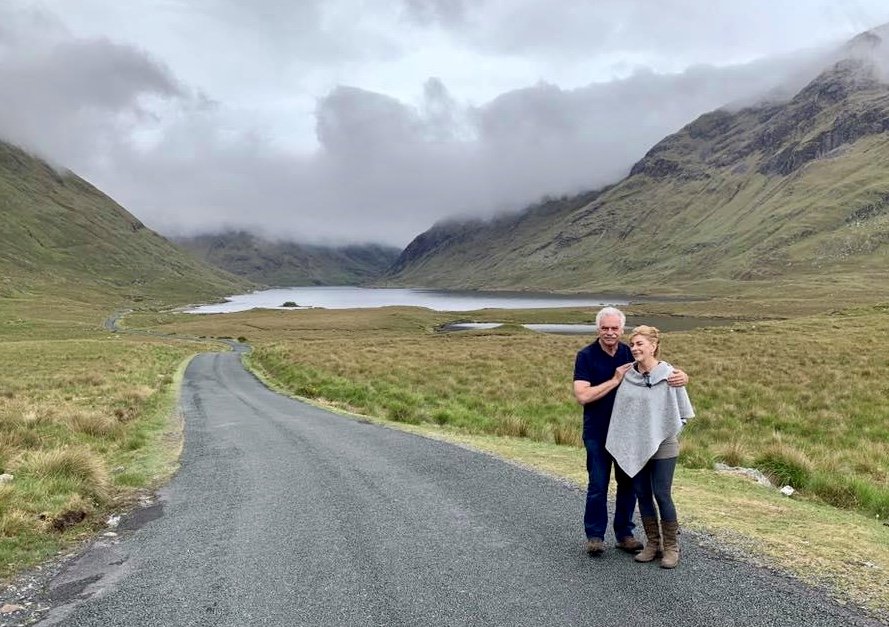 Lisa and Frank Robinson, Doolough, Connemara
There are some places you visit, and you forever hear them calling you back.  Ireland will always be one of those places for me.  I can attribute half of that to my ancestral blood but the other squarely rests on the shoulders of Susan (and Paul, driver, guitarist and singer extraordinaire) for showing us the ancient and modern sights and culture of Ireland.  Who can forget the friendly greeting of the staff of Lough Eske as they lined up to wave us into this elegant hotel in County Donegal! What lovely people to make a bus full of tourists feel like the Lord and Lady of the manor have just returned home.
Even now I am trying to decide which of the lovely villages along the Wild Atlantic Way to return to for a month long stay so that I can completely immerse myself into village life. There are treasured memories and hidden gems too numerous to mention but if you take only one trip to Ireland in your lifetime this one will allow you to feel as if you have seen the best of everything that Ireland has to offer.  Susan has it all sorted out for you, the best food, the best hotels, the best music and the best sights.  Not to be forgotten is that you don't have to get stressed over driving on the left hand side of the road so you are free to nap on the bus! 
And don't forget to take Susan's advice and go to the Brazenhead Pub in Dublin on Sunday afternoon to hear the traditional Irish music.  It's an experience you will always remember. 
Lisa & Frank Robinson, USA
Ireland's Hidden Gems Tour June 2018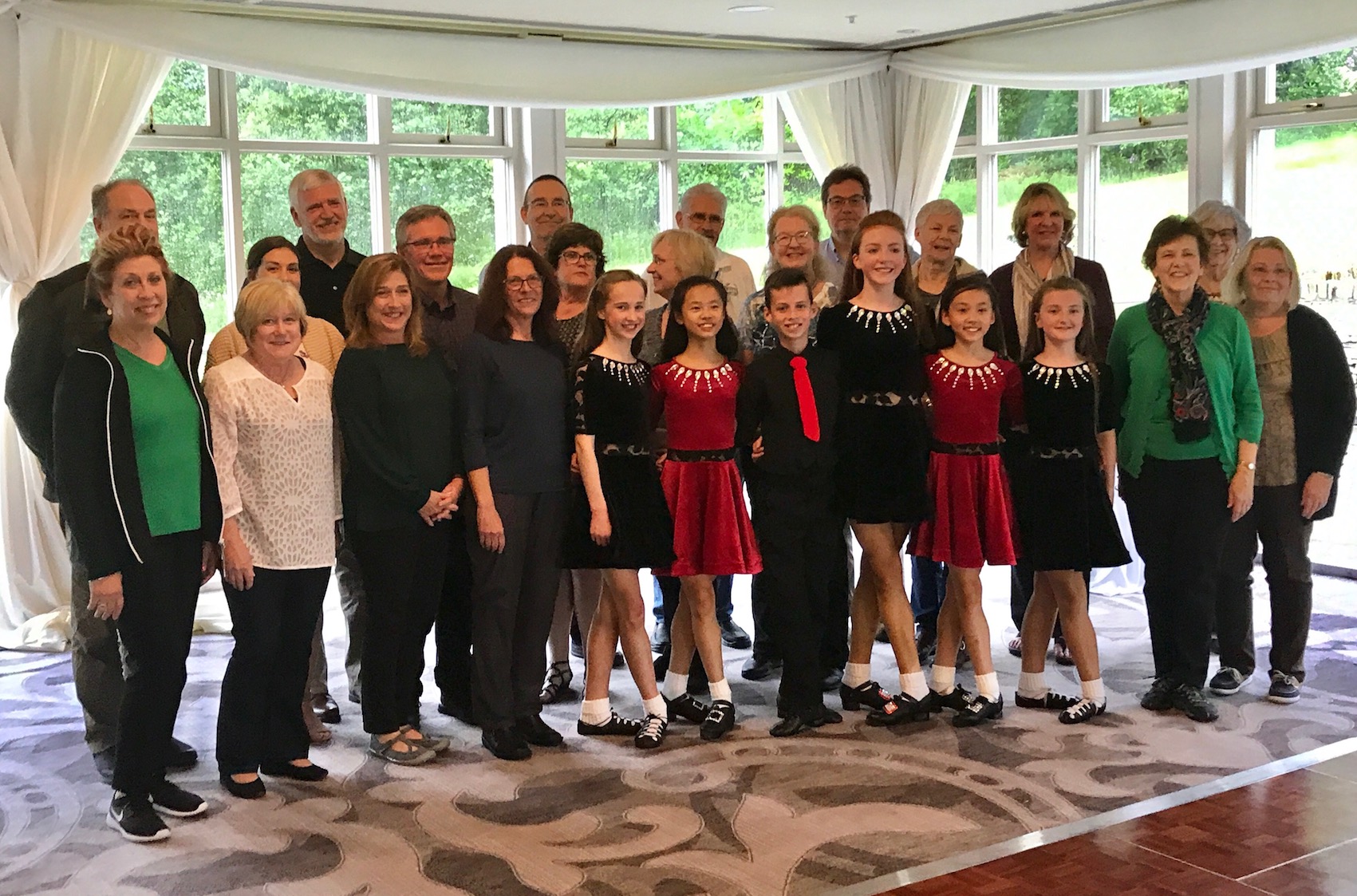 2018 June Tour group with Irish Dancers in Donegal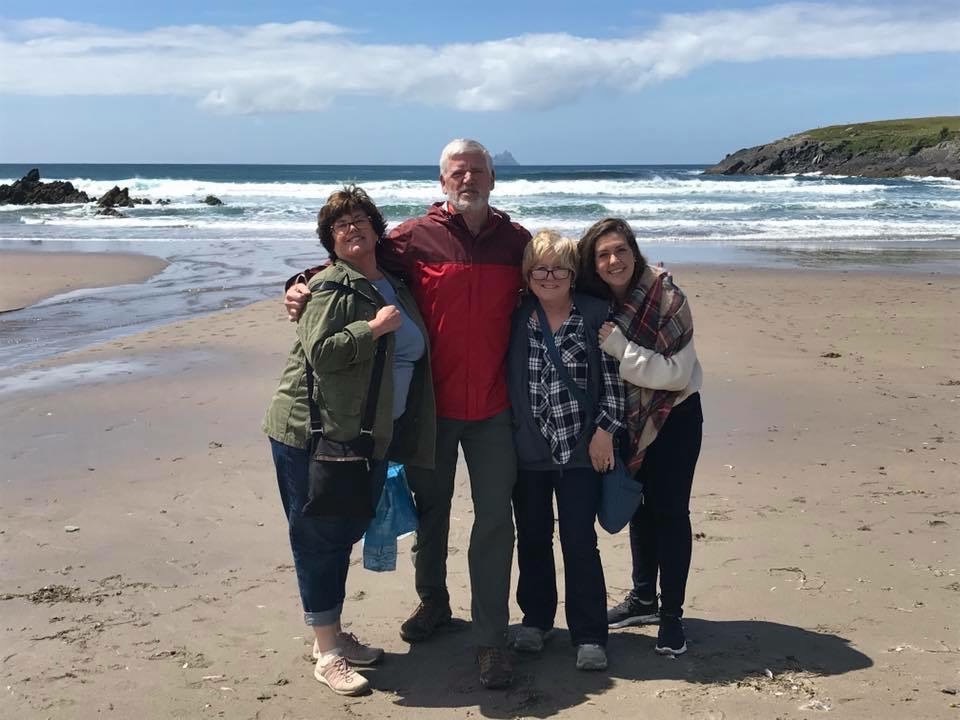 Mary with her daughter Meredith, brother Jim and sister-in-law Susan Dougherty
Dear Susan , both Meredith and I would like to thank you for one of the most beautiful, magical and spiritual trips of a lifetime. Not only did I fall in love with Ireland but felt a kinship and peace that I didn't know I would find. This was my  "trip of a lifetime" and first ever European trip ! Your tour was perfect as neither Jim, Susan, me or Meredith wanted to drive . We wanted to immerse ourselves in the culture ! Immerse we did . Your trip indulged us all and made our personal likes a reality too!.This kind of trip would never have been provided on another tour ! Thank you so much for sharing your country with us ! 
Mary & Meredith Haney, New Hampshire, USA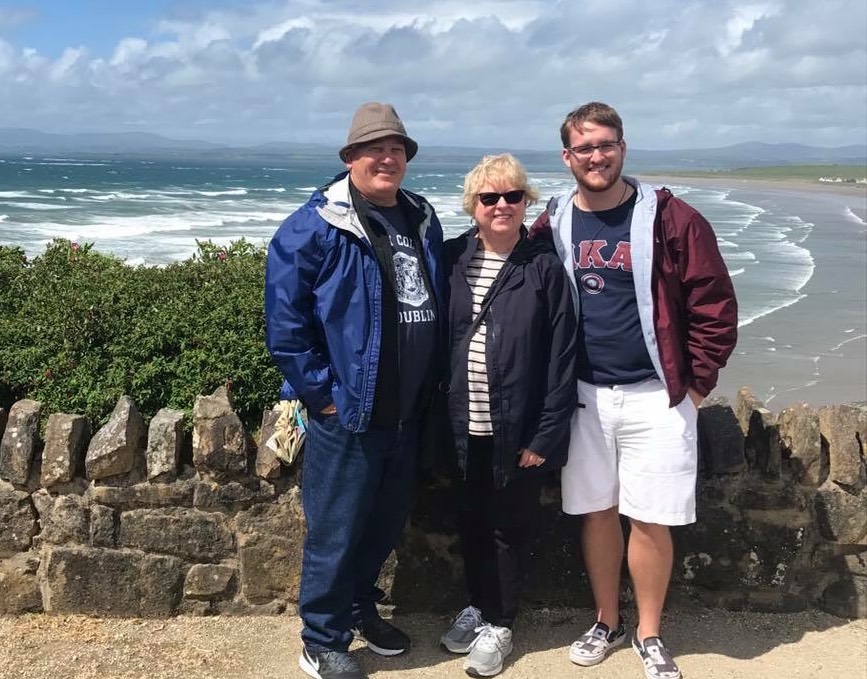 Glenda, Linda & Austin Jennings on a stormy day in Rossnowlagh in Donegal
Hi Susan, Thank you for a wonderful Ireland tour experience in June 2018.  We visited Ireland on-our-own in 2015 for a week, and saw just enough of your beautiful country to know we needed to return.  We were pleased to find your "small group tour", so that we didn't have to plan an itinerary or drive on the "other side of the road" again.  Susan, your personality, hospitality, knowledge and love of your country makes everyone feel welcome.  Upon return to Kentucky,  friends have asked what we liked best about the tour, and the answer is everything!  Your unique tour itinerary is very well-planned and includes amazing scenery, interesting and historic sightseeing, great food, lovely comfortable accommodations, and just enough free time in the towns and villages to shop and pursue a few interests on our own.   Thank you for sharing Ireland's Hidden Gems with our family! 
Linda, Glenn and Austin Jennings, Kentucky, USA
Jim Dougherty and his niece Meredith having a go at Hurling in County Clare.
Dear Susan: Thank you for a wonderful tour of Ireland this June! We were a bit skeptical at first about a taking a "bus tour", but your expert commentary and guidance, the skill of and interaction with our drivers, the comradery of our small group, and of course, not having to personally do 15 days of route and lodging planning erased any doubts for us about doing this again.  We particularly enjoyed the free time in Dublin and Galway as well as the optional days along the way, schedule flexibility I don't think we would have had on a bigger, less personal tour. For me, having a go at hurling at the Cusack Center, the traditional music session at Matt Malloy's, our private Irish Step Dancing exhibition (including my forgettable dancing debut), the comparative taste testing at the Jameson Distillery, and our evening with an authentic Irish story-teller, Eddie Lenihan, were truly the "hidden gems" promised.
Thank you again for your sincere investment in making our trip so enjoyable and for sharing your country with us! All the best,
Jim and Susan Dougherty, Massachusetts,  USA

Barbara Roberts and Susan Byron Adare, County Limerick
Susan, I am so pleased that I was finally able to go on one of your "hidden gems" tour!  I found your page in 2016 and finally was able to go with a dear friend this past June…. and it was exactly what I was hoping it would be! Beginning with time on our own in Dublin was a perfect way to adjust or start running, whatever a person needed. The overnight locations were wonderful, some elegant ( I did enjoy my massage at Solis Lough Eske!) while others more simple, and I cannot pick my favorite! The sights from Newgrange, Giant's Causeway, the Titanic Museum and the disappearing Cliffs of Moher were wonderful and of course on my list to see.  But some of my favorites were Derry, the 800 year old hand-carved stone crosses, Malcom and his sweet blessing,  the Museum of Country Life, Tom and his dog Roy,  the evening with Eddie Lenihan, the thatched cottages of Adare, the exquisite rose garden of  Tralee, the  Ladies View and Uragh Stone, would have gone unseen if I had tried to plan this myself or  been on a large tour! I could go on about your wonderful descriptions of "bashy waves" and "sheep with Velcro feet" or the food or my special necklace made by a jeweler in Dingle but I need to stop somewhere and the longer I think the more I remember. As Maureen said, some of my favorite pictures are those I keep in my heart and I have many because of your beautiful planning, ability to adapt to the day and your obvious knowledge and love of your country. Thank you for such a special tour!
Barbara Roberts, White Stone, VA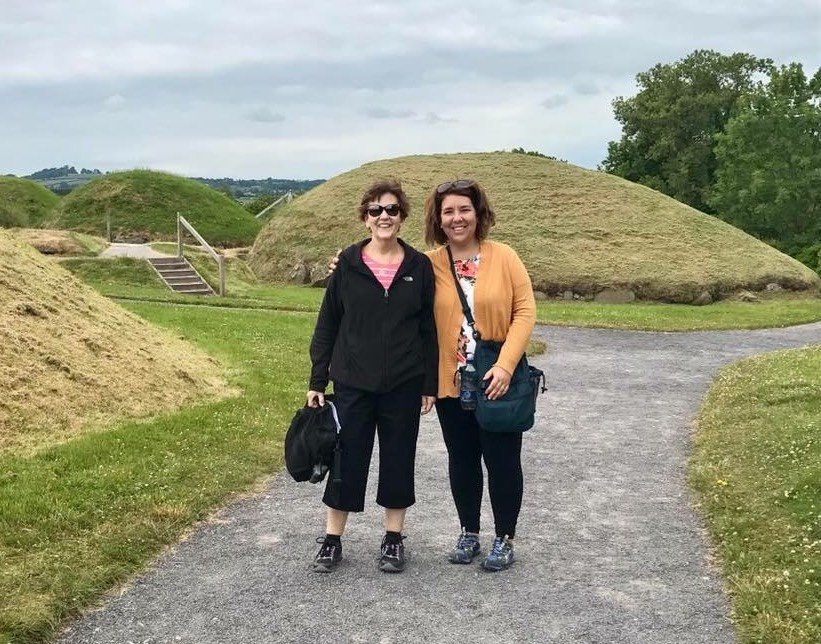 Barbara Woller and her daughter Sarah Fry at Knowth, County Meath
The Hidden Gems Tour with Susan Byron was incredible!   While researching tours of Ireland for myself and my daughter Susan's tour package caught my eye.  We wanted a tour that included Northern Ireland and took us to places we had not been on a previous trip. Susan's tour more than satisfied our expectations. The days were full, to be sure, but not so fast paced that we felt rushed from one site to the next. Highlights included, monastic ruins, my favorite, abbeys, a holy well, neolithic discoveries, a stone circle, museums, castles, gardens, a distillery, a sheep farm, a fjord, beautiful mountain valleys and passes, bogs, gorgeous lakes, sea-side cliffs, and the fantastic panoramic vistas of the Atlantic. 
I loved the historical and geographical information, stories, and other treasures Susan shared about her country as we made our way through Ireland. Susan's witty and humorous observations added to our enjoyment and as she said "shortened the road". I appreciated Susan's travel flexibility as we had a few days of wild, windy, and rainy weather which resulted in adjustments to the itinerary. She took us to alternative places that were unique and enjoyable.  At the sites we visited Susan would ask if the time allotted was enough for us, and if we needed more time we were given that luxury.  Speaking of luxury, the hotels we stayed at were stellar. My favorites were Solis Lough Eske Castle in Donegel where I took advantage of the spa and swimming pool, and Muckross Park Hotel in Killarney located right across the street from Muckross Abbey.  
As a vegetiarian I was always accommodated at restaurants as were those who needed gluten-free meals or had any other food allergies. Susan took us to lovely cafes and restaurants which served homemade and delicious entrees and were not frequented by many tourists. 
Often, entertainment was offered in the evenings which added to our understanding of Irish culture such as the young and gifted Irish dancers at Solis Lough Eske, the famous Irish Seannachi, Eddie Lenihan, and a music session in Westport at Matt Malloy's Pub.  
One evening we were invited to join a private music session with our gracious and talented bus driver, Paul, who played his guitar and led us in Irish songs. Being of Irish heritage I relished the time I spent in Ireland learning about my ancestors' country and the life they left behind. Thank you Susan for the trip of a lifetime and for sharing Ireland with me and enticing me to return.
Barbara Woller & Sarah Fry, Indianapolis, USA
Nicki Brown enjoying some fresh Irish mussels at Smuggler's Creek in Rossnowlagh, County Donegal.
Anyone who wants to explore Ireland and get a real sense of its history, people and out of the way places should join Susan Byron on her "Hidden Gems"  tour.   The trip's best gem was Susan herself.  Her vivacious personality. superb organizational skills, knowledge of Ireland and its history and culture  as well as creativity in planning a  tour that takes you places most tourists will never see sets  this trip  apart from others.  We also experienced the usual tourist "must sees".  Arrangements were beautifully planned. Accommodations were just right. from luxurious to country casual and always set in a special historic and picturesque area.  The "Downton Abbey" moment in a gentle Irish rain as we drove up to Solis Lough Eske Castle will be with me forever.  The group size was perfect.  Susan had a knack for planning unusual events for the group as well as introducing us to an Ireland, one would not find in large tourist environments.  How else would I have found out about Smuggler's Bay, the delicious mussels found in Donegal and down the entire Atlantic west coast, the talent of our bus driver who serenaded us with guitar and song during after dinner cocktails, and the appearance of a rare Irish storyteller for another after dinner gathering.  Walking by Galway Bay back to the hotel with the wind howling off the water  after a marvelous Trad on the Prom performance, was truly memorable.  Normally I don't participate in group trips.  How fortunate I was to break this rule which resulted in one of the most memorable trips of my travels.
Nicki Browne, Texas, USA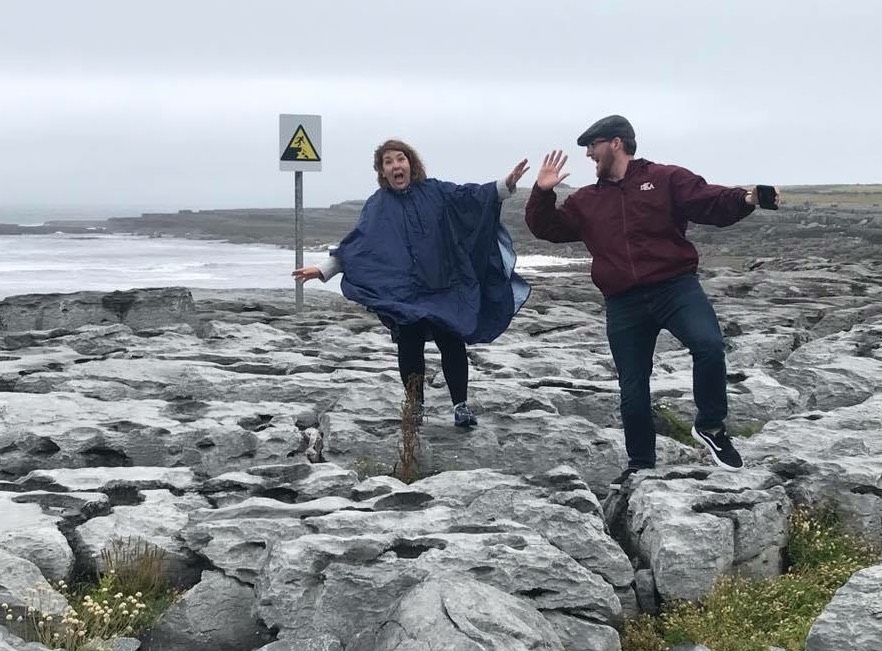 Sarah and Austin acting the maggot in Doolin, County Clare
Ireland's Hidden Gems Tour May 2018
2018 May Tour Group - Ladies View, Killarney, County Kerry
What a great time we had on the May Tour of Ireland's Hidden Gems in 2018, it was like travelling with a gang of good friends! In fact, they are already demanding that I organise a re-union tour for them with me in 2020 ! Watch this space, there could be a queue for that one....
Seriously, though we had the best fun and glorious weather, just one damp day out of 15, not bad going at all..... Susan
Liz and James Capelonga, Staten Island, NYC
Hi Susan, we are back home in Staten Island after two wonderful weeks in beautiful Ireland. Thank you so much for such a fantastic vacation experience! We had a grand time touring your most beautiful country, and we are so happy we elected to take our first European trip together with such a wonderful tour guide and now friend. Your love of your country and culture was evident in your enthusiastic and very knowledgable commentary throughout the trip. You are a great ambassador for Ireland, and I think every person on that trip who had never been to Ireland before is now in love with it, in no small part thanks to you and your selection of stops along the way....gorgeous vistas, fascinating history, great food, beautiful accomodations, warm people, and not to mention plenty of good craic with a guide full of personality and humor. Our visit to Ireland not only met but exceeded every expectation, and for both my husband and I, I thank you from the bottom of my heart. Miss you already, Liz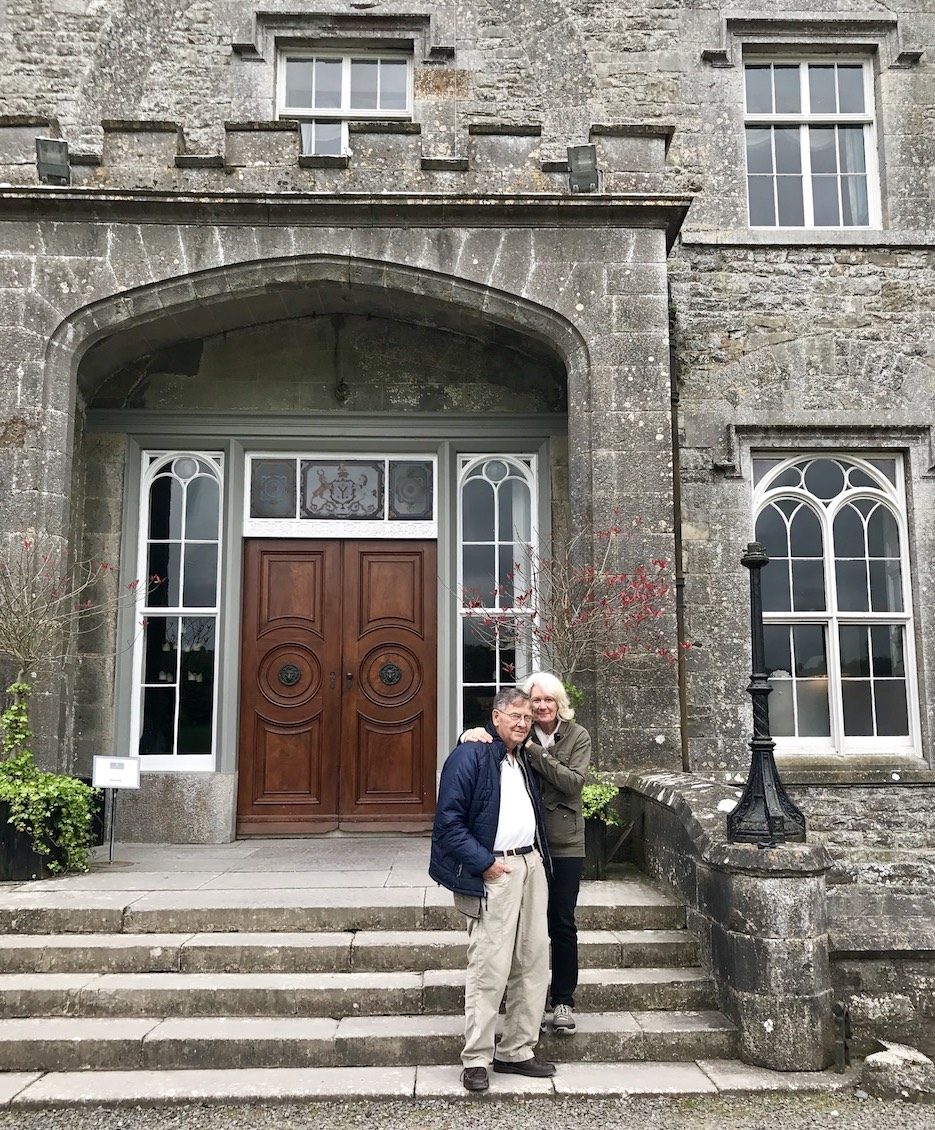 Kate and Iain Campbell McLeod, Michigan USA
Hi Susan! Getting back into the swing of life back home.Thank you so much for such a wonderful experience!  It really was the best trip we've ever taken together.  I felt like I really got to see and know the beauty of your country and  people.   It's true...you will be a hard act to follow. We plan on returning (you'll be the first call :) Would love to stay in touch, Kate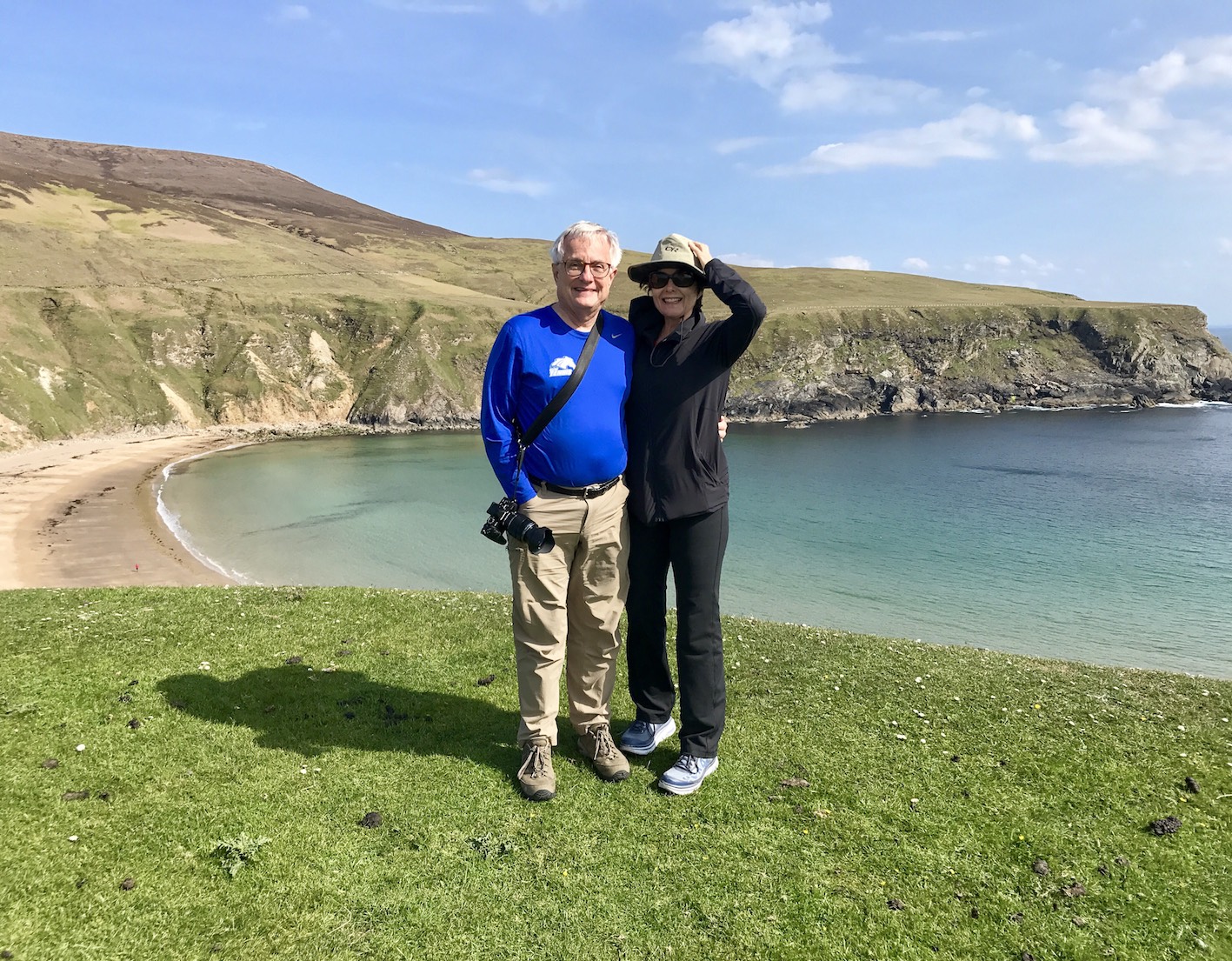 Sally and Bill Lockett, Chattanooga, Tennessee, USA
Susan, we are now home, rested, and reflected on a wonderful and memorable two weeks in Ireland. There is a reason every on of the testimonials here deal primarily with the relationship developed with you. Through your commentary, personality and transparency you provide a window into what it is to be Ireland. We have come away with an understanding of the Irish character far beyond what the normal "big bus tour" or I'll drive it myself" Ireland trip reveals. The Hidden Gems you include took us to places and experiences very few would discover without your guidance. And you deftly avoid the tourist traps. If you are looking for a Gatlinburg, Daytona Beach, Daytona Beach or such experience, this trip is not for you. We visited places everyone wants to go: Dingle, Ring of Kerry, Newgrange, etc., but also places you never hear of where the driver of our van shut his eyes and prayed the van would fit (it did) that revealed magnificent structures and vistas. If you enjoy discovering the culture, character and spirit of a country and a people through the people, places and activities that are meaningful in their history and thought then sign up with Susan soon rather than later. She offers insight, helpful hints, and places to go before and during the trip. We just can't say enough good things about our time with you in Ireland. Thank you so much, Sally and Bill Lockett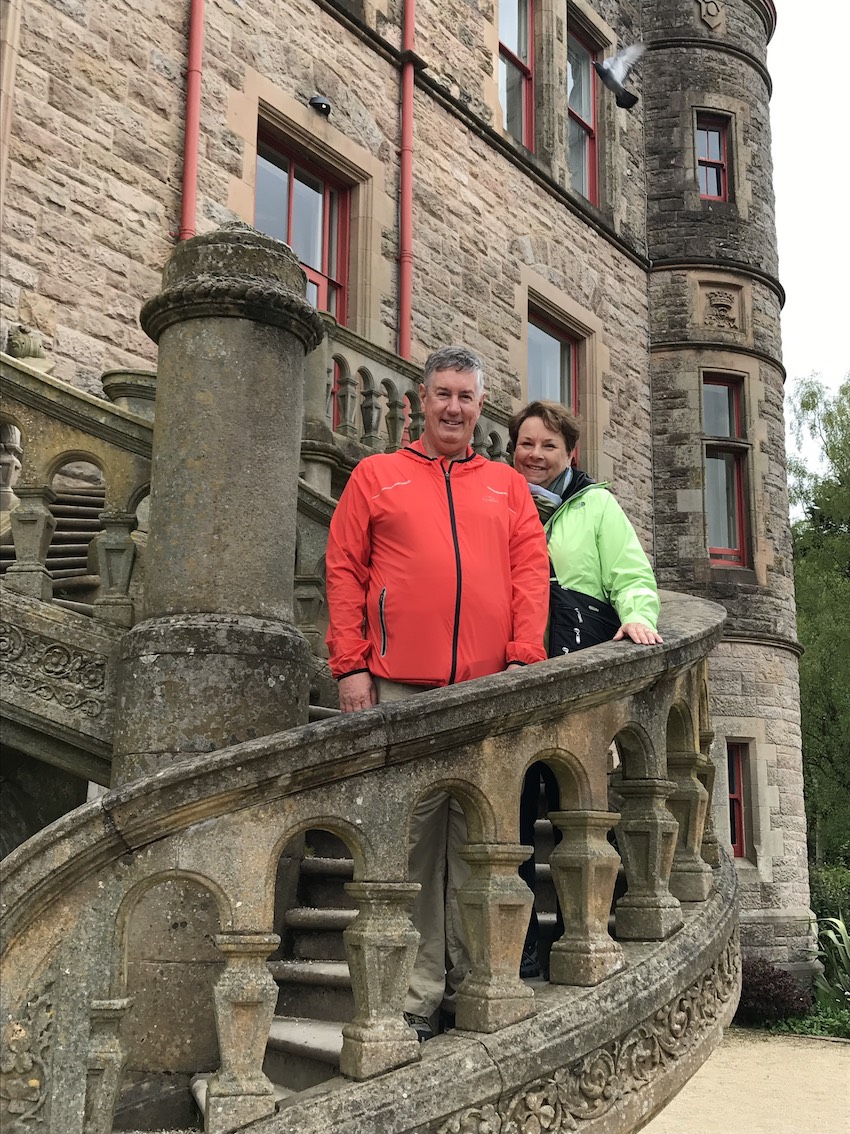 Dona and Mike Mahoney, New Hampshire & Florida, USA
Dear Susan, I have spent the past week joyfully reflecting upon our recent tour of Ireland with you. Saying it was "the trip of a lifetime" just does not do the experience justice. We are avid travellers who prefer to strike out on our own, using extensive research and my own experience as a travel agent, along with a touch of whimsy, to guide us on our adventures. We kept putting a trip to Ireland off due to my resistance to a "bus tour" and Mike's aversion to driving every day (missing out on the scenery). In fact, we had our own DIY two-week itinerary completely mapped out, based on your very own book! So it took a lot for me to finally let go and put my trust in you. Best decision ever. The trip was nothing short of extraordinary. Instead of just viewing sights and places, we came away with a deep sense of understanding of the very essence of your beautiful country. You made it possible to see with our hearts and souls, not just our eyes. Thank you for your wisdom, attention to detail, flexibility and sense of humour. And while you are out and about with your next group, keep an eye out for the piece of my heart I willingly left behind in Ireland. 
Dona & Michael Mahoney (aka Moloney)
Thank you, thank you - for sharing your stories and humour - for making our tour posh, comfortable and beautiful - for your kindness, compassion and friendship - for making us feel welcome in your historical and beautiful country. And most of all, for being you. Susan, you are our very favourite hidden gem of Ireland. You have given us lovely memories that will last a lifetime! Love Cathy & Jeanne

ireland's Hidden Gems Tour May 2017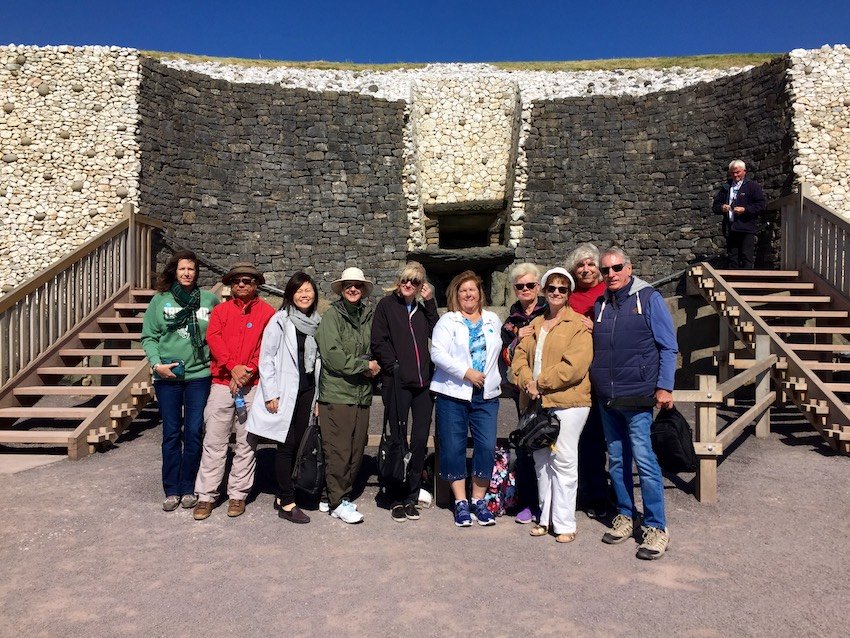 2017 May Tour Group Photo Newgrange
A few testimonials from Ireland's Hidden Gems first ever Guided tour of Ireland with Susan Byron in May 2017 when we were blessed with amazing weather and a great crew! Susan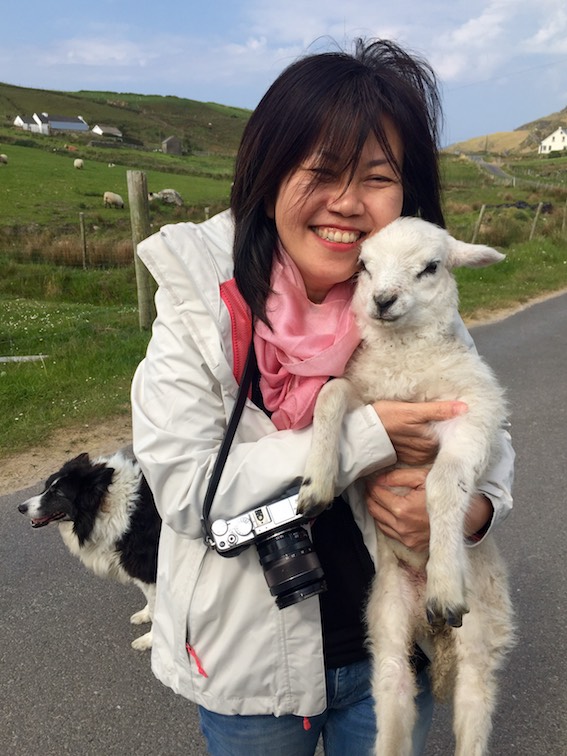 Lay Eng Yeo in love with a lamb on Muckross Head in Donegal
Susan, herself is a most special gem. It was a most unforgettable trip as she introduced us to the hidden wonders of Ireland that probably most travellers would miss out-from unique flora and fauna that flourished on the wild Atlantic coast, getting up close and personal with the local craftsmen and women, savouring the freshest food harvested from the sea and land, cooked to perfection in restaurants and pubs where the locals eat and a a selection of fine accommodations - Susan planned an itinerary so engaging that it mirrored all the richness and diversity of the Emerald Isle. 
Tech & Lay Eng Yeo, Singapore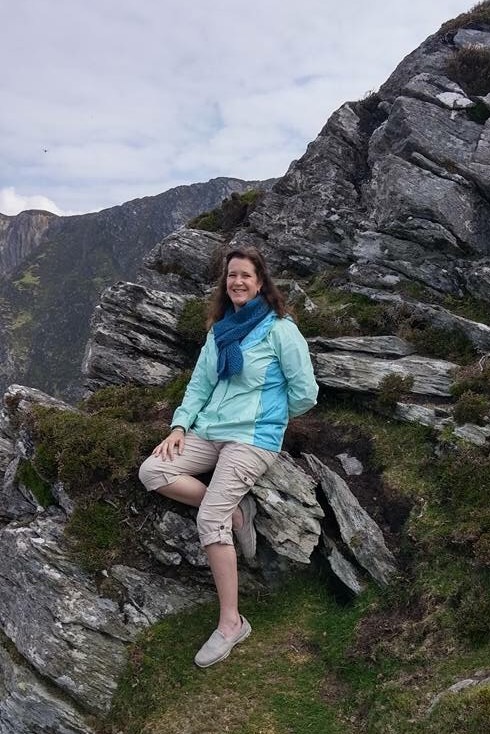 Sara Lynn above at Sliabh Liag in Donegal
Dear Susan, When I was planning my trip to Ireland, it was theoretical in my head—a "some day" kind of thing.  I really had no idea even where to start.  When I saw your tour description, I knew it was just the right thing for me. The trip itself was more than I could have imagined (and trust me, I spent many, many years imagining what it would be like to visit Ireland)!  You took care of all the details; I didn't have to worry about a thing.  The accommodations were first rate, the sights were amazing, our driver was the BEST, and well, I think we were lucky with the weather, and that was fabulous too!  But the personal touch you provided with your narrative along the way was the icing on the cake. Your enthusiasm and love for your country was infectious!  I really enjoyed getting to know everyone in the tour group, and the time I got to spend with my Irish cousin was very special to me.  William Butler Yeats sums it up well, "There are no strangers here, only friends you haven't yet met."  Thank you for everything! Until we meet again, Sara
Sara McKee, North Carolina, USA
Peggy Remeke looking very fetching in her new green woollen scarf
Hi Susan, I so appreciated all of the energy and joy you showed on this tour. Hurray for the 1st gem !!! 
Peggy Remke, Kentucky, USA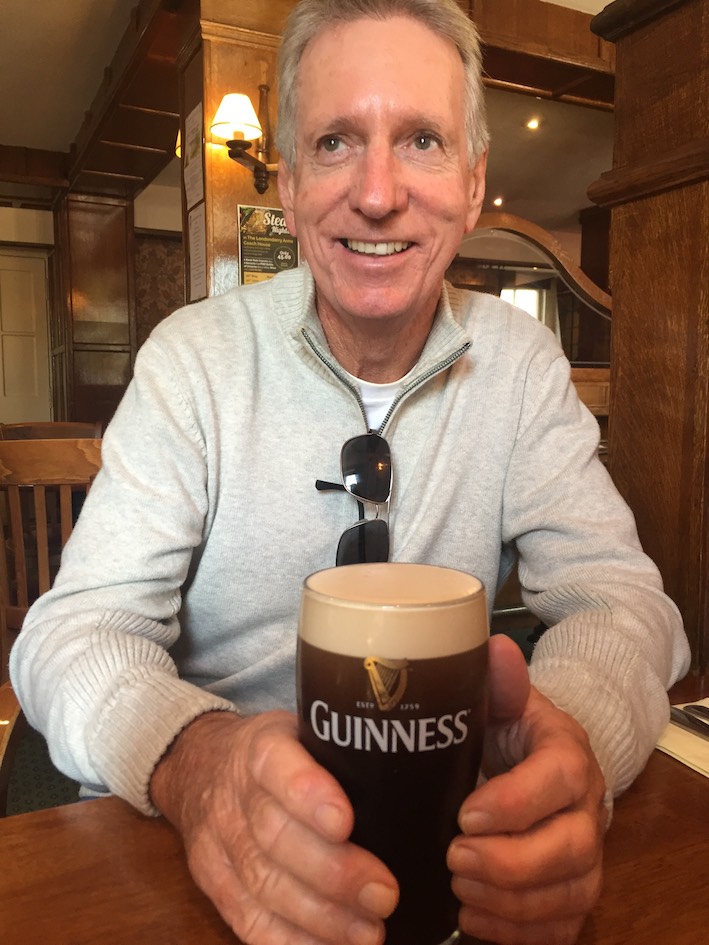 Paul Duffy with one of the many pints of Guinness he enjoyed in Ireland
Thanks Susan, found the Church where my Great, Great, Great Grandfather was baptised on the 21st of May 1809. It was a strange feeling really sitting on the steps of this church, I don't know how to explain it but a feeling of pride and happiness came over me....strange really! I felt a connection, him being Baptised in May and my birthday being in May and the Church called St, Paul's. No, it must have been that pint or two I had for lunch, lol?
Paul Duffy, Sydney, Australia
Marcia Van Dalsem being Bean an Tí at Helen's Bar on the Beara Peninsula in West Cork
Best trip of my life so far! What a blast we had in Ireland. Susan was the best tour guide ever. I just can't say enough about Ireland, the most beautiful place I have ever been to. I'll never forget the magic of this Emeral Island. I hope to go back again some day. Thank you Susan, I can honestly say this was the highlight of my adult life (except for kids and dogs) of course....
Marcia Van Dalsem, Long Beach, California.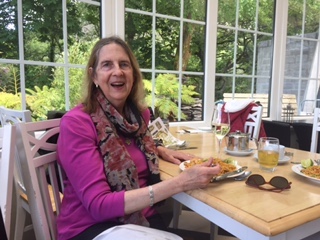 Mary Carling just never stopped smiling through the whole trip!
Dear Susan, so happy you gave me a little push to come to Ireland, I really loved the trip. You and Tony made it so special for me. I have photos of the sea on my screensaver and look forward to returning. I really love Ireland and miss the clean air, pristine water and green and blue everywhere. Not to mention I would really enjoy seeing you again.Thank you so much for sharing you enthusiasm and love of the beautiful gems.
Mary Carlin, Brooklyn, NYC.
IreLand's hidden Gems Tour June 2017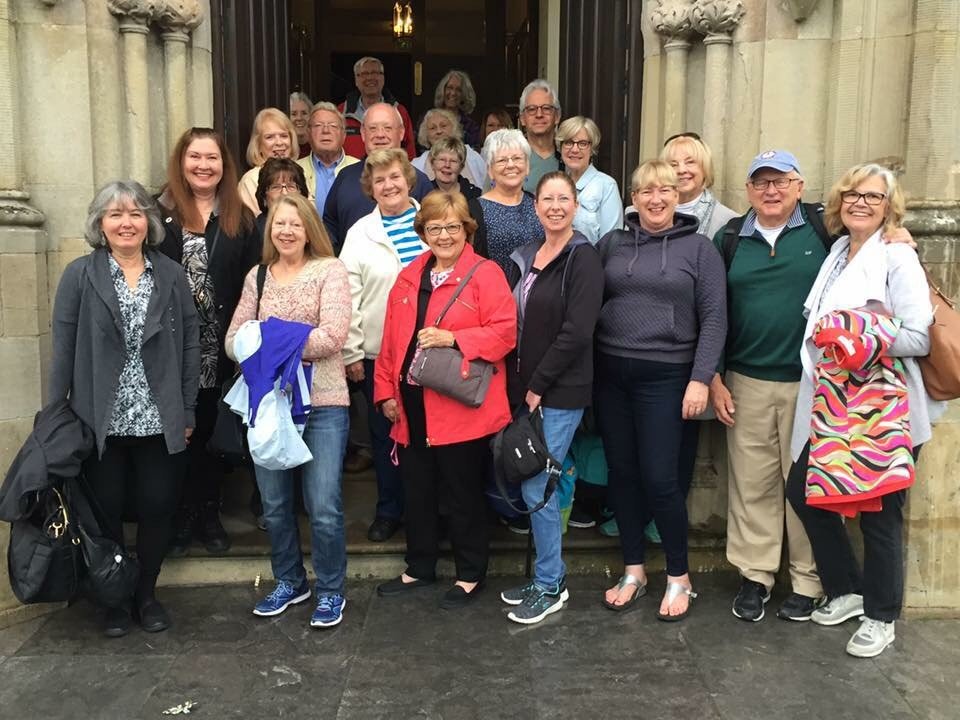 2017 May Tour Group Photo Newgrange
And the fun goes on, I will have a big head before I know it! More testimonials from Ireland's Hidden Gems second tour of  Ireland with Susan Byron in June 2017, talk about high jinks and good fun, we all had an amazing time! Susan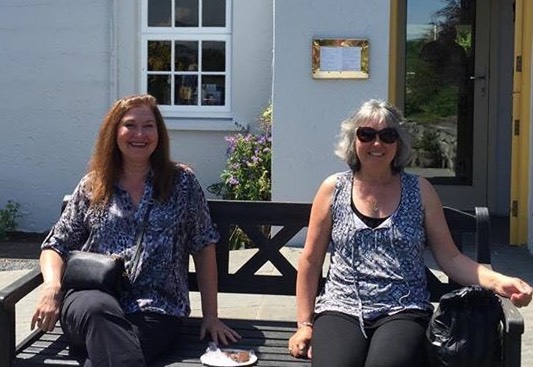 Sisters Cathryn and Colleen couldn't have been nicer company....
Thank you Susan. For my sister Colette and myself your June 2017 tour was a GRAND adventure. From the moment I read the itinerary I knew this was the tour for us. Our first trip to Ireland and your planning made it so easy for  us to just relax, enjoy and see so much more than we could have on our own. You showed us such a diverse selection of sites and regaled us with their histories and lore. I still hear a narrative with the Irish brogue. Everything was presented with such a professional and personal touch that provided us a trip of a lifetime. I am still dreaming of Ireland. Slainte! Cathryn 
Cathryn Russell & Colette Sands USA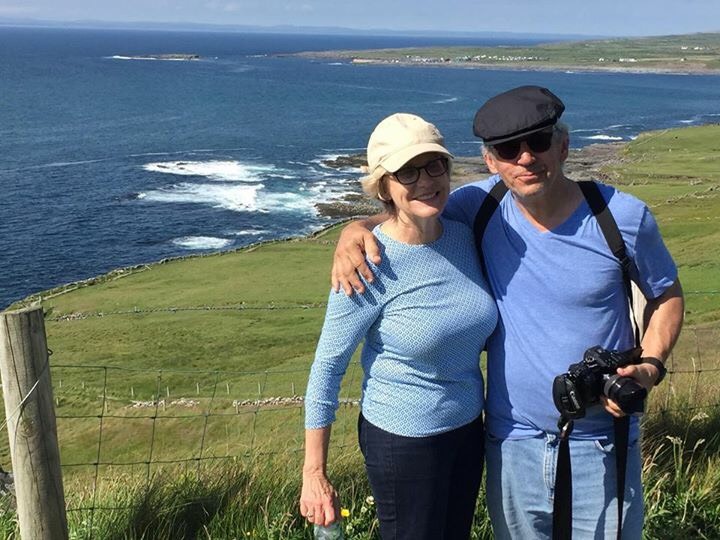 Will and Beth Avgerakis enjoying the cliff top walk from Doolin to the Cliffs of Moher
Hi Susan what an amazing trip, our senses are still intoxicated with that will nourish us forever. We can not express in words what this adventure has meant to us and we thank you for enough for making it so incredibly magical and enchanting. You are an absolutely amazing spirit and we were so fortunate to have you as our guide.
Will & Beth Avgerakis, USA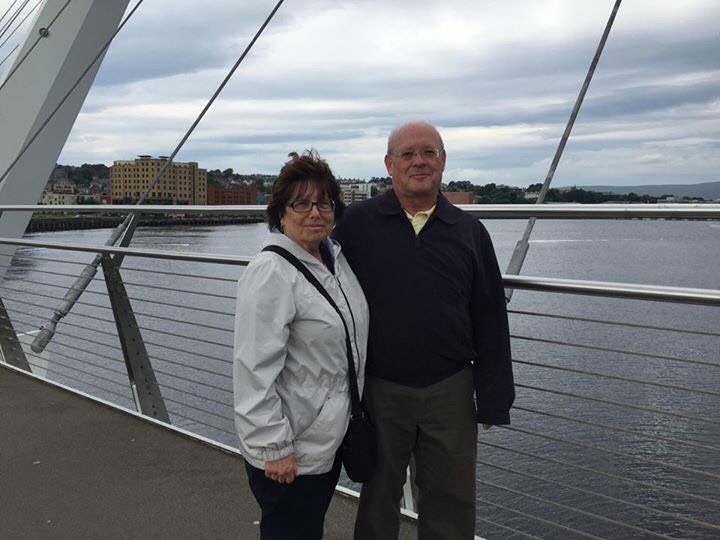 Tadgh and Anita Baker on the Peace Bridge in Londonderry.
Dear Susan, Anita and I want you to know how much we enjoyed the Ireland's Hidden Gems Tour in June 2017. The memories of all we experienced, including the goodness of the Irish people, will be with us always. We truly realize that a tour like this doesn't just happen; it takes a caring person like you who loves her country and wishes to share it with others.  Your dedicated planning, preparation, scheduling, and joyful guidance all along the way made the tour a delight for everyone. Thank you, Susan from the bottom of our hearts. It was grand to be with you!
Tadhg & Anita Baxter, Pennsylvania, USA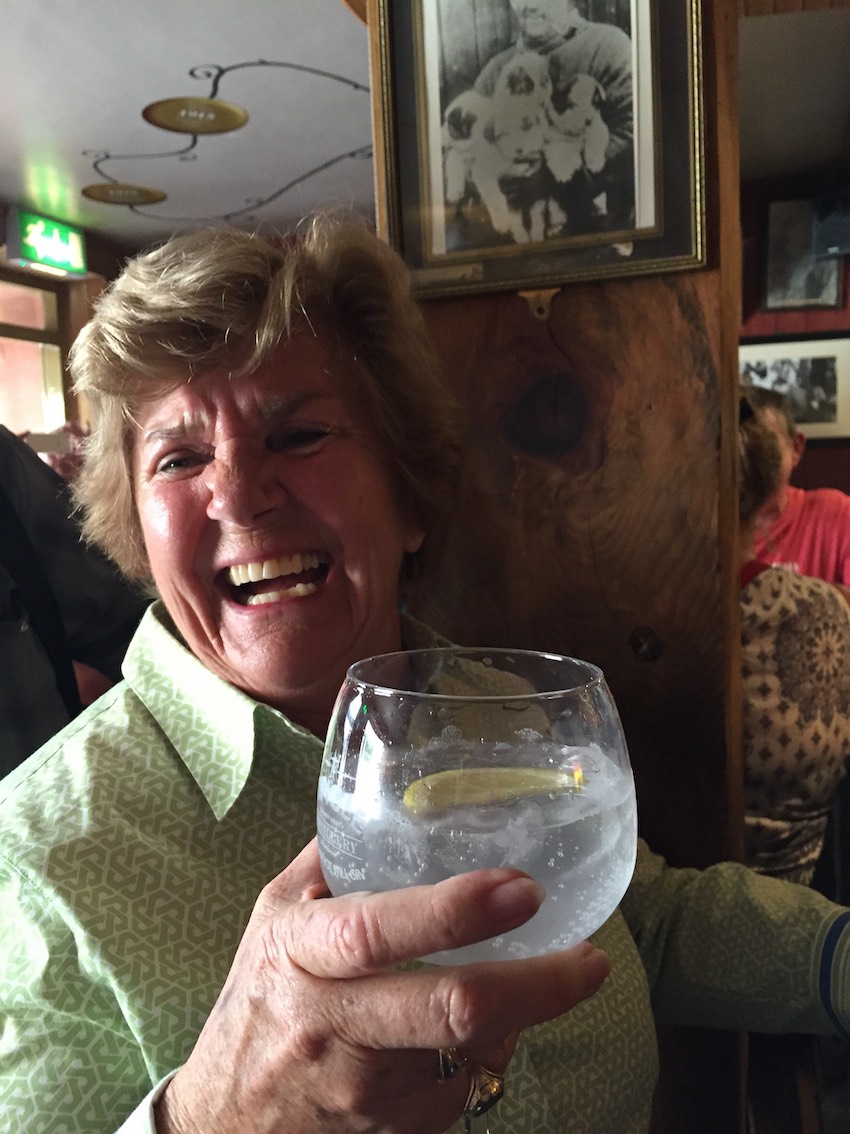 Julaine is a huge fan of Antartic Explorer Tom Crean from Annascaul in County Kerry
Susan, we had put off visiting Ireland for many years until we found just the right tour and yours was it! The beauty and history of Ireland moved us so much - more than we had imagined. The Derry wall, Slieve League, Slea Head, Burt's Church, the sheep dotted countryside - too many beautiful places to list. Dingle gin, the Aiden Dooley book, the "hike" on top of the Cliffs Moher with Pat Sweeney, Eddie Lenihan's stories, the "Trad on the Prom" and the friends we made were highlights. Your informative and entertaining commentary on the land, the history and the people of Ireland was always "grand." Thank you, also, for including Yeats' grave and taking the detour to the South Pole Inn for us.This experience is at the top of our list of great trips! We hope to visit Ireland again and you will be the one we contact for planning assistance!
Sharon Congdon and Julaine Salem, Big Bear California
I will leave the last word for now, to Jane who has fallen truly, madly, deeply in love with Ireland....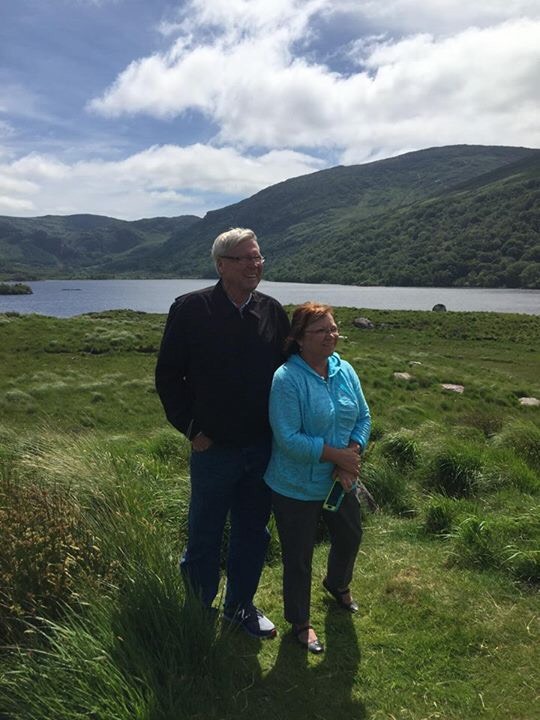 Jane and Rod Mullens at Uragh Stone Circle in West Cork
After our second trip to Ireland in October of 2016, my husband remarked to me that he wasn't done with Ireland yet.  And shortly after that, Susan Byron's Facebook postings caught my eye.  It was her way with genuinely expressing in her posts her love for her country.  In the past, we had traveled with guides who lived outside of Ireland.  After pursuing her E-books, I knew she was the one who would make Ireland grow into our bones.  And we weren't disappointed with our 18 day tour around the whole isle. From the very beginning in Dublin, she displayed a true love for the history, culture and mainstay of her homeland.  She did not disappoint us in her stories, either.  We learned more about the country than previous trips exposure.  The trip allowed us to meld with the true Irishmen.  I remarked to her one day, that I finally understood the culture through the love of telling a good story, to knowing a good song or dance, and being immersed in a community; something solely missed in the United States at this time. The places we visited were an extension of the best sites to feel this immersion.  And her ever smiling face and warm welcomes to establishments that she personally knew their reputation and supportiveness of true entrepreneurship of the locals.  It is a trip that we will always cherish..Susan, thank you for sharing the true Irish spirit (s) with us…much gratitude for a front row seat!
Jane & Rod Mullens, Utah, USA
And here's a lovely surprise I received from the June Tour group in 2017 Thanks guys, I am so glad you enjoyed your time with me in Ireland, Susan
For more information re next years tours please click on the following link Ireland Hidden Gems 2023 Tours or if you would like to fill out the registration form below and I will send you on the full itinerary, all the best Susan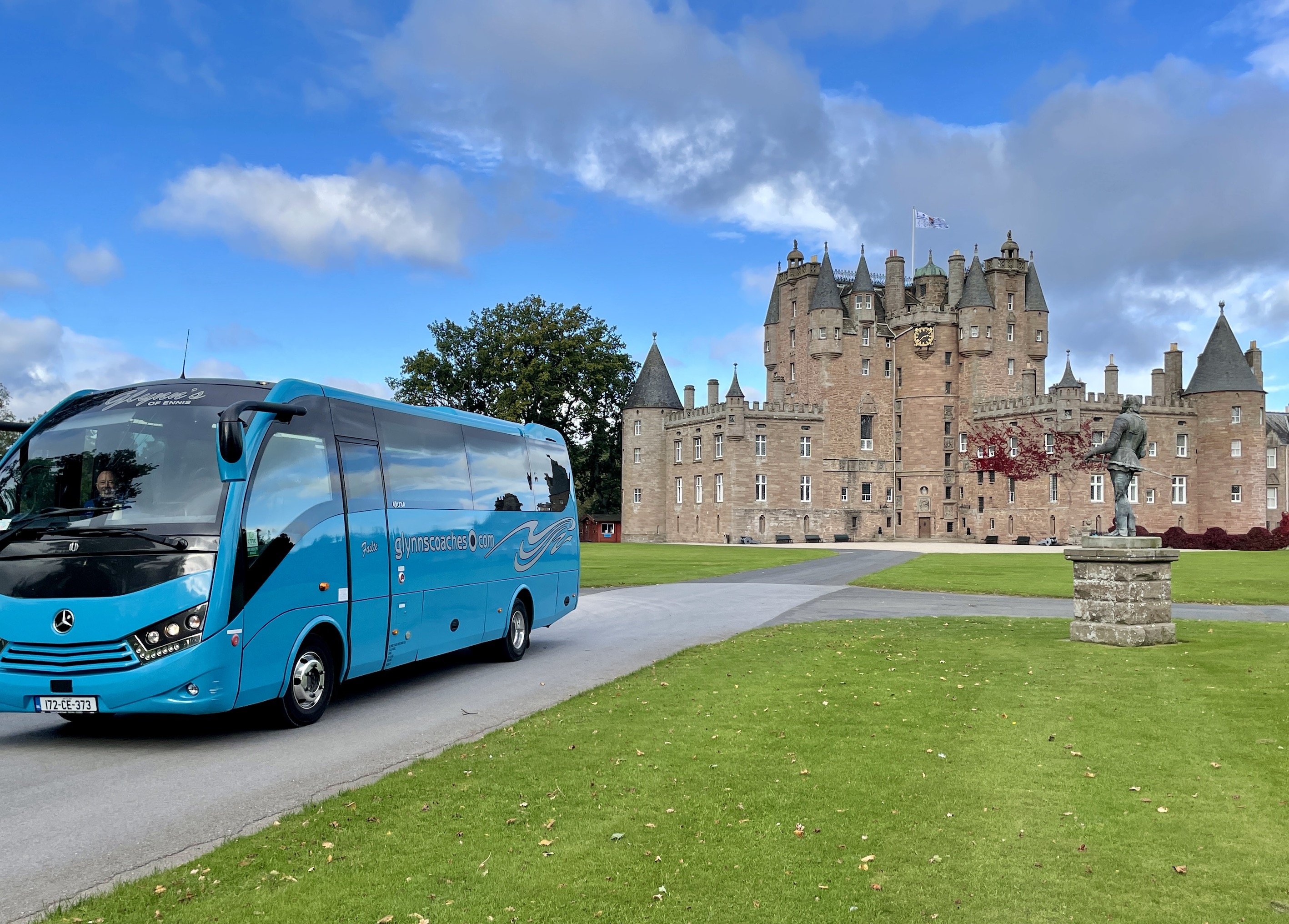 Ireland's Hidden Gems on tour