Inishmurray Island
Inishmurray is without doubt one of the most beautiful places I have ever been or seen on my extensive travels throughout Ireland this last 10 years. Here on this abandoned island (it was deserted in 1948) off the coast of Sligo you have a completely unspoiled environment where the seabirds soar and the wildlife (including rare Irish golden hares) run free.... But best of all you have an ancient monastic settlement founded by St Molaise in the 6th century, complete with churches and beehive cells standing in a garden of wild bluebells surrounded by an ancient Cashel or Stone Fort. But it was the intriguing cursing stones that I had heard about and come to see.....
Inishmurray Island will put a spell on you....
Getting There
No more than Skellig Michael, access is restricted to just a couple of licensed boat operators who are limited to just 12 passengers each and the ideal time for visiting is April and May when the bluebells are in flower. Luckily, I got a cancellation and set off from Rosse's Point with skipper Daryl Ewing, you can always trust a lifeboat man, on the last day of May in near perfect conditions. Daryl pointed out lots of interesting landmarks including the Iron Man, Blackrock Lighthouse and the seal colony on our way out to Inishmurray. We even noticed some interesting whale spotting opportunities with lots of seabird and gannet activity but we had no time to spare, if we were going to make the most of our trip on that glorious day.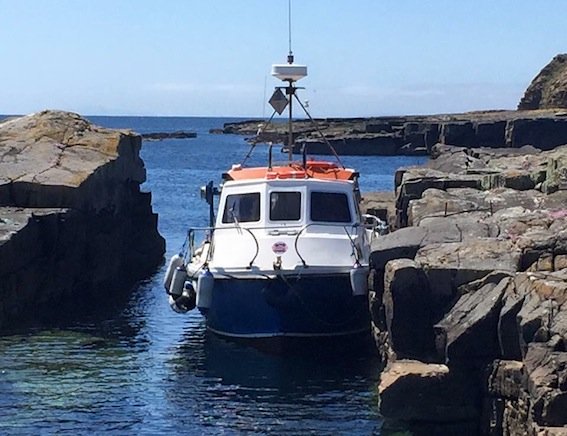 Sligo Boat Charters, Inishmurray Island, Sligo
Nearing Clashymore, a deep natural harbour, we could see a haze of purple bluebells in the small fields above, their heavy scent wafting down to greet us on a blast of warm wind. Crystal clear water and unperturbed comorants, skuas, shags and shell and eider ducks blithely ignored us as we made our way along the 'street', a flower lined, grassy pathway towards the Cashel.....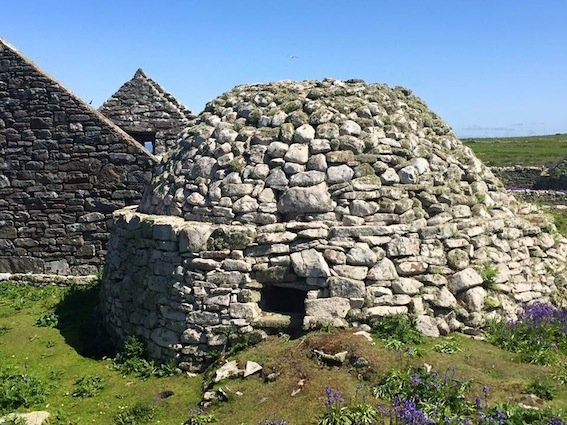 Beehive Hut, Inishmurray Island, Sligo
The Cashel
No one knows for sure which came first, the ancient stone fort or the monastery founded by St Molaise in the 6th century. It could have been constructed 1000s of years before that during the stone age or the monks could have raised it themselves to protect against the Viking invasions of the 9th century. Either way nothing prepares you, as you duck your head under the massive stone lintel over the entrance, for coming up in another world, all at once ancient and very, very beautiful. Divided into roughly 3 parts, each section is knee high in bluebells with 3 churches, 3 beehive huts and several altars....

Inishmurray Cursing Stones (Clocha Breaga) Sligo.
cursing stones
On one of these altars are the famous cursing stones that I had come so far to see.... Legend has it, that if you turn the Clocha Breaga (speckled stones) clockwise with the sun you could bless someone or anti-clockwise against the sun you could set a curse upon them. But woe betide you if the curse wasn't justified as it would revert back on you. Now it might sound like a very bad minded thing to do, but as Joe McGowan in his book Island Voices says, when you think back as to how the Irish were being treated at the time, having their land taken from them, being evicted from their homes and starved while Irish grain was being shipped back to England, coupled with the fact that they had no recourse to legal protection, is it any wonder they came up with their own version of justice! And it worked if the stories are to be believed and there are many.... Intricately carved, many of the stones have been removed to the abandoned national school and replaced with copies for protection, although anyone known to have interfered or removed the stones from the island has met with a very bad end so they were probably safe enough.....
Abandoned cottage, Inishmurray Island, Sligo
Spellbinding...
Inishmurray is a fascinating island and well worth going to see if you get the opportunity, the views back to mainland at Mullaghmore with Ben Bulben and Knocknarea are spectacular on incredibly on a fine day. Which makes the line of abandoned houses, one even painted with the names of the families who were relocated to the mainland, even more poignant when you consider that they used to live in this paradise once upon a time. Perhaps the island will put a spell on you too, as many of the Islanders will tell you that despite the hardships of island life back then,  it was the happiest place they have ever known...
For information about Inishmurray and / or getting to the Island please click on the following links, Susan
Sligo Boat Charters, Daryl Ewing
Inishmurray Boat Trips Keith Clarke