Sacred sites in Ireland
Ireland can trace its history way back beyond the Pharaohs of Egypt and the Pyramids with built evidence in form of burial mounds like the one here at Newgrange. Which is aligned to the Winter Solstice on the 21st of December when the first rays of the rising sun track the spiral patterns and symbols on the stones to illuminate the burial chamber at the back of the tomb. This perfect alignment constructed by ancient astronomers some 5000 years ago is still working and draws visitors from all over the world to witness this unique solar event each year. No one knows for sure the purpose of Newgrange, whether it was a solar observatory or a burial site or both, but it is only one of hundreds throughout Ireland. Whatever their purpose, oral legends about Druids and Celtic Gods and Goddesses were absorbed by Christianity with many of the finest churches, abbeys and monastic sites in Ireland having been built on these ancient sites with pagan origins....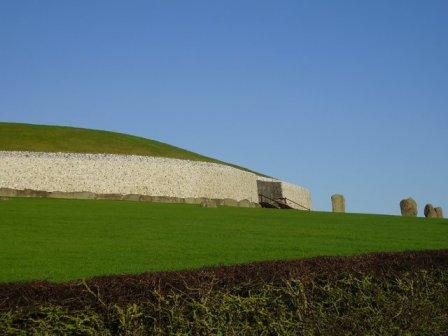 When St Patrick brought Christianity to Ireland in the 5th century, Ireland entered a Golden Age of Enlightenment and became known as the Land of Saints and Scholars. Impressive churches with high crosses were built at early monastic settlements like Monasterboice and Clonmacnoise where the monks began to record the scriptures in beautifully illuminated manuscripts such as the Book of Kells, and intricately crafted metalwork items, inlaid with precious stones like the Ardagh Chalice and the Cross of Cong.
We visit many of the Sacred Sites listed below, including Newgrange (Brú na Bóinne, Monasterboice, Grianan an Aileach, Corcomroe Abbey and Uragh Stone Circle on my Guided Tours of Irelands Hidden Gems.
The 10 Best Sacred Places in Ireland are...
2  Corcomroe Abbey, County Clare
3  Holy Island, Lough Derg, County Clare
5  Glenstal Abbey, County Limerick
6  Kylemore Abbey, County Galway
7  Lough Gur Stone Circle, County Limerick
8  The Hill of Tara, County Meath
9   Holy Cross Abbey, County Tipperary
10 Kilfenora Cathedral & High Crosses, County Clare