Irelands landscapes
Irish scenery
Irelands landscapes are renowned the world over with 82% of visitors citing the scenery as their main reason for visiting Ireland, your guess is as good as mine as to what the other 18% are getting up to? Probably supping pints and having the craic (what we call fun in Ireland) with the locals, well I certainly hope so at any rate. From the Cliffs of Moher to the Giant's Causeway and beyond you won't fail to be thrilled by Ireland's landscapes. Perhaps the most spectacular of all is the Wild Atlantic Way which stretches some 2500kms from the tip of Malin Head in the North of Donegal to Kinsale in the South of Ireland, down along the Western seaboard of Ireland....
Cliffs of Moher on a wild day....
cliffs of Moher
Sculpted over the millennia by both natural and human forces Ireland's landscapes are truly beautiful and a joy to behold any time of year. If you are fond of photography and who doesn't own a smart phone these days than you will find plenty of dramatic photo opportunities, like this pair who asked me to take their photograph at the Cliffs of Moher once upon a time, don't worry I stood well back....

Ireland's landscapes vary from the wild, storm lashed coastlines to the gently rolling green fields speckled with the flat silvery lakes and dark brown bogs of the Midlands. North of Galway we have Connemara with towering mountains and deep inky blue loughs while just South of there we have the Burren. Another world famous Karst limestone region which was a tropical seabed some 365 million years ago which is also home to the longest stalactite in the Northern hemisphere at Doolin Cave...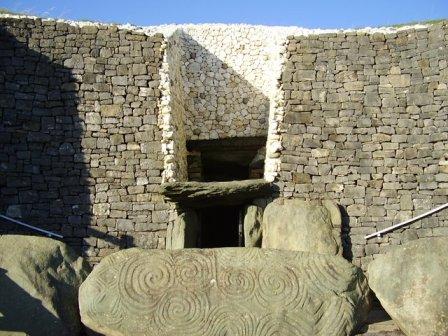 Newgrange, County Meath
Irelands landscape buildings
And nearly all of Ireland's dramatic landscapes are steeped in myths, legends and fairytales, stretching back some 5000 years to the age of the Celts who built Brú na Bóinne or Newgrange as it is known in English. Ireland is also one of few places in the world where you can follow in the footprints of the dinosaurs who made it here some 380 millions years before you! , But don't just take my word for it, come and join me on one of my Guided Tours of Ireland's Hidden Gems to see Ireland's magnificent scenery for yourself, Susan
The Top 10 landscapes in Ireland are....
1 Connemara I think this is one of the most beautiful places in Ireland especially in wintertime when the Twelve Bens are capped in snow and the loughs are inky blue in the midsts of golden hued heather and ancient, earthy brown turf bogs. 
2 The Burren in County Clare is a renowned karst limestone landscape and quite other worldly as befits its 365million year old timeframe. A tropical seabed once upon a very long time ago it is carpeted with Alpine flowers which shouldn't really grown here at sea level. It is delightful to take a walk in and a riot of colour in Spring and early summer when the wild flowers are in bloom.
3 The Fermanagh Lakelands are a real Hidden Gem not least because they are in Northern Ireland which remained relatively unknown to Southern Ireland citizens never mind tourism until fairly recently. A pristine landscape with beautiful forest parks, country houses and stately castles, it is well worth a visit.
4 The Magical Midlands are so often forgotten about and totally under rated by visitors who rush through the midlands to get from the East Coast to the West Coast of Ireland. Well they don't know what they are missing as there are more Hidden Gems here than anywhere else in Ireland and virtually no traffic or other tourists !
5 West Cork I only recently discovered this part of Ireland for myself and head back down there every chance I get, as it is well off the beaten track with an untold amount of treasures still to be investigated. Do yourself a favour and take the time to make a detour down there, I can promise you won't be disappointed.
6 The Beara Peninsula is possibly my favourite place in Ireland as it like Ireland was 30 or 40 years ago and totally unspoiled with a great diversity of scenery, wonderful food and hospitality yet hardly any tourists ever go there.
7 Donegal I am not joking the scenery up there is so beautiful it will make you cry, it's another place I will take off too at the drop of the hat or at least with the top down at the merest sniff of a settled spell of good weather. Donegal even has a different beach for every day of the year and all of them spectacular!
8 The Inishowen Peninsula is another part of Donegal I have to recommend just North of Londonderry. You can take the ferry across from Macgillan's Point or drive over the landbridge via Burt, either way allow at least a day better still a couple of days, okay a lifetime then, to fall in love with this special place.
9 Ireland's Islands pick any of them at all if you want to experience a pocket size version of Ireland's pristine beauty and culture at its most authentic. I have written a whole book about Ireland's Islands as I love them so much and would recommend that you factor in a visit to at least one of them on your Trip to Ireland, it will definitely be the highlight of your vacation.
10 Finally the Wild Atlantic Way which is being promoted as the longest defined coastal route in the world at 2500kms long stretching from Malin Head in the North of Ireland to Kinsale in the South. It's pretty spectacular and you don't have to do all of it unless you have 6 months time out because realistically that is how long it would take to do it justice, Susan 
Or if you would prefer to see them from the comfort of a small group tour bus, click here for more information, pricing, dates and availability.