Doolin Cave
Doolin Cave or Pol an Ionáin,as it is known in Irish, initially opened its doors to the public in 2006 enabling visitors to view for the first time, what is reputedly the largest free-hanging stalactite in the northern hemisphere. Originally, discovered by speleologists in the 1950's, it then took the owners John and Helen Browne, for which they should be loudly applauded, almost 20 years to obtain planning permission to open the cave to the public, following the strictest environmental protocol. Finally, in July 2010, the new visitor centre was officially opened and named after their late friend and Irish author Nuala O'Faolain.
And what a triumph it has turned out to be, the whole visitor experience is extremely professional from start to finish. You are immediately aware of their commitment to science, safety and conservation by being asked to wear a hard hat and carry a torch. In doing so, you seamlessly step into the role of an explorer/adventurer which adds enormously to the experience. Numbers are limited to 20 per visit, which lasts approximately an hour with a cap of a total of 55,000 visitors a year. Our guide was excellent, extremely well informed, patient and friendly throughout. As we descended through the main shaft, he explained how the engineers bored and shuttered the shaft in concrete sections 80 feet deep and 20 feet across. They then had to dig out 100 metres of chamber, enlarging the former river bed for access using air explosives, to ventilate, light and monitor the whole operation daily.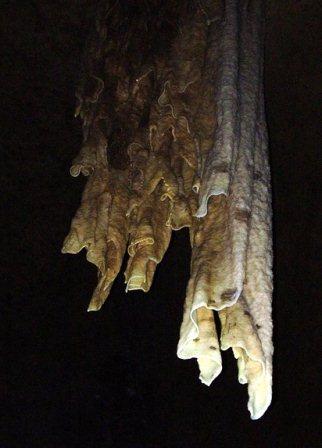 Most Irish visitors would have touched on the geology of the Burren in school, it being a prime example of a Karst limestone region on our doorstep, but to actually experience it a 100 feet below the surface, just inches away from real calcite features possibly 1000's of years old and still being formed is something else entirely. As we passed through an enlarged cave, with bell jars, calcite straws and stone flows, intriguing passages yet to be excavated were pointed out to us. No book, classroom, or internet site can ever replace the real thing.
And as we assembled in darkness in the main chamber prior to the stalactite being lit up, I must admit to being wary of perhaps some "Disney" style theatrics which thankfully wasn't the case. Subtlety lit, the huge beautiful stalactite stole the show silencing any sceptics or tired seen-it-all before types amongst us. What strikes you first is the sheer size of it, 7 metres long, some 10 tons in weight and hanging incredibly from a crack in the ceiling, in exquisite curtain like folds which changed colour owing to ore deposits, that possibly has taken 400,000 years to form and incredibly is still in the process of being formed, as you watch and listen one drip at a time.
Doolin Cave is a true wonder of the natural world, go and see it.
10 Other things to do and see in the area are....
1 Doolin, O'Connors Pub for traditional music and Irish Stew.
2 Irish Music Shop very extensive selection of cds, sheet music, instruments etc
3 Aile River Youth Hostel one of the best in the country, beautiful situated and ideal for taking the ferry to the Aran Islands.
4 Doolin Harbour departure point for the Aran Islands but also lovely to walk out along the limestone cliffs, but be careful in stormy weather, people have been washed into sea and drowned here.
5 Cliffs of Moher Cruise is an alternative way to see the famous cliffs, sea stacks and the 1000's of seabirds, great photo opportunities, you might even see dolphins.
6 The Doolin Jam Company I love these jams, taste their Raspberry & champagne, Port & Blackcurrant or Whiskey Marmalades.
7 Cliffs of Moher & Atlantic Edge Experience Irelands No 1 attraction for good reason, spectacular views on every visitors bucket list.
8 St Brigid's well on right hand side of the road heading for Liscannor beside the pillar monument. Much revered well to Irelands other patron saint St Brigid whose feast day is the 1st of February.
9 Hags Head take a right turn further on and drive out as far as you can, park up, climb over the gate and walk out to Hags Head, scary but thrilling.
10 Vaughan's Pub in Liscannor great rest stop, good food, good pints, good atmosphere, no complaints...
For more on Doolin Cave or to book online please click here For more on visiting the Burren please click here