Cork City
Cork is the second largest city in Ireland and God Bless them, Corkonian's (Cork people) consider it to be second (or real) capital, eh no chance! There has always been good natured rivalry between the two, a kind of 'in' Irish joke, but Cork is never going to upstage Dublin. In fairness, though it has really smartened up its act in recent years with the new Opera house and paved pedestrian areas all around the Crawford Art Gallery and the Butter Museum. With art installations and pop up coffee kiosks it is now more on a par with cosmopolitan European cities than Ireland. The city centre is on an island in the middle of the River Lee, St Patricks Street is the main shopping area but a few streets back is the English Market which Queen Elizabeth II famously visited and had 'the chat' with fishmonger Pat O'Connell doing no end of good for Cork Tourism around the world......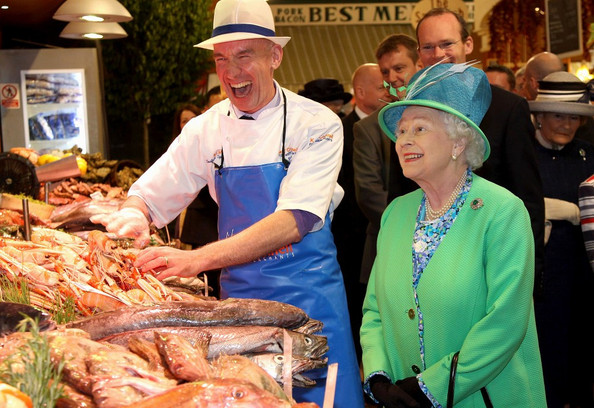 Not that the English Market needed much publicity as this is a permanent market (open mon-sat) that showcases the best of local artisan producers from fish, meat, fruit, vegetables, bread, cheeses and even indian spices procured by Indian, Arun Kapil, turned proud Corkonian. It is a buzzing place and certainly not to missed and if you are just in Cork on holidays you can always sample the culinary delights of the market upstairs in the galleried Farmgate Café. If that is booked up (and it often is) why not gather some goodies and head across to Bishop Lucey Park just opposite the back entrance to the market. You should stay a while in Cork as there is so much to see and do in the area.  The River Lee Hotel in the city centre is a good choice, upgrade to a room with a river view, if possible, it also has a pool and a spa and most importantly free guest parking. Or if you are looking for something a little more romantic why not treat yourself to a stay in the delightful Hayfield Manor on College Road, about 5 mins walk from the city centre. 
Top 10 Things To Do and See in Cork are...
1 Blackrock Castle Observatory a little further out at the mouth of Cork Harbour, this relatively new observatory and science facility is beautiful situated in a stone promontory fort, there is a matching one on the opposite side of the river. (Tip) the castle café is run by Farmgate mentioned above.
2 Butter Museum in the city centre tells the story of our biggest export and most revered staple, that goes on everything from bread to potatoes, Kerrygold Butter! We Irish don't do poor imitations.
3 Blarney Castle 'kissing the Blarney Stone' is on every tourists bucket list, the Irish have no need of it obviously, but the gardens are very nice and there is a large souvenir / craft shop, about 10km out on the Limerick Rd.
4 Crawford Art Gallery I adore this gallery, superb sculptures and a perfectly curated collection of Ireland's best artists. More good food too, try the Clonakilty black pudding on toast for brunch.
 5 Cobh Maritime Museum Cobh, or Queenstown as it was known then, was the last departure point for Titanic on her ill fated maiden voyage. Eclipsed by the much larger Titanic expo in Belfast this is a more personal tribute to the 123 local Irish emigrants who were lost in the tragedy.
6 Charles Fort, Kinsale is a large star shaped fort which controlled the harbour of Cork with a garrison of 1000 men for over 400 years. Amazing views, excellent pints and seafood next door in the Bullman Pub. You will want to spend some time in Kinsale too where it's all about Slow Food and Fast Sailing!
7 Fota Island Wildlife Park, popular family day out with lots of 'wild' animals freely wandering about giving children (and adults) a chance to get up close and personal with their furry or feathered friends. It's expensive though €43 for a family plus €3 for parking.
8 Fota House and Walled Gardens separate entrance and entity, owned and managed by the Office of Public Works, a lovely period house, interesting larder and delightful nursery, wonderful gardens with restored glasshouses.
9 Jameson's Midleton Experience take a guided tour of the original plant where every bottle of Jamesons, the largest selling Irish whiskey in the world is actually distilled. Find out how it was made in the original buildings and see the largest the copper pot still in the world. 
10 St Anne's Cathedral and Shandon Bells or the 'four faced liar' as the clock tower on this cathedral was known for telling a different time on each side. You can ring the bells yourself and climb to the top of the tower for a bird's eye view of the city. 
For more information on visiting Cork City please click here.
For more information about visiting West Cork please click here.