West Cork, go for the scenery, stay for the food...
introduction
West Cork truly is an idyllic part of Ireland, with its own balmy micro-climate that enables bright pink and blue hydrangeras, orange montbretia and its signature red fuchsia to thrive and line the roads, all around and about the largest county in Ireland. It's all about scenery and seafood and endless activity in the cute little, picture postcard, pretty seaside towns of Glandore, Schull, Ballydehob and Skibbereen, to name but a few. Brightly painted cottages and farmhouses, nestle into the landscape to avoid the worst of the winter weather surrounded by a heady and colourful mix of native flowers and exotic plants that thrive in the warm Gulf Stream which bathes this most fortunate part of Ireland. And also about castles, romantic ruins, ringforts and stone circles, lighthouses, seafaring, smuggling and copper mining (once upon a time) fishing and sailing. It seems like there are more sailing boats in West Cork than in any other place in Ireland including Howth and Dunlaoghaire. In fact, the Royal Cork Yacht Club is the oldest in the world having been established there by the 9th Lord Inchiquin in 1720.
Barley Cove beach, West Cork, Ireland
West cork food
Generations of families retrace their footsteps (buckets and spades in hand) to their old homesteads or smart new holiday homes every summer. It is also the best place to eat in Ireland and where the Slow Food movement began under the auspices of Myrtle Allen of Ballymaloe House in Ballycotton fame. Actually, there are more thriving artisan food producers in Cork than anywhere else in Ireland, including Gubbeen Farmhouse Products, whose smoked rashers are hand massaged with an aromatic mix of herbs and spices once a week while being cured. I wouldn't mind that myself, is it any wonder they taste so good! Union Hall is a major, but pretty fishing port, with an excellent selection available daily from their own fish shop, including fresh prawns if you are lucky.....
Three Castle Head, West Cork, Ireland
West cork Beaches
But go for the scenery if nothing else, clichéd but true, it is truly breath-taking on a fine day or it will blow your head right off on a bad one! Explore one of the many islands such as Sherkin or take a drive out to Mizen Head Lighthouse, Sheep's Head or the Beara Pennisula which is above (try going over the Healy Pass) and beyond (Cod's Head) beautiful and where you will see some of most dramatic vistas in Ireland. If that isn't enough for you, why not try your hand at Whale Watching? Did you know that the South Coast of Ireland is one of the best places in the world to see a Fin, Humpback, Minke and even Orca whales on occasion, as well as basking sharks, dolphins and porpoises with a purpose...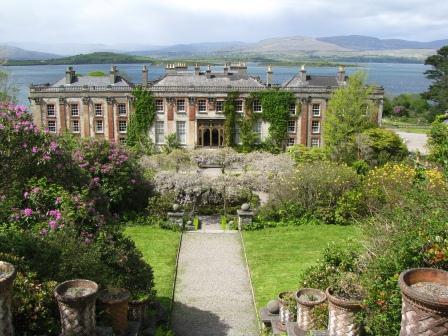 Bantry House, West Cork, Ireland
Bantry House (its drawing room was furnished from a fire sale at Versailles) and Garinish Island a secluded garden oasis are both very special and not to be missed. And finally, there are dozens of secluded white beaches where the sea is a curious soft green and the water is warm all year round again thanks to the Gulf Stream. Who knows you might even get lucky and find one of the blue beads that are said to wash up from the wreck of a Spanish Pirate ship after every storm...
Hidden Gems
The 10 Best Things To Do & See in West Cork are....
1 Mizen Head Experience out of this world on a fine day, it has an indoor exhibition and café for rainy days. Three Castle Head north of the Mizen is the one of the most beautiful places I have ever been in Ireland.
2 The Sheep's Head Peninsula won the best walk in Ireland and now has 11 different sections which you can dip your toe in and out of at your leisure.
3 The Beara Peninsula is like Ireland was 30 or 40 years ago, wild-out, strangely named places, where every new twist in the road opens up into a fantastic view that is even better than the last one behind you and best of all very few tour buses go there.
4 Kinsale while not technically in West Cork (30 kms south-west of Cork City) this colourful small town on the coastline is worth a visit and well knnown, deservedly so, as the Gourmet Capital of Ireland you could eat away happily in a different, top-class restaurant every night.
5 Take a trip out to Sherkin Island (10 minutes by ferry from Baltimore Harbour) to sample island life and enjoy the best chowder and mussels in Ireland at the Jolly Roger Pub Or if you have time, visit Cape Clear (an Irish speaking island) for the story telling festival in September or Heir Island on Roaring Water Bay, where you can learn to bake your own bread. Or Dursey Island at the tip of the Beara Pernisula the only island in Ireland accessible by cable car.
6 Bantry House in a delightful setting overlooking Bantry Bay, wonderful old world gardens and fabulous blue diningroom, you can even stay in this stately home which is open for bed and breakfast during the summer season.
7 Garinish Island or IInacullin (Island of the hollies) as it is otherwise known is home to exotic plants that grow bigger and better here on this tiny island paradise than they do in their native habitat in the tropics.
8 Balleydehob, Schull, Goleen spend time in any or all of these small painted villages, wouldn't the names themselves entice you? Or take a detour inland to visit the tiny little hermitage on the lake at Gougane Barra.
9 Visit the Sky Garden at Liss Ard Country House Estate designed by James Turrell, this is really something, it should be on everyone's To Do List while visiting Ireland.
10 Go whale watching with Cork Whale Watch which is a thrilling four hour expedition that leaves most days, weather permitting from Reen Pier opposite Castletownshend. 
For more information about West Cork please click here
For more Irish Landscapes please click here