Liss Ard Country House Estate
Liss Ard Country House is the perfect antidote to an Irish summer... and while conditions may be wet? in West Cork they are positively balmy ! At Liss Ard you have a very fine country house where no stone has been left unturned literally (check out the charming doorstops) to define and ensure your comfort and it is so child friendly...without being over-run if you are a couple. Manager Arthur Little insists that his team's mission is to have a complete second set of everything you might require from wellies, to wax jackets and torches to boot! An elegant Georgian building without with a smart modern interior that is not only child proof, but homely. Huge bedrooms (is there anything worse than pokey, when the weather is inclement) with perfect beds, comfy pillows for reading and the softest woollen throws to warm your toe-toes. Voya Irish seaweed toiletries and a boxed selection of Bewleys teas & coffees are just the kind of top class complimentary touches you would expect to find in such a room...
Mind you there is also a proper coffee machine downstairs with homemade cookies available all day long as well as an honesty bar if you fancy something a little stronger. Wines are excellent and reasonably priced and if like me you fancy keeping half a bottle (it happens on occasions) for the next nights dinner, that is not a problem. Plan on spending more than one night at Liss Ard, as to be honest it is a good hour and a bit drive from Cork plus 3 from Galway and at least 4 from Dublin. So 3 nights seems ideal but a minimum of 2 if you are really pushed as there is so much to see and do in West Cork and all in handy day trips. Not that there is anything at all wrong with lazing about the house listening to music, all of the cds where donated by famous musicians who have stayed there (that'll keep you guessing) ditto the coffee table books....You will notice several by James Turrell, designer of the famous Sky Garden (one of only two in the world) at Liss Ard so be sure to experience it while you are there, guests of the house get a free guided tour of all the gardens that border the neighbouring organic farm that was once part of this 200 acre estate....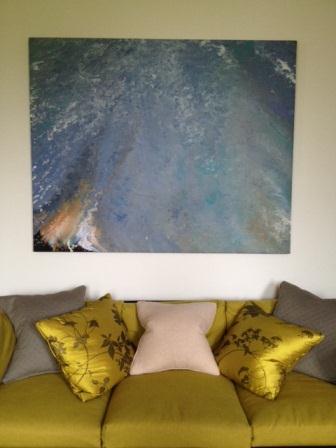 The food is wonderful with all of their produce being sourced locally, the distance traveled is more often metres than miles! Bread, cakes (and those delicious cookies) are baked daily in the kitchen downstairs with homemade jams, artisan cheeses and cured meats featuring on the breakfast menu. Dinner is obviously a more lavish but relaxed affair with a different menu daily depending of what is in season in terms of fresh fish from nearby Union Hall or a nice sirloin of beef or organic lamb. It is food for our times, fresh and simple, deliciously cooked and well presented. Liss Ard is ideal, whether you are after a romantic break or a relaxing few days away with the kids and a rare hidden gem indeed as in a very affordable, luxury getaway....

For more about Liss Ard please click here.

For more information about the Sky Garden please click here

For more Things To Do and See in West Cork please click here