Sky Garden Liss Ard County Cork
The Sky Garden at Liss Ard Country House Estate is one of only two in the world designed by the American sculptor James Turrell and seriously difficult to put into words. I have never experienced anything quite like it and it is certainly not what you would expect to find in a quiet corner of West Cork . Commissioned by a previous owner of Liss Ard it is part of a complex of such installations (yet to be completed) it cost in excess of €500,000 so it might be a while! Inspiration was drawn from a variety of sources and traditions including, Celtic, Egyptian and Mayan archaeological concepts and buildings but primarily the original Liss Ard (or high fort) close by the site on the actual estate. Irish traditions and pisheógs (fairy curses) would never allow for the interference with that actual site for fear of disturbing the fairies or spirits that dwell there.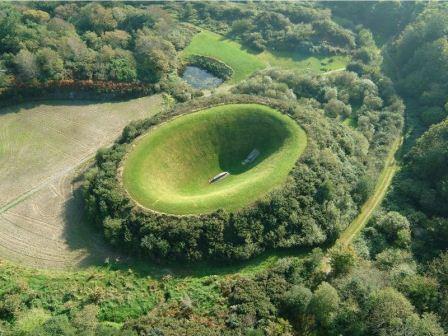 The entrance is through a henge type stone arch signifying the first transition or birth, from a gladed wood with a pond through a long womb like structural passage before a steep climb up some steps into the still and silent, oval, bowl shaped interior which measures 50 mtrs x 25. The acoustics are such that not a sound can be heard from outside and visitors are encouraged to explore in silence. In the centre there is a stone plinth (not unlike an Egyptian sarcophagus) where you can lie back to get a full view of the elliptical shape that frames the sky and ultimately your vision of the universe (and beyond) It is quite incredible and very hard to describe, in fact I had to sneak back in the middle of the night to see what it felt under a canopy of stars, which was quite something as you can imagine. The Sky Garden is very different, clever and beautiful, I would normally say 'go see it' but in this instance it's 'go feel it'....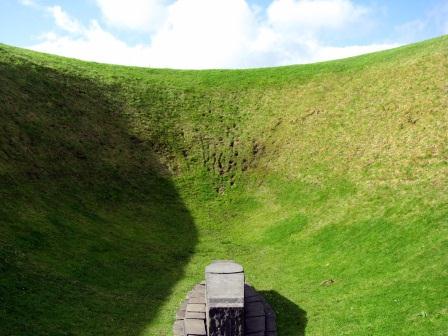 Open from 10-5pm daily from April to November. Admission is by guided tour only which costs €5 per person which ideally should be booked in advance, see link below.
For more information on visiting the Sky Garden at Liss Ard please click here For more Things To See and Do in West Cork please click here