Sherkin Island - West Cork
Sherkin Island is one of the most best and most popular islands to visit off Cork, not least because it is only a 10 minute ferry ride (€10 return) across Roaring Water Bay from picturesque Baltimore Harbour on the mainland. And the fact that the Jolly Roger is one of the best pubs/seafood restaurants in West Cork certainly helps ! The scenery over there, as with all of West Cork, is fabulous, head for the south west of the island to explore the pristine white beaches of Silver Strand and Cow Strand which you will most likely have to yourselves. Lay back in the shelter of the sand dunes and enjoy the spectacular views out towards Cape Clear, the Gaeltacht (Irish speaking) famous for storytelling in the distance...
If you are short on time or feeling lazy you can take Mag's bus from the harbour for €2 a head, she'll also come back and pick you up if you like but it is an easy and extremely pleasant walk back around the island. You can explore a little further out as far as the Dock and along by the marina or have a nose around the ruined Franciscan friary or venture on out as far as Horseshoe Bay. Keep an eye out for the O'Reilly Kids ( a pair of mischievous goats) on your travels apparently they are eating all before them clearing pots and window boxes as we speak. And if you fancy some more gossip or a taste of (real) island life head on up to the Jolly Roger Pub. I was fascinated hearing about their Stitch & Bitch knitting sessions during the winter and the Darts for Old Farts club ! Can you just imagine the craic there in front of the fire with a gale knocking at the door and howling at the windows? We certainly don't have near as much fun on the mainland that's for sure...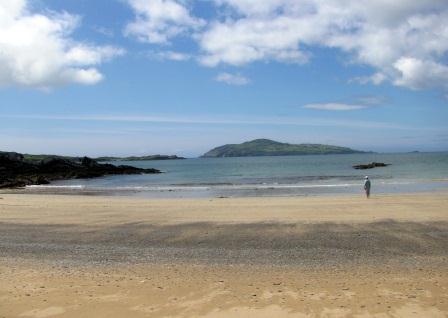 For more information on Sherkin Island please click here

For more information about the Jolly Roger please click here For more Things To See & Do in West Cork please click here