Ireland landscape - spectacular scenery
Apparently 82% of visitors to Ireland come for the scenery which is hardly surprising, I reckon the rest of them come for the pubs and pints of Guinness!  Sculpted over millennia by both natural and human forces Ireland's landscapes have been formed into no end of dramatic shapes, textures and colours that make for excellent photo opportunities! From the wild, storm lashed coastlines of the Atlantic Ocean to the tranquil, rolling hills of the Magical Midlands or the world renowned limestone Karst region known as the Burren Resplendent with wild flowers during the spring and early summer on the surface, yet home to a dramatic underground world of caves and watercourses, including the longest stalactite in Europe at Doolin Cave. These magical landscapes are of course steeped in myths, legends and fairytales, stretching back to the age of the Celts and beyond at Newgrange or 'Bru na Boinne' which is included on my Guided Tours of Ireland....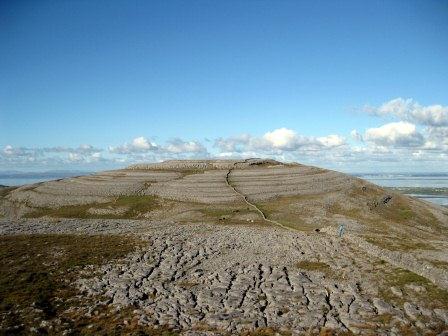 A lifetime would be too short to truly appreciate all of the different Ireland landscape and that is not even counting the Islands which are delightful pocket sized versions of the mainland. And what is really remarkable and the stuff of Hollywood legends are the dramatic differences in colour that can happen with the play of light or weather on these lovely vistas from one minute to the next. If you are into photography try to come to Ireland in early May when it is at its greenest or in late September when the light is low and places like Connemara that are completely magical.
But anytime is a good time really and if you choose to take a Guided Tour of Ireland with me you will get to see some of the best detailed below.....
The 10 Best Landscapes in Ireland are....
1 Cliffs of Moher - Ireland's premier tourist attraction
2 The Burren - Bare limestone, wildflowers
3 Irelands Islands- ás Gaelige
4 Midland's Magic - Drumlins, druids & sacred sites
5 Connemara - for The Quiet Man
6 The Lakes of Killarney & Gap of Dunloe
7 Mullaghmore - Spiritual heart of the Burren
8 The Giant's Causeway- A stone's throw away ?
9 West Cork - Balmy and abundant always....
10 Donegal and Glenveagh - Highlands and Heather.
View Ireland's Hidden Gems - Landscapes in a larger map