Connemara
Connemara is almost too beautiful for words and it comes on you suddenly as you drive out from Galway just after the small, (quaint fits perfectly)fishing and market town of Oughterard on the banks of Lough Corrib. It is as if someone drew a line separating civilization, towns, people, and houses and said instead 'here let's do wilderness' mountains, lakes and ravishing beauty...Just like our very own Maureen O'Hara who was the leading lady to John Wayne in the movie The Quiet Man which effectively launched the tourism industry here in Ireland, such was the reaction in America to the now famous Irish landmarks featured in the film.
Like the little stone bridge (on the left hand side of the road to Clifden) you cant miss it? which is still as picture perfect as it was when the film was made some 60 years ago.
After which you are plunged into an almost deserted landscape, apart from the woolly sheep and their lambs. Inky blue, wind whipped loughs are towered over by the giant Twelve Bens mountains. Bursts of acid yellow scented broom in spring gives way to the heady purple/pink profusion of rhododendrons in early summer mellowing into rusty, purple swathes of heather in late autumn, right through to winters snows....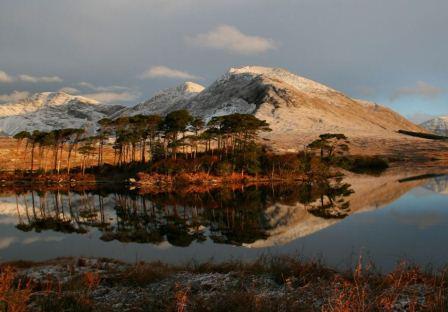 Its wild, it's desolate and so beautiful, it will take your breath away. You could easily spend your whole holiday in Connemara, there is so much to see and do here and yet lots of nothing too. Wild open spaces where you can sit by a brown babbling brook and have a picnic. Or climb a mountain, pick any mountain, paint, take photographs or be just be blown away literally, its always windy...
You will see eagles soaring on the high air streams, oh and lots of daredevil sheep who like to sleep on the roadside verges or warm tarmac, who will not pay one bit of heed to you, no more than anyone else out there in the wilds of Connemara.
Watch the original trailer of The Quiet Man below...
10 Other Things To Do and See in Connemara....
1 Kylemore Abbey & Gardens visit the Benedictine nuns 'secret haven of peace and tranquility' absolutely excellent, highly recommended.
2 Killary Harbour take a scenic cruise on Irelands only fjord, stay at the Delphi Mountain Resort or stroll around Leenane, immortalised by Richard Harris in The Field
3 Lough Inagh Lodge where else could you wake up to a view like this? a perfect country house hotel in a magnificent setting, friendly french staff, fantastic food and four poster beds....
4 The Avoca Shop, Letterfrack probably the prettiest location ever for a craft shop? on the harbour, with a view of Tully mountain, a lovely place to picnic, while the other half browses....
5 Inishbofin Island for a day trip or overnight stay, this is our 'Treasure Ireland' a pocket sized Ireland, fantastic scenery, beaches, castles, fresh food and island hospitality. Ferry from Cleggan harbour daily.
6 Or if you are a landlubber? Drive on a bit further to Claddagh Duff where you can cross over to Omney island at low tide, for stunning views of the wind and wave lashed High Island.
7 Clifden is very well known and loved, unfortunately though, a little over developed of late, but not so the Skye road which has great Atlantic views, check out the bog where Alcock and Brown landed in 1919 having made the first ever transatlantic flight to land here from America.
8 Ballynahinch Castle is a posh, but certainly not snooty lunchtime or overnight stop. A former fishing and hunting lodge, which once belonged to an Indian Maharajah, this in one place you will not forget in a hurry. They even offer fly fishing courses if you fancy it? complete with plus fours (joking)
9 Ballyconeely is the 'real' wild West, stormed lashed beaches, with little cottages tucked in under stone outcrops with nets and lobster pots drying in the wind, piles up turf stacked against gables, small gardens of potatoes and cabbage poking through layers of dried seaweed. Its a step back in time, if you can ignore the holiday homes?
10 Roundstone very popular and upmarket holiday home retreat with the Dublin 4 set, crammed with flash cars in high season, but gloriously normal the rest of the year. Lots of high quality fish restaurants, old fashioned sailing regattas during the summertime.
For more information on the Connemara Loop click here.