Delphi Mountain Resort
Delphi Mountain Resort, while little over an hour from Galway City is every bit as remote and beautiful as Machu Picchu, but a whole lot easier to get to thankfully! The drive out through Connemara has to be one of the most stunning road trips in the world. Huge mountains, dotted with curly horned sheep, under even bigger skies, that change constantly in an endless play of sunlight and cloud cover. Wild flowers and turf ricks line the route, with the odd abandoned cottage sparking the imagination of the wannabe, permanent deserter. Acid green fields give way to bogs that edge deep, inky blue loughs, where lone fishermen bob up and down on wind whipped waves. It is soul food of a kind that is unique to Ireland, thank God...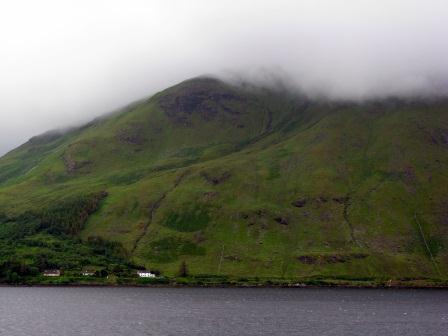 Winding around Ireland's only fjord from Leenane Village, where the movie The Field was filmed, Delphi Mountain Resort appears like a scene from the Hobbit, nestling perfectly into the landscape, its rustic eyebrows winking a warm welcome to you as dusk falls. By contrast the interiors are large and spacious with bright modern rooms with crisp white linen and warm fleecy throws. The main focus for many visitors is the wide variety of outdoor activities including, hiking, kayaking, surfing, crag climbing and hill walking, although we were warned not to venture above the cloud line just in case? Connemara Mountain Rescue had no need to fear on our account, the only scaling we intended doing was up to the panoramic first floor dining room and the nearest thing to exposure or a chill factor was going to be several bottles of ice cold Sauvignon Blanc...
Having bemusedly watched the kaleidoscope of changing light and weather that danced across Mweelrea mountain (the highest in Connaught) and feasted on hearty food including cinnamon spiced brown bread, homemade soup, Connemara lamb shanks and fresh fish from that same fjord we slept like babies ! Conveniently enough, right through the 9.30am roster for the zip wire/ wall climbing activities etc in favour of a rendezvous with a lounger in the award winning spa at Delphi Mountain Resort. Treatments by a team of expert therapists include everything you might imagine from facials to massages with the Delphi seaweed bath being the most popular. And while the rest of the them were 'out and about' we were 'busy relaxing' sipping on Delphi's own blend of herbal teas, happy out....(indoors)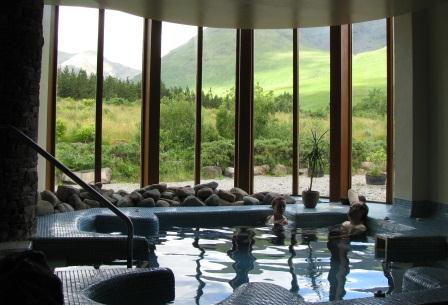 December Trails at Delphi Delphi Mountain Resort have some great winter walking offers on this December. Experience these magical landscapes (some would say at their best) with an overnight stay which includes bed (a hearty breakfast) and dinner, with a guided walk and / or hot seaweed bath in their award winning spa. Sounds like the perfect way to escape the Christmas madness....
Bed & Breakfast from €69 pps, with two night Spa Packages from €189 pps.
For more information and to check availability please click here.

For more information on Connemara please click here