The Giants Causeway, Bushmills, County Antrim
You cannot beat a Road Trip and the Giants Causeway is right up there with the best of them for spectacular scenery, stretching some 120 miles along the coast of Northern Ireland from Belfast to Limavady. Along this route, there are so many detours and interesting things to see and do that you might be a while getting there! And that is without even venturing inland to the wild, romantic Glens of Antrim which are steeped in myths and legends. You could well be forgiven for taking a trip out to Rathlin Island, which is only 8 miles to Scotland. You can even take a fast ferry there from Ballycastle, but that is taking the detour thing to a whole different level, still? And you are not going to be able to pass the Carrick-a-rede ropebridge, assuming you have not got waylaid in Bushmills at the distillery there.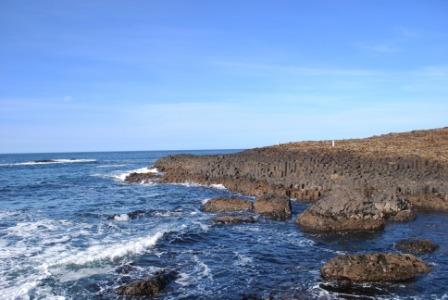 There is a brand new multi-million pound interpretative centre which explains the geology etc but the real action is outside and you will not really be happy until you get down and tramp all over them and take the obligatory photo. When you do, you will realise why the Giant's Causeway got its name, as a series of stepping stones for the giants of Ireland to cross over into Scotland and beyond. These strange 6 sided basalt columns, the cooled remnants of volcanic activity some 60 million years ago which appear to rise out of the sea are quite rightly considered to be part of our worldwide heritage. and are protected by Unesco
10 Other Things to Do and See along this route are...
1  Dunluce Castle a little further on is perched on the side of a cliff, hardly surprising that part of it dropped in to the sea !
2  Carrick-a-rede rope bridge is on everybody's list of scary things to do.
3  Rathlin Island take the puffin bus to see the upside down lighthouse and the seabird colonies at the Western tip of the island.
4  Torr Head is a cracking drive, unrivaled scenery, you can even see Scotland on a fine day.
5  Cushendun and Cushendall two of the most beautiful villages you will see anywhere in Ireland.
6  Glenarriff forest park woodland walks and waterfalls.
7  Carnlough too cute, gorgeous little harbour village with a renovated inland railway walk.
8  Glen of the Hedges head inland at Carnlough along the A42 to see these spooky hedges that meet in the middle of the road.
9  Glenarm Castle another beauty, walled gardens and tearooms.
10 Carrickfergus Castle mighty big Norman castle close to Belfast.
For more information on the Giants Causeway please click here