Glenveagh Castle Estate
Glenveagh Castle estate is a huge national park in Donegal consisting of some 16000 hectares of wilderness, bogs, mountains and lakes. Originally a Victorian hunting and fishing lodge it is now a safe haven for wild life and birds of prey, golden eagles having been reintroduced and successfully bred recently. Glenveagh has always had an American-Irish connection having been bought originally in the 1850's by John Adair, who built the baronial style castle, his wealthy American wife Cornelia added the gardens and continued to entertain and summer there until she died in 1921.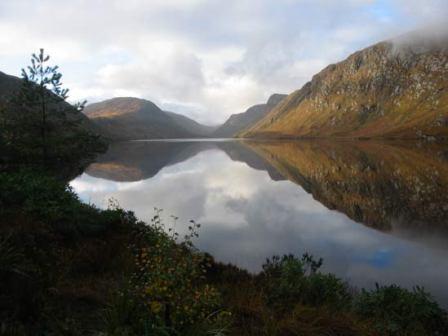 The estate was then owned briefly by Professor Kingsley Porter of Harvard University who disappeared mysteriously on a trip to Inisboffin island. After that it was sold to another American Mr Henry McElhinny from Philadelphia who happily lavished his time and money on it for some 40 years before selling the estate to the OPW. In 1983 he kindly bestowed the castle and gardens to the nation. The remoteness was constantly an issue for the succession of original owners back then, but luckily that same remoteness preserved this wonderful estate in pristine condition for generations to come. There are guided tours of the castle and gardens, tearooms and free trail booklets.
Open all year round except for Christmas admission is free.
10 Other things to do and see in Donegal....
1 Slieve League Bunglas, County Donegal take a spectacular cliff top walk along some of the highest cliffs on the western seaboard of Europe.
2 Smugglers Creek stay at this great B&B near Rossnowlagh and have dinner in the conservatory with one of the best views in Ireland, if not the world.
3 Rossnowlagh gallop a horse the lenght of this great beach.
4 Donegal Castle seat of Red Hugh O'Donnell an Irish chieftain made famous by Walt Disney in the 1966 film 'The Fighting Prince of Donegal'.
5 Blue Stacks take a hike out into the mountains but be warned they seem to have a weather system of their own.
6 Magee's have dressed the best including our own Pierce Brosnan, aka James Bond. Learn how tweed fabric has been woven here for over 140 years at their shop in the Diamond, Donegal town.
7 Arranmore or Tory visit these offshore Islands, pocket gaeltachts or Irish speaking areas, wild, remote and ruggedly beautiful.
8 Fanad or Inishowen explore either of these peninsulas for stunning scenery and deserted white beaches and if you are very lucky some fine weather.
9 Glebe House & Gallery visit the former home of artist Derek Hill, Letterkenny who kindly the house and gallery along with his art collection to the nation in 1980.
10 Portsalon play around of golf at the championship links here overlooking Ballymastocker Bay once voted the second (cheek) most beautiful beach in the world.
For more information on Glenveagh Castle please click here.