Luxury Guided Tour of Ireland's Hidden Gems with Irish expert Susan Byron - New Tour Dates announced for 2018
Cliffs of Moher - County Clare
The Cliffs of Moher are a majestic, remnant of the last ice age and Ireland's most popular tourist attraction, with over a million visitors annually. Perched on the Western most edge of Europe, the next landfall or parish, as they say here in Ireland is some 5000 miles across the Atlantic ocean in Boston or New York. A modern visitor centre The Atlantic Edge Experience, not only explains the geological background, flora and fauna, using interactive media, but also the local history, music and folklore of the area. It is an excellent addition, in that it keeps children of all ages informed, amused and entertained in what can be a disappointing experience should the cliffs be shrouded in mist, fog and rain, or as one visitor put it recently 'flying weather'. You can visit independently, but my tips are to visit at sunrise or sunset when you will most likely have the cliffs to yourself and nice light for taking photographs. Another nice way of seeing the cliffs is to take a guided walk with local farmer Pat Sweeney or the Cliffs of Moher cruise (on a calm day) from Doolin pier for a totally different perspective.....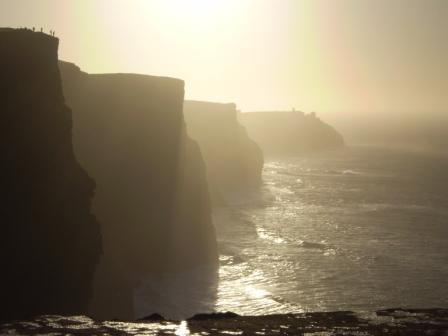 Cliffs of Moher, County Clare, Ireland
Poised to achieve international recognition and acclaim on the back of the Irish film called Waveriders Ireland is now being promoted as a premier surf destination, something these cool dudes have known forever. The film features these fearless, crazy surfers chasing the famous 80' high Ailies wave beneath the Cliffs of Moher. Rather them, than me.....
10 Other things to do and see near the Cliffs of Moher.....
1 Atlantis take a bracing walk along the top of the cliffs to try and spot or hear the fabled bells of Ireland's very own lost city of Atlantis. You might also spot some basking sharks which have returned in great numbers off shore.
2 St Brigid's well about 2 miles south of the cliffs on the right beside the O'Brien monument is a very famous holy well, and a revered place of local pilgrimage every Spring on the 1st of February, but you can visit anytime.....
3 Vaughan's Restaurant stop for something to eat in the little seaside village of Liscannor, superb food served all day in a traditional pub atmosphere, excellent pints & deserts!
4 Cliffs of Moher Cruise take a scenic boat tour along the base of the cliffs, out of Doolin to see the puffin colonies, this is really great and fun to do with plenty of excellent photo opportunities for the snap happy.
5 O'Connors Pub in Doolin, on the go since 1832, famous throughout Ireland and even the world for traditional Irish music sessions or seisúins as they are known as gaelige. Their beef in Guinness stew is still one of best in Ireland.
6 Doolin Cave see the largest stalactite in the northern hemisphere, great Indiana Jones style adventure (limited to 15 at a time so book early online) we're talking hard hats with torches, yea....
7 Aloha Surf try your hand at surfing or improve your skill with a lesson from the pros at Fanore Beach, one of Irelands 10 Best Beaches or stop into O'Donohue's Pub opposite the post office in Fanore for the best pints of Guinness, chowder, grab claws in garlic, fresh fish and chips this side of the Atlantic.
8 Ballinalackin Castle Hotel enjoy some good old fashioned Irish hospitality with a stay in this friendly country house hotel with the best breakfast sausages in Ireland.
9 Burren Smokehouse help yourself to free samples of premium oak smoked salmon & other artisan food goodies in this wonderful little food emporium in Lisdoonvarna.
10 The Wild Honey Inn enjoy a well earned gourmet lunch or dinner at this wonderful gastro pub which is really making a name for itself with foodies in Ireland.
To return to Irish landscapes click here
For more information on the Cliffs of Moher please click here.