Ballinalacken Castle Hotel
Ballinalacken Castle is one of those lovely old hotels where they still have real keys rather than cards in the bedroom doors which is hardly surprising since this hotel, now in its third generation of family ownership has been a cherished holiday destination since 1941. At the end of 'one of the most beautiful drives' in the world (Conde Nast Traveler 2008) from Ballyvaughan to Doolin on the West Coast of Ireland this hotel is a real Hidden Gem and I am always getting lovely complimentary emails and feedback about it ....
Owner Denis O'Callaghan told me of how his parents bought the house from the O'Briens who originally owned the castle next door in 1938, more for the 100 acres of land that went with it, and opened it as a hotel under the 12 bedroom scheme in 1941. In those days the hotel did not even have electricity yet visitors came from far and near by boat, train and jaunting car to stay for 2-3 weeks or a month 'to take the sea air'. Initially it was mainly Irish visitors but then English and Americans, led by Maureen O'Hara and her husband Captain Charles Blair who flew the first flying boat into Foynes Harbour just across the Shannon Estuary.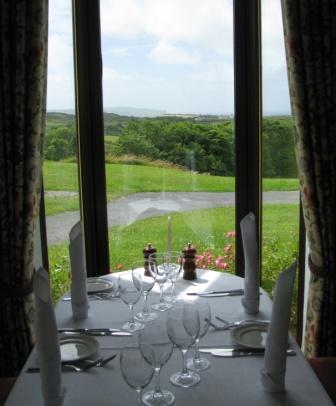 Full board was normal at the time, after all it was not like there were many options then for meals elsewhere? Which included a hearty Irish breakfast in the morning, followed by the main meal of the day ie dinner at lunchtime with high tea in the evening which was dictated by the weather. If there was squally rain blowing in from the Atlantic the frying pan would go on for a mixed grill, with plenty tea, bread and butter or if the weather was fine and warm, it was fresh salad, ham, tomatoes, boiled eggs, lettuce and scallions. Just what you might need after a day spent on the beach, out boating, hiking over the Burren or exploring the nearby historical sites, much the same as today, in fact....
Of course the menu is much more sophisticated now as modern tastes demand, but at Ballinalacken Castle, they still use the very best of local ingredients including fresh meat and fish, salads and vegetables. Artisan cheeses such as St Tola and organic smoked salmon from the Burren Smokehouse feature regularly on the menu and you will not find a more exquisite view from a dinner table anywhere in Ireland which looks out over rolling pasture, the Cliffs of Moher and the wild Atlantic Ocean. You can taste the freshness of the food, the salt of the sea and the warmth of real Irish hospitality that has been gleaned from some 70 years of pleasing their guests, now that's something Ireland can be rightly proud of....
Ballyinalacken Castle is just one of the Top 10 Irish Castle Hotels featured in my best selling Irish Travel Guide on Amazon.com
Where To Eat, Sleep & Play in Ireland in 2015

 

For information on Ballinalacken Castle Hotel please click here. For more Things To Do & See in Clare please click here.