The Burren Smokehouse
Its been 15 years since I first tasted smoked salmon in the Burren Smokehouse in Lisdoonvarna, County Clare and its still, I am happy to report the original and best you will find anywhere in Ireland. Tasty morsels are left out to be sampled (back then my daughter helped herself to a whole plateful) above the counter stocked with many new and exciting variations on the original oak smoked recipe including an awarding winning organic smoked salmon, farmed off Clare Island which has an extremely low fat content is understandably a best seller. Although, thankfully now available in shops nationwide and with a thriving online hamper business a visit to the Burren Smokehouse Shop is a worthwhile and special experience.....
Here you can learn where the fish are sourced from, fresh farmed salmon from the Atlantic, rainbow trout from Irish lakes and wild mackerel which cannot be farmed, are first filleted and then salted before being smoked over oak shavings. The owners Brigitta from Sweden, nobody does it better, and Peter have introduced new recipes and ingredients since they first started in Lisdoonvarna 21 years ago. While staying true to their origins of quality fish and production process, beware of tasteless imposters, they have added some new ingrediants such as honey,lemon, fennel and pepper to enhance the flavours and increase the number of varieties available.
A tempting array, of locally produced cheeses, some of which are smoked by the Burren Smokehouse, such as Kilshanney Gouda are the perfect accompaniments to an al-fresco picnic. Nor will you be able to resist the St Tolas or Bluebell Falls goat cheeses in their delightful almost too-handy packaging which are delicious (try the honey or black pepper) and that's before you even begin to peruse the shelves piled high to the ceiling with goodies from the best slow food producers in Ireland.
There are chocolates from Skeilligs (my favourite) and take my word for it I am an expert, who have teamed up with Cocobean, try the limezest chocolate bar, it will blow your head off ! Jams for the Clare Jam Company, with names like Port & Blackcurrant, Champagne & Raspberry, you cant go wrong, Jameson Marmalade from another producer,is excellent too. Indeed, there are enough oils, varieties of salt, and bite size celery crackers & honey coated waffles to have any serious dieter fall off the wagon. And healthy options too, like every type of organic tea and seaweed, but you wont find any of them in my basket hidden under all the chocolate. Lets face it, with Butlers Hot Chocolate mix begging to be given a swirl, will power goes out the window .....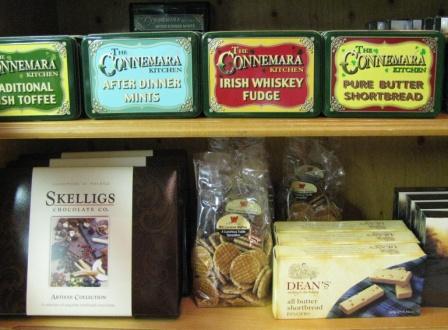 Open 7 days a week, the girls will even make you up a smoked salmon sandwich on freshly made brown bread to take away. Also available by mail order with hampers from €49 delivered world wide.
For more information on the Burren Smokehouse please click here For more information on Things to Do and See nearby click here