Irelands midlands magic
Irelands midlands are mostly often forgotten about or overlooked on the dash to the West Coast or indeed Dublin on the East Coast, yet this glorious multi-coloured rolling landscape of drumlins, eskers, lakes and bogs has much to offer the visitor prepared to break his journey. Only an hour and a bit from either Dublin, Cork or Galway, it has everything (except the sea) as they say themselves. It is quiet and peaceful and there are so many interesting Things to do and see that you will be spoiled for choice. You could break your journey and spend the night or just stop off for lunch and have a wander around Athlone, or explore a little bit further into the midlands in what really is an under estimated and undiscovered part of Ireland....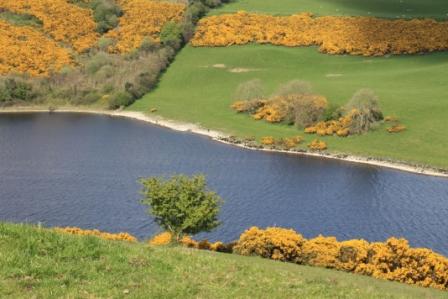 For example, did you know that the lakeside picnic spot of Liliput on Lough Ennell is where Dean Jonathan Swift got the inspiration to write 'Gullivers Travels' while watching the 'little people' on the far shore at Belvedere House with its bizarre history and Jealous wall. Or Tullynally Castle a Victorian pile with more fairytale turrets than you could shake your wand at and wild romantic gardens Charleville Castle near Tullamore is considered to have the finest Gothic interiors in Ireland. Although the jewel in Irelands Midlands crown is probably Birr Castle where the 3rd Earl of Rosse built the largest telescope in the world in 1840. Going back further in time we have the fabled Loughcrew burial mounds and passage graves which predate the monastic settlements of Clonmacnoise on the river Shannon, with its round towers and high crosses...
The Hill of Uiscneach, the other Tara was an ancient celtic site in the centre of Irelands midlands dedicated to Lugh a pagan God, and father of Cuchulainn a huge character with mystical powers in Irish folklore. Another 'revered' spot is Lockes Distillery in Kilbeggan which is reputed to be the oldest in the world? where you can enjoy free tastings, thankfully there's no shortage of either whiskey or heritage centres, there is another one in Tullamore which tell the history of Tullamore Dew and Irish Mist.
The Corlea Trackway, near Longford has excavated a piece of an ancient bog road which predates the pyramids and provided safe passage for the High Kings of Ireland over the many bogs of the Irelands Midlands to great festivals such as Lughnasa and Imbolg, later the providing an escape route for the monks fleeing Viking raids who occassionally dropped treasures such as the Derrynaflan Chalice and the Fadden More Psalter to be discovered centuries later. New evidence of human habitation dating back to 6000 BC has been found recently at Lough Boora bog which has since been developed by Bord na Mona as a natural parkland with walk/cycle ways and a sculpture park that is really something else and is a very pleasant day to spend a day, exploring this environmental oasis in the heart of Irelands midlands.
10 Things to Do and See in Irelands Midlands....
1 Clonmacnoise ancient monastic settlement on the banks of the river Shannon, ruined churches, high crosses and round towers.
2 Lockes Distillery reputedly the oldest in the world. The real deal, it even smells right, free tastings. Killbeggan, County Westmeath.
3 Belvedere House & Gardens peculiar history, beautiful grounds and lakeside walks, walled garden, restaurant and exhibition centre.
4 Tullynally Castle & Gardens gothic splendour, fairytale turrets and romantic gardens.
5 Charleville Castle fascinating castle open for private tours, in the middle of one of last surviving, ancient oak woods of Ireland near Tullamore.
6 Birr Castle & Gardens very famous Castle and gardens, set to become centre stage of the scientific world once again with new radio wave monitoring station being set up.
7 Lough Boora Parklands just blew me away when I visited recently, you can hire bikes by the hour for €3 at the parking lot, dont miss it! 10 out of 10 attraction.
8 Bellefield Gardens Angela Jupe one of Irelands leading garden designers has a beautiful walled garden here and she is always on hand with advice and tips for visitors.
9 Birr Equestrian Centre go pony trekking in the beautiful Slieve Bloom Mountains with Noel Cosgrave who has over 30 years experience Aire approved and certified.
10 Tullamore Dew Heritage Centre another opportunity to taste Irish Whiskey or Ireland's orignial and best loved Irish Mist, great heritage centre really friendly and knowledgeable staff.
For more information on Irelands Midlands please click here.