Bantry House, West Cork.
Bantry House is totally charming, privately owned and managed to this day by the Shelwell-Whites, descendants of the Earls of Bantry (through the female line) since the 1760's. It was the first stately home to be opened to the public in Ireland in 1946 and has been delighting visitors ever since. What's unique about this property, apart from its scenic coastal location, magnificent Italian gardens and eclectic collection of antiques and artefacts from around the world, is its accessibility. Being privately owned and still lived in it practically talks to you…albeit of a grandiose lifestyle, that's sadly long gone, yet it still can fire the imagination of an elegant and adventurous past. I mean how many drawing rooms do you know that were furnished from a dispersal sale of Louis Phillippe, the King of France's possessions in 1851? Hence the fine Abusson tapestries and Savonnerie carpets in the Gobelins & Roses drawing room with a fireplace from the Petit Trianon in Versailles.....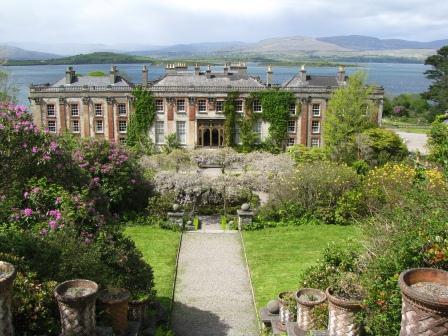 Bantry House, West Cork, Ireland
Elsewhere, you'll will find a letter from Lord Nelson requesting a new foresail for his frigate, sitting alongside a collection of birds eggs from a local school, an Arab chest given to the Earl of Bantry while he was working for the Sultan of Zanzibar. There is an ewer from Lhasa and a set of four mosaic tile floor panels purchased in Naples, similar to those being excavated in nearby Pompeii at the time (1843) hinting at the grand tours so favoured by privileged folk back then. The real jewel in the crown though is the cobalt blue dining room with its heavy gilded portraits of King George III of Hanover and Queen Charlotte and their collection of Staffordshire Ironstone tableware, still in use today for private dinner parties and wedding celebrations. It is the most magnificent dining room I have ever seen anywhere in the world with intricately carved sideboards and tall oak panelled windows looking out onto the covered loggia. Where you can relax and enjoy a delicious cream tea (or a glass of Prosecco) or a platter of Lord Bantry's cheeses and a glass of wine from the tearooms. All of the food is prepared daily with fresh salad from the walled gardens. Which are beyond beautiful with a wisteria covered pergola, its twisted stems suggesting a grand old age, surrounding a tufu rock fountain. Set in a glorious and intricate pattern of box hedging best admired from top of the 100 steps (well worth the climb) Bantry House is a triumph and certainly not to be missed if you are fortunate enough to be visiting West Cork.....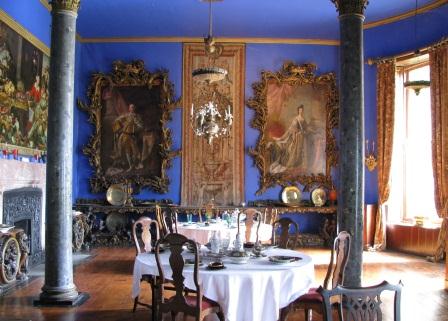 The Diningroom at Bantry House in West Cork, Ireland
If you fancy sampling what is was like to enjoy such a lifestyle, Bantry House also does bed & breakfast, so you can actually stay there with the added advantage that after hours you will have this luxurious and very special estate all to yourself. The rooms are very comfortable, spacious and beautifully decorated with modern bathrooms. However as there are only six bedrooms available it does tend to get booked up quickly so book early to avoid disappointment as they say and treat yourself to a very special once in a lifetime regal experience....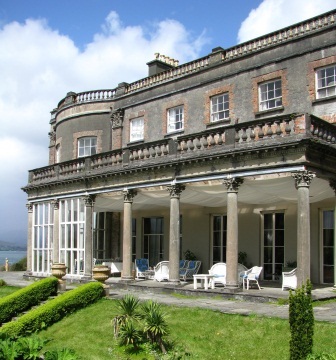 The Loggia at Bantry House, West Cork, Ireland
For more information about Bantry House please click here
10 Hidden Gems near Bantry House
1 Bantry Town very nice harbour and sea frontage, good cafés including family run Organico.
2 Manning's Food Emporium,Ballylickey on the road to Glengarriff a real treasure trove of imported and locally sourced artisan food products, excellent for lunch and or picnic fare.
3 Ewe Sculpture Garden does what it says or the tin or out of all sorts of recycled bits and pieces, very interesting and enjoyable.
4 Garinish Island (Ilnaculin) a tropical island garden paradise that has to be seen to be believed, take short ferry from Blue Pool, one of the Top 10 Gardens in Ireland.
5 Beara Peninsula take a day (at least) to drive around this amazingly beautiful part of Ireland where very few tourists venture, Lord knows why?
6 Take the cable car across to Dursey Island at the tip of Beara for an alternative crossing and some fine hiking and bird watching.
7 Or take a jaunt up and over the vertiginous Healy Pass which cuts the peninsula in two between Cork and Kerry, incredible views.
8 Stop into Josie's Restaurant on the way down for some excellent tea (in a china pot) and smoked salmon sandwiches with a wonderful view.
9 Or push on to Derreen Gardens in Lauragh another luxuriant garden full of tree ferns and fairies. Check out the Kings Oozy too while you are there.
10 Round off the day with a visit to Teddy O Sullivan's Pub for the finest organic mussels (from the bay opposite) and perhaps a pint of Murphy's.
For more things to see and do in West Cork please click here.