Donegal, a dream county....
donegal introduction
Donegal has it all, a beach for every day of the year, scenery that would make you cry, highlands and heather, fairy tale castles and far out lighthouses. Mysterious islands, art, culture and music, not to mention a language all of their own. Apart from many places being true Gaeltacht (Irish speaking areas) you will find yourself saying 'wee' to describe 'small' things, which is obvious enough, but 'wild' instead of 'very' a bit stranger altogether! As in 'wild, wet weather' which Donegal gets a lot of, but no matter, there are plenty of high stools (in cosy pubs) to combat those soft (wet) days and even a luxurious spa with an outdoor hot tub where you can warm your bones, while soaking up the views out over Sheephaven Bay on the Rosquil Peninsula.....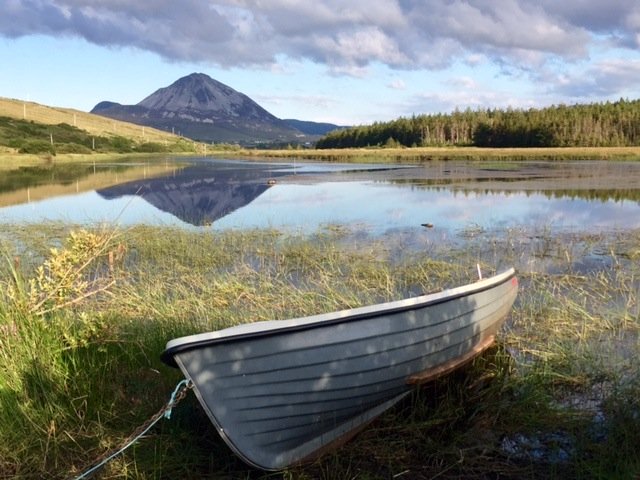 Errigal mountain, County Donegal, Ireland
donegal highlights
Donegal needs plenty of time, count on a minimum of three days, two nights more if you can squeeze it in, very few tourists venture there other than Northerners who have been coming across the border for generations, which is even more attractive now with very little difference between euro and sterling. There's great value to be had and as I have said before and will say again you just can't beat Donegal people for hospitality as they have a charm all of their own. There are lots of great places to stay from country houses to castles, cottages and bed and breakfasts and some of the best family run establishments in Ireland, like Arnold's Hotel in Dunfanaghy which is hopping with all kinds of festivals from foodie, to jazz, story telling and birdwatching. It is also one of the best spots in Ireland to view the Northern Lights during the winter or relax on a deserted beach in the summer....
Malin Beg beach, County Donegal, Ireland
Top 10 Things to Do and see in Donegal
1 Climb Errigal amount above or at least drive through the Poisoned Glen where a witch is reputed to still live. Drop into the Dunlewey centre to see the famous weaver, Manus Ferry's cottage which has been preserved just as it was when he lived there. You can go on a story telling cruise and perhaps see the ghost of the Green Lady who haunts the old Guinness Estate. Or you might like to take a picture of the white marble and blue quartzite church, a lonesome ruin erected by the widow Jane Russell in memory of her husband James who died in 1848.

2 Visit Slieve League (Sliabh Liag) the second tallest cliffs in Europe at 2000 feet high, twice the height of the Cliffs of Moher but gloriously devoid (for now) of tourists and an interpretative centre. You can park at the gate or open it and drive on up the couple of miles to the viewing area, however it is well worth walking as you may even catch a free sheepdog demonstration....
3 If you do make it up to Slieve League, you have to drive on a bit further to see Malin Beg, that fabulous horseshoe bay pictured above with a 100 steps leading down to it, which is the clearest and warmest in Ireland and without doubt one of Irelands Best Beaches.
4 The road from Malin Beg to Glencolumbcille and then on through the Glenesh Pass to Ardara is in my opinion is the most scenic part of the entire Wild Atlantic Way and that really is saying something. I could write a whole book about Ardara which has the most amazing hinterland, there's a whole chapter about it in Irelands Hidden Gems - Places To See.
5 Horn Head & Dunfanaghy like I said is hopping all year round with great cafés like Muck and Muffins and Starfish, gourmet restaurants like the Mill House or cheap and definitely very cheerful Patsy Dan's Pub with the Rusty Oven Pizzeria out back. Craft shops and art galleries to while away the hours and that fabulous spa I was telling you about earlier at Shandon's on Marble Hill. 
6 Glenveagh Castle is like something out of a fairy tale, with an exquisite topiary-ed walled garden and Ireland's first ever heated outdoor swimming pool in middle of Donegal National Park. Glebe House close by was generously bequeathed in its entirety to the Irish nation by artist Derek Hill and is equally enthralling. I mean where else would you find a Renoir in the spare bedroom or a Paul Henry hanging over the bedpost? 
7 Ride, drive or walk the  Inishowen 100, a 100 kms long route around the Inishowen peninsula which is just north of Derry, the UK's first City of Culture and the only intact medieval walled city in the British Isles. Visit Malin Head, start of the Wild Atlantic Way.
8 Fanad Head peninsula, smaller but just as spectacular with Ballymastocker Bay another of the worlds best beaches, see the great Pollet sea arch and the most beautiful lighthouse in Ireland at Fanad Head which is now open to the public.
9 Soak in a hot tub in Shandon's Spa overlooking Sheephaven Bay, take a bracing walk on the beach afterwards and then reward yourself with a cup of gourmet coffee at the Shack. 
10 Take a trip out to Tory Island, to see the scenery that inspired the artistic community championed by Derek Hill and meet the King of Tory, Patsy Dan Rogers.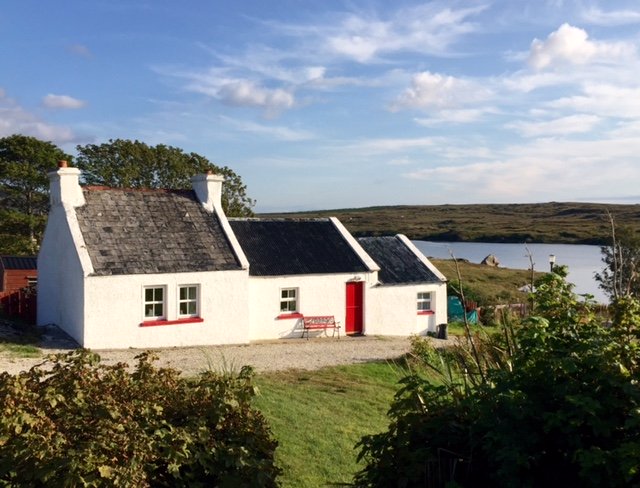 A cottage in County Donegal, Ireland