Irish Lighthouses
Fanad Head Lighthouse in Donegal is described as being one of the most beautiful in the world, Hook Head in Wexford has the distinction of the being the oldest in continuous use with the Fastnet Rock one of the most notorious. Certainly the setting is magnificent with 360 views stretching to Malin Head, the northerly most point in Ireland and Scotland to the East and Rosquil, Horn Head and Tory Island off to the West. While very beautiful and a signature point on the newly defined 2500 kms Irish coastal route the Wild Atlantic Way, it is and has always been a treacherous coastline. It was the sinking of the HMS Saldanha in 1811 with the loss of 250 lives, the only survivor was the ship's parrot whose silver ring was stamped with the ship's name, which led to the building of the lighthouse which was lit for the first time on St Patrick's Day, March 17th in 1817.
The architecture and building of this soon to be 200 year old structure must have been really something back then considering the majority of other dwellings in the surrounding area consisted of stone cottages plastered with mud, dung and horsehair and thatched with wild maram grass from the beaches. Costing £2000, it took just 2 years to build with granite brought all the way from Dublin. You can still see the flagged floors and admire the beautifully cantilevered stone staircase which rises 22 metres to the top of the light. Hand crafted oak bookcases were fitted into the curved whitewashed walls and still have that pleasant smell of sun dried salt, wizened with old age. Two sets of keepers manned the lighthouse and lived there with their families with a third keeper drafted in for relief duty during the winter before the lighthouse was automated in 1975.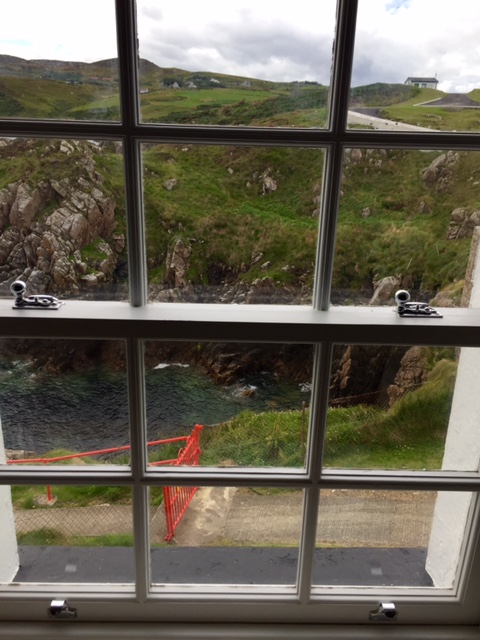 Now the old keepers cottages are being renovated as self catering accommodation (I wouldn't mind washing up with this view) and a visitor centre soon to be opened to the public as part of the new Great Irish Lighthouse Trail, a government initiative which will see the local community managing their local lighthouses. Which will bring greater awareness of the importance of their role in safeguarding the safe passage of shipping and pleasure craft to this day. Most lighthouses including Fanad have helicopter bases which are used regularly in emergencies. But without even staying to have the opportunity of going up top to survey the coastline from a seagull's point of view is a real treat in these properties which were formerly strictly off bounds to the public. And you never know what you might see?
For more information about the Great Lighthouses of Ireland trail please click here.