Holy Island, Lough Derg
Standing on Holy Island (Inis Cealtra as Gaelige) on Lough Derg, County Clare, I said to Gerard Madden, boatman and guide to the island for 30 years, "right so, Ger tell me all there is to know about Holy Island". I had done my research, so I knew we were talking about 1400 years of history (at least) so it was going to be a long story either way. "Is it folk-lore or fake-lore you're after?" says Gerard. Well, with an answer like that it has got to be a bit of both hasn't it! You see Inis Cealtra is unique, even in Ireland, in that there are monuments and artifacts here, dating back some 7000 years (long before any written evidence) that have survived intact and in-situ (almost) to the present day, exactly because of its island location. From the bullaun stones of the Celts to the 8th century grave slabs in the Saint's Graveyard, 10th century high crosses in St Caimin's church, pilgrims paths and kissing stone and a lot more besides, too many to describe here that you will have to go see for yourself. But even if you know nothing at all about Irish history or you are not even remotely religious, stepping ashore on Inis Cealtra (a short boat ride from Mountshannon) is a very special experience, as apart from the 1000's of years of history, Holy Island's natural beauty is palpable.....
Holy Island (Inis Cealtra) Lough Derg, County Clare
The first inhabitants were probably the Celts judging by the presence of bullaun stones on the island, hollowed out stones, similar to giant pestle and mortars, used for mixing grains and herbs into ritual potions, although bronze age flints and arrow heads have also been found on the island. Then along came St Caimin in the 6th century, who built the first abbey similar to others throughout Ireland like Clonmacnoise, Glendalough, the Skelligs and Kilmacduagh in nearby Galway. Under the patronage of the local chieftain and High King of Ireland Brian Boru, the abbey prospered and became a centre of learning and art similar to the others above. Beautiful illuminated manuscripts were created and religious objects in gold and silver inlaid with precious stones were crafted. Unfortunately these lured the Viking raiders who came up the Shannon river in their longboats and attacked Holy Island. There is a grave stone dedicated to 10 men, who were believed to have died defending the island from just such an attack.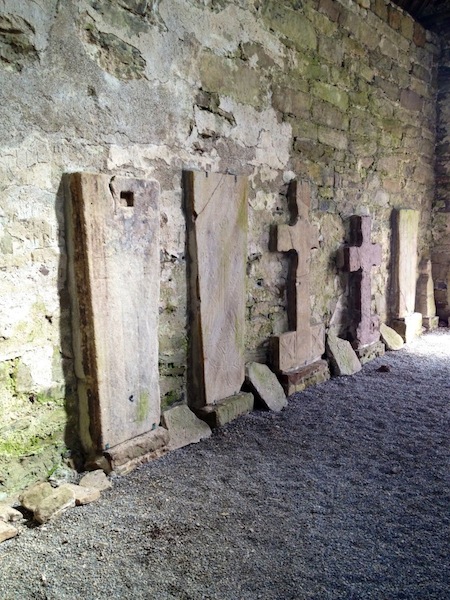 Grave slabs and high crosses on Holy Island, Lough Derg, County Clare
After the disastrous Battle of Kinsale in 1601, when the Irish lost to the English, the Irish chieftains fled to Rome where they secured a Plenary Indulgence from Pope Clement for anyone doing a pilgrimage to Holy Island on St Caimin's feast day, the 24th of March.This raised the profile of Inis Cealtra, already a place of pilgrimage for 100s of years to that of a 'notable shrine' so pilgrims came in their 1000s from all over Ireland to atone for their sins, which involved doing 'the rounds' of the island, seven miles, seven times, culminating in a bare kneed penitent crawl to the kissing stone which absolved the pilgrims of their sins for another year.  Not that you will be expected to do any of that for sure, although it is still a place of worship and local people are still buried on the island, so long as they are Catholic but that's another story which I am sure Ger will regale you with.....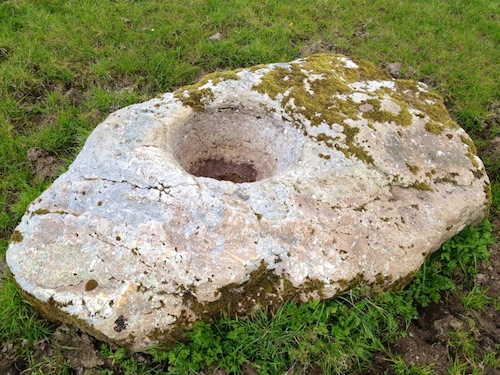 Bullaun stone on Holy Island, Lough Derg, County Clare
For more information on visiting Holy Island please click here
Or phone Gerard Madden on 00353-86-8749710
For more Sacred Places in Ireland please click here.