Irish symbols - Celtic heritage
The Irish symbols that are carved into the stones of ancient monuments at Newgrange Knowth, Dowth, Loughcrew and the High Crosses of Monasterboice, Kilfenora and many more ancient sites throughout Ireland are the earliest indicators of our rich Celtic, spiritual heritage. These fluid pagan spirals, lozenges and chevrons were first integrated into early Christian manuscripts by the monks and continue to this day to be the graphic endorsements of many Irish products. When St Patrick brought Christianity to Ireland in the 5th century, Ireland entered a Golden Age of Enlightenment and became known as the Land of Saints and Scholars. Impressive churches with high crosses were built at early monastic settlements like Clonmacnoise where the monks began to record the scriptures in beautifully illuminated manuscripts such as the Book of Kells, and intricately crafted metalwork items, inlaid with precious stones like the Ardagh Chalice and the Cross of Cong, which can be seen at the National Museum of Ireland at Kildare Street in Dublin.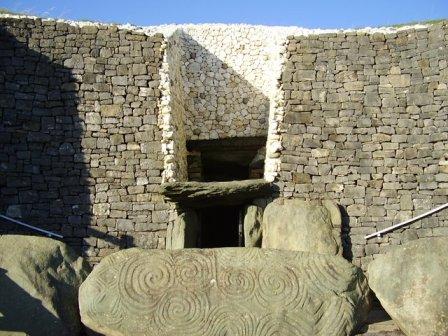 Less obvious and more bound up in oral tradition were the ring forts, holy wells and other sacred places sought out by druids, saints and scholars long ago. Places like Tara , the ancient seat of the High Kings of Ireland and Uisneach the epicentre of Ireland in Celtic times where the 2000 year old Festival of Fires which marked the start of summer has been rekindled in recent times.
Or the hallowed ground of Glasnevin where over 2 million Irish souls are buried including Daniel O'Connell the Liberator, who founded the cemetery so that every Dublin citizen could have a decent Christian burial, the history of which is explored in the award winning new museum.
You can explore your own personal sacred space on go on retreat to Glenstal Abbey or for a day, or my personal favourites? take a guided tour of Holy Cross Abbey where the plantagnet Queen Eleanor of Aquitane's son was buried earning the monks a relic of true Cross, hence the name....or take a boat trip out to Holy Island on Lough Derg in County Clare if you really want to experience a sacred place rich in Irish symbols in Ireland.
The 10 Best Sacred Places in Ireland are....
1 Newgrange, County Meath 2 Corcomroe Abbey, County Clare 3 Clonamacnoise, County Offaly 4 Glenstal Abbey, County Limerick 5 Kylemore Abbey, County Galway 6 Holy Island, Lough Derg, County Clare 7 Lough Gur Stone Circle, County Limerick 8 Hill of Tara, County Meath 9 Holy Cross Abbey, County Tipperary 10 Kilfenora Cathedral, High Crosses, Ceili Band, County Clare
View Ireland's Hidden Gems Sacred Places in a larger map
For more examples of Irish symbols please click here.