Glasnevin Museum - Dublin
Glasnevin Cemetery is not where you might expect to find Ireland's only Thea award winning visitor attraction and in fairness, not what I would normally recommend as a family day out. But this new museum is so good, it's hard to put into words. Death is something we all have to face at some stage and far from being macabre or morbid, the Trust's imaginative, sensitive and respectful handling of a difficult subject is to be applauded along with all the other accolades it has picked up since it opened in 2010. Every Dubliner has some connection with Glasnevin and their excellent new online genealogy service is helping people from all over the world retrace their Irish roots.
Over a million people have been buried here, many in unmarked graves, since it was founded in 1832 by Daniel O'Connell, who believed every citizen had a right to a proper burial, regardless of their religion which is why it remains secular to this day. Modelled on the Père Lachaise in Paris, it doubled as a pleasure garden in Victorian times with elaborate mausoleums and clipped yews lining the maze of pathways, which are in constant need of repair and upgrading which the Trust hopes to have completed for the anniversary of the Easter Rising in 2016.
The new museum (just inside the main gates) is on 3 levels with the tour starting underground in the Necropolis (City of the Dead). A scrolling screen displays the names of all the people buried there on a loop which takes 10 hours to complete. There is a small theatre where the filmed introduction is shown and a charming, nostalgic display of items categorised by the professions of people that might once of owned them. Innovative displays (interactive headstones) lend a fascinating insight into the social history of Dublin, you can even eavesdrop on the gravediggers conversations.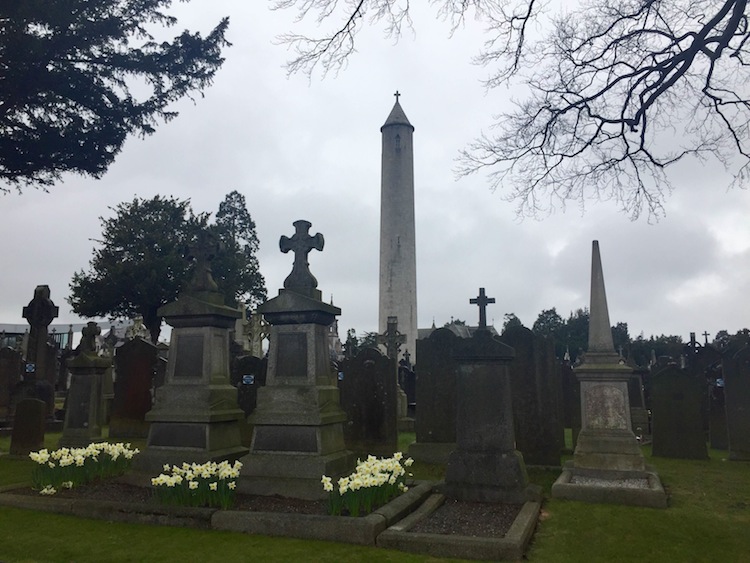 Upstairs there are further interactive displays (with great views) including a 10 metre timeline with a detailed history of the great and good (and not so good) buried at Glasnevin and an exhibition about Daniel O'Connell. The iconic new building is stunning, with good facilities (of course) a shop and a nice restaurant. 
Included in the cost of admission is a free guided tour of the cemetery which is very informative and entertaining, lots of floral tributes always on Michael Collin's Grave but seldom a stalk on Eamon De Valera's. And if you haven't got time for the tour do buy the dvd 'One Million Dubliners' as it is one of the best and most beautifully filmed documentary films ever produced in Ireland, you can watch the trailer below....
For more information on Glasnevin Museum please click here
10 Other Things To Do and See in the area are...
1 The Gravediggers Arms pop through the gate in the back wall of the cemetery and have a pint in one of the oldest pubs in Dublin, good soup and toasted sandwiches always. 
2 National Botanic Gardens again just over the wall though you might prefer to walk around the corner to these wonderful old gardens 'perambulators are not permitted' which have had a major revamp although you are still not encouraged to walk on the grass.
3 Adison Lodge Pub across the road used to be the only place to eat before the gardens got their own restaurant. I wonder do they still do those wonderful doorstep sandwiches?
4 Metrological Eireann is just down the road on the corner (unusual pyramid style building) you can stroll on down to Griffith Park or have a pint in Bertie Ahernes (former Taoiseach's) local pub Fagan's on the corner of Botanic Avenue and Drumcondra Road.
5 Or head up to the other way to Phibsboro and the Porterhouse or Brian Boru's both good local pubs.
6 Grand Canal take a walk along this revamped stretch of the canal a nice, quiet, watery oasis (with plenty of seats) on a good day.
7 Blessington Street Basin also known as Dublin's secret garden which once supplied the water to Jameson's Distillery on Bow Street – (Senator David Norris gave me this tip - one of his favourite places is this little park).
8 Garden of Remembrance on Parnell Square where the Queen paid tribute to the fallen Irish warming the hearts of the Irish people
9 Croke Park looms large just off the North Circular Rd (you can't miss it) it's home to the all the GAA main fixtures including the football and hurling All Ireland Finals around September time.
10 Aviva Stadium or if you kick with other foot (play rugby) you will no doubt be impressed with the new Landsdowne Road venue, match tickets are pricey, though.
For more Things To Do and See in Dublin please click here