National Museum of Ireland
The National Museum is an architectural landmark building in itself and well worth a visit if only to view the splendid Irish marble columns and domed rotunda, modeled on the Pantheon in Rome, reaching a height of 20 mtrs over a superb, classical, mosaic tiled floor, depicting the signs of the zodiac. Purpose built by the government as a national repository for all archaeological objects found in Ireland, it first opened its doors to the public in 1890. Precious objects spanning some 7000 years including the Ardagh Chalice, Tara Brooch and The Derrynaflan Horde are on display here, along with international antiquities included in the Roman, Cypriot and Egyptian collections.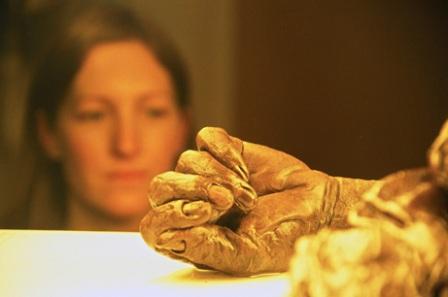 Most intriguing though are the Bog Bodies or mummified remains which were found in by workmen in a bog in County Offaly in 2003. The body was so intact that the fingerprints could even be determined which immediately sparked off a murder investigation until scientists realised it was possibly more then 2000 years old. Named Croghan Man after the bog he was found in, this gentleman had gelled hair and manicured fingernails, indicative of a noble class who did not do any manual labour and although he measured 6'6" he appears to have died in his 20's possibly due to some sort of ritual killing, so forensics were not too far out with their theory! Given that Ireland has probably the most monuments in Western Europe more objects will continue to be found adding to our knowledge of our ancestors and their way of life which hopefully will be of value to visitors and future generations.
10 Hidden Gems near the National Museum
1 Take a stroll in Merrion Square Park, local artists hang their work on the railings for sale on sundays.
2 Peer through the gates of Government Buildings at Leinster House.
3 Visit the ESB reconstruction of a Georgian House at No 29.
4 Have afternoon tea or a drink in one of Dublin's poshest hotel The Merrion.
5 Visit Trinity College and have a walk around the famous quadrangle and perhaps visit the Book of Kells and the Long Hall.
6 Buy your Dad a pipe, some tobacco or cigars in the lovely old Petersons Shop established in 1865, on Grafton St,opposite the front entrance and to the left.
7 Have your picture taken with the statue of Molly Malone or the Tart with the Cart as we call her, its at the top of Grafton St.
8 Grafton Street, is Dublins most prestigious shopping street and Brown Thomas the jewel in its crown.Brown Thomas Christmas windows are the best in Dublin.
9 Have coffee and sticky buns in Bewleys Oriental Cafe, it is a legend in Dublin, you will understand when the aroma of freshly roasted coffee wafts out to greet you.
10 Feed the ducks in St Stephens Green, Dubliners have been doing it for generations now, myself included.
For more things to do and see in Dublin please click here. For more information on the National Museum please click here.