Titanic Belfast Experience
The Titanic Belfast opened with great aplomb in 2012 on the 100th anniversary of her ill-fated maiden voyage. The building truly is icon in every sense of the word and very impressive. Located in the newly named Titanic Quarter, next door to the Harland & Wolff shipyards where the infamous ship was actually built and launched, it is designed to look like the hull of a ship from each direction. Six storeys high with a central atrium and tiered exhibition spaces it is worth a visit for the building alone with great, vertigo inducing, views out over the Lagan River and Belfast City. But the exhibition itself is absolutely brilliant & has just been newly refurbished. It tells the story from start to tragic finish. I am not going to spoil it for you but I particularly liked the deck space where you could stand in various places and it showed the layout of the actual ship and the ocean floor theatre which simulates the seabed where the wreck was found by Dr Robert Ballard and his oceanographic team in 1985.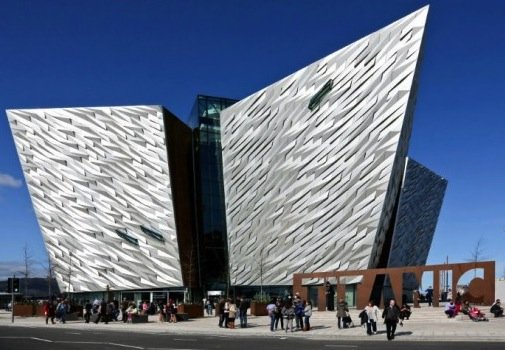 The Titanic Belfast is a very popular visitor attraction so a good tip is to book your tickets online in advance, as numbers are limited per hour for health and safety reasons and are often sold out early in the day. This attraction is easily reached via the hop on hop off belfast tour and is located at stop No 5. The whole of the Titanic Quarter will keep you busy for the day, you can do a walking tour of area including the Pump House as well as walking out to the edge of the dock where she was launched. The SS Nomadic, a sister ship of the Titanic and the last of the White Star Line is also open to the public at the Hamilton Dock which is made out of cut stone and well worth a look also while you are there.
For more information on the Titanic Belfast please click here.
For more Things To Do and See in Belfast please click here.