The Blaskets- Islands in time
Well, I finally got to go to the Blaskets last year during a spell of exceptional weather (we had 6 whole days in a row of sunshine) and what a pleasure it was to walk (barefoot) in Peig Sayers' footsteps along the green roads of this long deserted but very beautiful island. A looped grass walk takes you high above the lonesome houses with stunning views back towards Slea Head on the Dingle Peninsula and the Magillacuddy Reeks on Iveragh Peninsula due South across the water and on out to the dramatic Skelligs. It was all very peaceful and balmy, watching the giant basking sharks filter plankton below the steep cliffs which dropped 100's of feet straight into the sea. The path splits at the 'traffic lights' as the junction with the other side of the island is fondly called even though there are no cars on the island never mind electricity. There is one well but no toilets or even a shop so be sure to bring plenty of water and better still a nice picnic if you are going out there for the day. Even more jagged cliff line the route back to Trá Bán (that white beach) where you can sunbathe or swim (the water is icy) or watch the seals play as they dart in and out of the translucent water.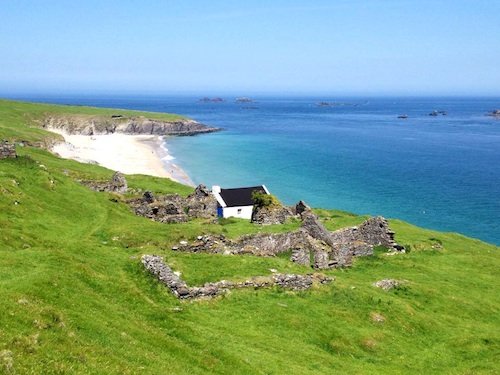 Weather permitting the ferry leaves on the hour from Dún Chaoin (Dunquin) pier but ring first (number below) to make sure it's running and book your ticket with Sue. Kevin the boatman is very nice but be warned transfer is by inflatable from the boat to the island in case you are nervous around boats. Failing that the Blaskets Centre also in Dun Chaoin, overlooking Blascód Mór (Great Blasket) is a superb alternative. It tells the story of island life as described by Tomás O'Criomhtáin in his book The Island man 'of what life was like in my time, for the likes of us will never be again'. The island was abandoned some 50 years ago following the death of a young boy Seánín O'Cearna from meningitis 'without a doctor to save him or a priest to give him the last rites'. A letter written to President DeValera at the time begged for assistance which was sent immediately, but it signaled the beginning of the end for the islanders who could no longer endure the hardship with many bound for the mainland or America never to return again....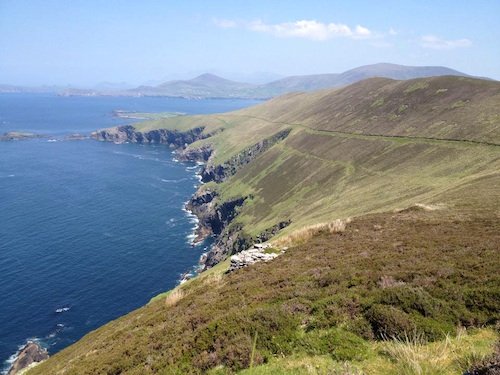 What was left behind though, was a huge wealth of oral tradition about a way of life that is no more, yet it has the timeless allure of all islands, for some inexplicable reason. Being cut off from the world the islanders had to make their own entertainment by visiting each other houses and sharing news. One of most famous was Peig Sayers, a naturally gifted storyteller who was well qualified to speak about hardship, having left school at 14, married an islander and produced 10 children of whom only 5 survived, 4 of which emigrated leaving only her son Michai at home with her on the Blaskets.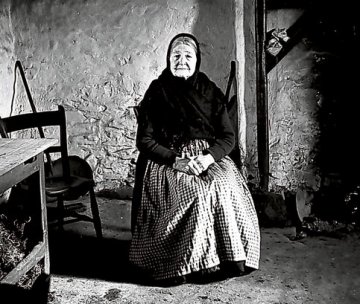 "When the visitors arrived (for all gathered to the Sayers house when Peig was there to listen to her from supper-time till midnight) the chairs were moved back and the circle increased. News was swapped, and the news often gave the lead for the night's subject, death, fairies, weather, crops. All was grist to the mill, the sayings of the dead and the doings of the living, and Peig, as she warmed to her subject, would illustrate it richly from her repertoire of verse, proverb and story"
Incidentally the brother of that young boy who died, Michael Carna, who emigrated to Springfield, Massachusetts was conferred with an Honorary Doctorate of Literature from Maynooth University just now in Sept 2009 at the age of 89 the oldest surviving Blaskets Islander left to tell the tale...
10 Hidden Gems in and around Dingle
1 Dingle itself once a simple fishing village now a thriving tourist destination that has retained its charm, often signposted in Irish as An Daingean.
2 Murphy's Icecream truly magnificent artisan icecream, people have moved house for their Chocolate Whiskey Truffle and White Chocolate and Rosewater icecreams.
3 Holden Leather Goods in Baile on Ghoilin is another mecca for ladies handbags home produced in Dingle in trendy contemporary designs in the softest leathers.
4 The Greenlane Gallery in one of the best privately owned gallerys in Ireland, excellently curated selection of local and international art & sculpture by owner Susan Callery.
5 Inch Strand if you fancy yourself as 'Ryans Daughter' find yourself a Robert Mitchum lookalike and get swept away on this magnificent beach.
6 Connor Pass cross this mountain pass to Kilcummin beach, with its stunning backdrop of the Brandon mountains.
7 Gallarus Oratory and Kilmeader Church in Ballydavid, beehive huts and monastic settlement, dating from the Dark Ages.
8 Louis Mulcahy Pottery great pottery this, whose designs have stood the test of time, still as popular as ever especially the blue glazed lamps with handpainted silk lampshades.
9 Niamh Utsch Jewellery highly covetable handmade contemporary styled jewellery in gold and silver embedded with precious stones.
10 Castlewood Guest House voted best in Ireland by Trip Advisor in 2012.
For more information on the Blaskets Centre please click here.