Clare Island Lighthouse
Clare Island Lighthouse offers the ultimate room with a sea view, believe me you won't do better! Perched 340 feet up on some seriously, scary cliffs overlooking Clew Bay with its legendary 365 islands, iconic Croagh Patrick, Achill Island and its neighbour Achillbeg with matching lighthouse. Both lighthouses guarded the entrance to Clew Bay once upon a time, but this one has since been de-commissioned and turned into luxury accommodation. It is the next nearest thing (literally) to a heavenly escape from the rigours of reality. As another guest put it, you have all of this, the glorious outdoors, wild ruggedness of the mountains, cliffs, heather and seagulls swirling around and about you outside combined with the contrasting warmth of 5 star luxury and cosiness inside....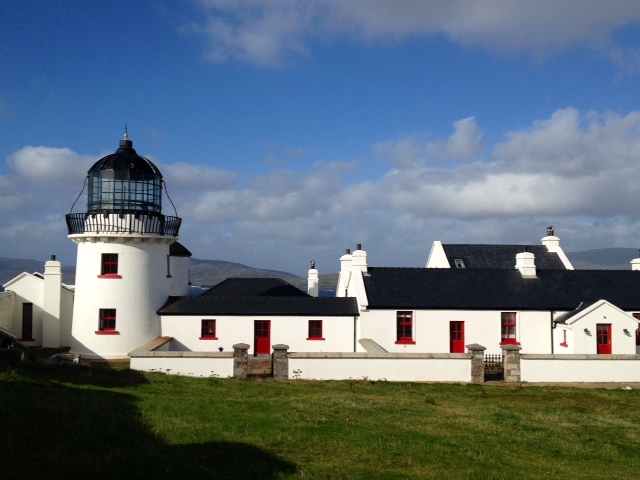 As anyone who reads my blog knows, I love Irelands Islands, they are so other worldly and in most cases, pocket sized versions of the Ireland we all want to know and love. Clare Island is no exception, with very dramatic and diverse scenery and numerous woolley sheep, minding there own business having nibbled whatever grass there is to near golf links perfection. The infamous pirate Queen Grace O'Malley, who ruled the high seas about Ireland in the 16th century, castle is down on the harbour. Legend has it that she used to keep a line, passed through a hole in the wall, to her seven ships anchored outside in the bay, tied to her bedpost at night. She famously refused to bow to Queen Elizabeth of England whom she considered her equal as a Queen herself in her own right. She is buried in the 12th century Cistercian Abbey on the lee side of the island (you will need to get the keys from the boys in the cottage next door, but I won't spoil that surprise for you!) to see her tomb and the oldest medieval frescoes in Ireland.....
So, be prepared for best of all worlds at Clare Island Lighthouse, fantastic scenery, history, culture and that rare bird, luxurious island accommodation. Guests are picked up from the ferry which departs several times daily from Roonagh Point, just outside Louisburgh. After settling in with homemade scones and tea, guests are free to do kitchen envy, believe me you would pay to wash up with that view or go off wandering (carefully) about the clifftops. If the weather is bad or you are feeling lazy you can climb up the old lighthouse tower and enjoy the 360 views (binoculars are thoughtfully provided) with a gourmet coffee. Meals are eaten communally around the dining table with convivial drinks in the drawing room before and after dinner....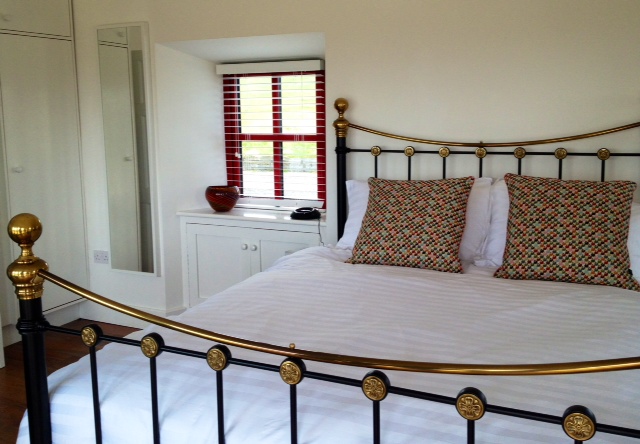 The menu varies depending upon what is fresh and seasonal and available on the island at the time, there is no choice so if you have any special dietary requirements be sure to let them know well in advance. Although with 6 courses including a homemade soup, sorbet, fresh fish, locally sourced meat, artisan cheeses and desert there is bound to be something to please everyone. And while we had great intentions of heading down to the pub afterwards for a drink, there is no 'official' closing time on the islands, well there is, but nobody takes a blind bit of notice. But we so were enjoying the craic and the chat with our fellow guests that we somehow never got around to it.... 
Clare Island Lighthouse is listed as one of the Top 10 Rooms with a Sea View in my ebook travel guide Where to Eat, Sleep & Play in Ireland 2015 on Amazon.com
For more information or to book Clare Island Lighthouse online please click here.