Fota House, Fota Island, County Cork
Fota House was originally built as a modest two storey hunting lodge for the wealthy and powerful Earls of Barrymore. During the 1820s, the house was extensively remodeled by John 'The Magnificent' Smith Barry into an elegant Regency mansion with over 70 rooms. I particularly liked the long hall, drawing room, charming nursery and exotic cold room downstairs. The sumptuous interiors from that period have recently been restored to their former glory and give the visitor a privileged look at the best of 18th and 19th century Irish craftsmanship.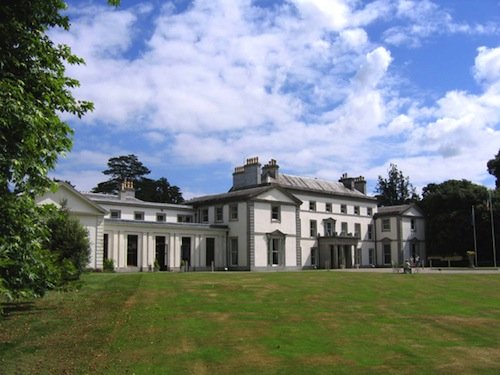 Fota remained in family ownership until the death of Mrs Dorothy Bell in 1975 whose main focus was on developing the gardens and protecting the rare species collected from all over the world and planted there in Fota (warm soil) by her ancestors. Since then, the Fota Estate has passed through various phases of ownership involving University College Cork and the Fota Trust. In December 2007, the Irish Heritage Trust took ownership of the house and invested in major restoration and conservation work since then which a huge emphasis on restoring and replanting the terraced walled gardens
For more information on Fota House please click here.
10 Hidden Gems near Fota House
1  Fota Wildlife Park just opposite is a cross between a zoo and a wildlife park with most of the animals (the safe ones) roaming about quite freely. My only quibble is that it is expensive for families at €44 plus €3 to park.
2  Fota Island Hotel is a 5 star luxury hotel on the same estate, it was bought by a Chinese consortium a couple of years back who are keen to retain and develop its 5 star reputation.
3  Cobh, is a large waterside town with a large Cathedral (next) looming over the tiered streets of brightly painted houses running down to the waterfront, which was the last port of call for the ill fated Titanic.
4 St Colman's Cathedral took 47 years to build and is a master piece of neo-gothic architecture designed by Pugin and Ashlin. In 1916 the Bishop of Cloyne commissioned a 42 bell Carillon which was enlarged to 49 over the years, the largest in Ireland and Great Britain.
5  Titanic Visitor Centre Cobh, housed in the original passenger terminal of the White Star Line, this is where those unfortunate souls actually boarded the Titanic so it is kind of poignant but not a patch on the Titanic Experience in Belfast to be honest. 
6  Sirius Arts Centre, has various events and contemporary art exhibitions going on throughout the year but worth a visit for a look at the building itself. Which is the original Cork Yacht Club the oldest in the world, founded in 1720 by James Smith Barry (of Fota House above) and designed by Anthony Salvin who restored the Tower of London and Windsor Castle. 
7  Midleton another largish town just outside Cork city and home to Irish Distillers who export some 50,000 bottles of Irish whiskey weekly from here. 
8  Jameson Distillery visitor centre is housed in the original warehouse buildings, a tour here will explain the whole process and includes a tasting session of course.
9  Castlemartyr Resort, another fine 5 star resort with a beautiful spa and nice parkland walk, you can even take the resident Irish wolfhounds along with you if you like? 
10 Cork City itself a treasure trove of delights including the English Market, the Crawford Gallery, the Opera House and Blackrock Castle Observatory.