Craggaunowen - a living history
Craggaunowen is a fine example of what an early bronze age settlement might have looked like in Ireland long ago. Originally conceived by antiquarian John Hunt (of the Hunt Museum) over 30 years ago, each building has been constructed according to the best records of the time and has now matured into its natural setting. Complete with crannógs, woven hut lake dwellings, reached by bridges or submerged causeways. Round reed-thatched stone farmsteads with open fires, hint at how daily life was carried on with fulach fia, cooking pits and woollen looms.
And, if you have ever wondered what went on, in the 40,000 odd ringforts you will see around Ireland, this fine example might explain it. These circular forts were defended by a band of stout wooden stakes on top of a high outer bank of stones and earth with an underground passage or souterrain which served as a food store and or an escape route, if necessary. These people were hunter gatherers and later farmers who grew spelt, oats and barley. There are live boars with cute babies (in the Springtime) to admire and miniature sheep whose wool was plucked rather than sheared, to be woven into cloth.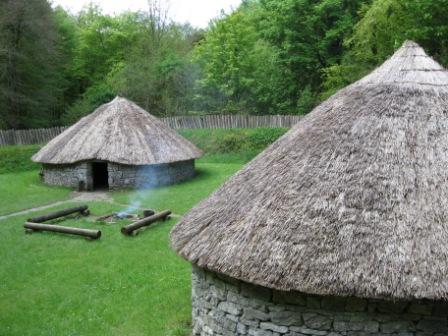 Reconstruction of a ring fort at Craggaunowen, County Clare.
Costumed guides walk around during the summertime and are very happy to elaborate on any aspect of particular interest, with the public, especially the children being encouraged to participate in with whatever takes their fancy? It is gently educational and judging by the children I saw there, great fun. The whole site, while purpose built, looks and feels so natural and uncontrived, that it is hard to believe that the only genuine artefact, is in fact the remains of a 5000 year canoe carved out of a single tree trunk! Later, these people would use hide covered boats, which experts believed were capable of reaching the Americas, hundreds of years before Christopher Columbus.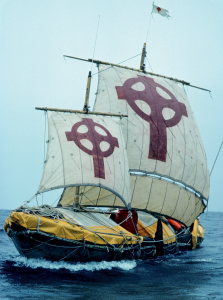 Tim Severin's epic Brendan Voyage 1976
Following in the footsteps of St Brendan the Navigator, Tim Severin proved it was by possible by sailing across Atlantic in 1976 in a similar boat which he built himself which is now on display at Craggaunowen. The battered boat, with its skin covered hull held together with bits of leather is a scary reminder of the monk's courage, facing frontiers we could not even imagine in the comfort of our 21st century lives....
10 Other things to do and see in the area.....
1 Quinn Abbey is a wel preserved Franciscan friary that was founded in 1402 by Sioda McNamara.
2 Abbey Tavern just opposite does a very good pub lunch.
3 Knappogue Castle & garden open daily during the summer for tours and medieval banquets at night, voted one of the best.
4 Spancil Hill the actual place immortalised in the emigrants song and site of an annual horsefair in June.
5 Inis Cealtra or Holy Island has been a centre of pilgrimage since the 7th century, boat trips available locally.
6 Mountshannon village with its own very pretty waterside Aistear park & labyrinth.
7 Portumna Castle restored castle and gardens on the River Shannon, nice forest park walks and lakeside marina.
8 Cratloe Woods the oak for the ceiling beams in Westminster Abbey in London, came from here, new woodland trails.
9 Cratloe Woods House the oldest longhouse inhabited longhouse in Ireland, open during the summer by appointment.
10 Killaloe the capital of Ireland when Brian Boru was the High King of Ireland, a lovely small town that bridges the river Shannon.
For more information on Craggaunowen please click here
For more Shannon Heritage Visitor Attractions click here