St Marys Cathedral - Limerick
St Marys Cathedral is the oldest and most historic building in Limerick. Founded by Donal Mor O'Brien, King of Munster in 1168 on what was once a Viking meeting house or Tholstel, which then became a medieval palace. Fragments of which still remain in the ancient West Door which is now only used on ceremonial occasions, such as the inauguration of a new bishop.
Tradition decrees that he (or she) must knock on the door to gain admission just as his predecessors have been doing for hundreds of years before him. If you look back from the West Door, accessed by the original cobbled walkway, you cant help but notice the strategic position of this ancient building straddling the river Shannon. If you look very carefully you can make out the cut marks on the stones where legend has it, the defenders of the city sharpened their swords....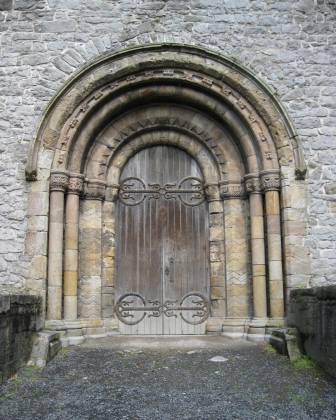 If you happen on St Marys Cathedral at evensong on Sunday evIt's all quiet now though in St Mary's Catherdral which is still in daily use as a place of worship. A stroll around the magnificent interior is a both a walk through time and a history lesson whose timeline can be dated from the architectural. Details like the vaulted roof, gothic stained glass windows, medieval floor tiles and elaborately carved 17th century choir stalls and cold marble tombs all epitaphs to Limerick's long and tumultuous past as 'a city well versed in the art of war'.
If you happen to be visiting St Marys Cathedral on a sunday evening, you are very welcome to stay and enjoy the Cathedral Choirs Evensong or better again to make a date for New Year's Eve when Limerick people gather to 'Do the Bells' as they ring out the old year and ring in the new on the banks of the Shannon, long may the tradition continue....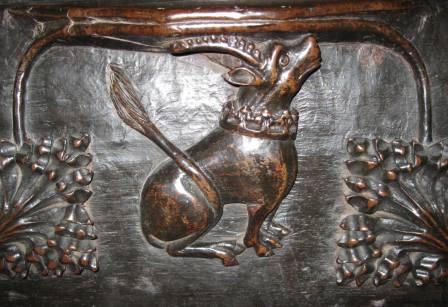 Admission is by suggested donation €3 to help with the upkeep, evensong is free, check website below for special chorals and concerts.
10 Other Things To Do and See near St Mary's Cathedral are....
1 Riverside Walks enjoy the newly restored walk alongside the river along the quays, cross over Shannon or Sarsfield Bridge for great views of Limerick Citys skyline.
2 Clohessy's Bar & Sin Bin Nightclub Harvey's Quay, owned by the former rugby playing legend Peter Clohessy this is Limericks premier rugby bar and the only place to be (other than Thomond Park) when Munster or Ireland are playing.
3 Treaty Stone located on the far side of the river on Clancys Strand check out the famous stone on which the Treaty of Limerick was signed in 1691.
4 King Johns Castle return via Thomond bridge to visit this huge Norman castle, its a little tired but about to get a major refurbishment, more great views from the ramparts.
5 Limerick City Museum situated beside the castle in Castle Lane and as you might expect it houses a large collection of historical artefacts related to the city.
6 Arcaded Architecture check out the Tuscan columns integrated into the wall at the back of St Marys Cathedral on St Nicholas St which formed part of the Exchange built in 1693.
7 Azur Restaurant on Georges Quay is famous for its legendry hot seafood platter although the 24 hour roasted belly of pork is a close contender.
8 Absolute Hotel on Sir Harrys Mall right in the heart of Limerick City's night time action and attractions, boutique hotel close to Colbert Railway Station.
9 Thomas Street is a pedestrianised shopping area, lots of chic little boutiques, coffee bars and restaurants.
10 Milk Market one of the best all weather artisan food markets in the country, open all week although the main buzz is at weekends, when there is live music and large crowds.
For more information on St Marys Cathedral please click here For more Things To Do and See in Limerick please click here