Milk Market - Limerick City
The Milk Market in Limerick is similar in style to the English Market in Cork and every bit as good if not better, judging by the atmosphere and the variety of produce on offer there last Saturday. Protected from the elements by the largest fixed tent in Ireland, it even has an integral balcony with free seating from which to take in the sights, smells and musical airs. And while Ireland is fast becoming the Slow Food destination of Europe with top quality organic and artisan producers bringing the finest foods imaginable from air-dried meats to fresh seafood, meat, poultry and vegetables to national and international markets, the Limerick Milk Market still has a lovely traditional feel to it.
With pigs heads, ribs and trotters or crubeens on offer, admittedly not to everyones taste but seemingly as popular as ever still locally. Ditto fresh milk and country butter from Adare, and the cheeses...well? Ireland is already renowned for its cheeses but even I was surprised at the green (pesto based) and red (sundried tomato based) cheeses on offer and there was no doubting their popularity if the length of the queue was anything to go by....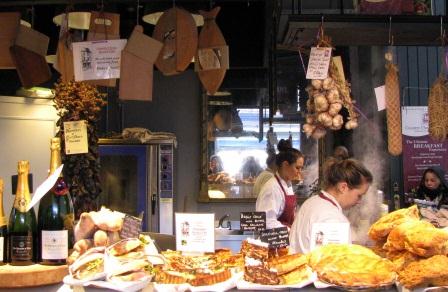 There was any amount of tempting, freshly baked bread and cakes available by local ladies and irresistible chocolates from relocated frenchman Lorgue in Kerry, not to mention some wonderful, original sauces, salads and soups. And colour all around in the garden plants, shrubs and freshly cut Irish daffodils from Waterford and people chatting and meeting up and saying Hello and listening to the music drifting out from Mari the cheese lady's café Greenacres.
Curiousity got the better of me when I noticed a sign for Hot Port €4.50 at that hour of the morning, but there was a steady stream of takers. Opting for a €1 coffee (surcharge of 50 cents when there's music) I spent a very pleasant half hour listening to a Cajun blues group from Kinvara, the 'Talking Sheds' weaving their magic....
Which spilled out on to the surrounding streets, lined with other stalls, laden with all kinds of curios, from antiques to odds & ends and lovable junk. It's certainly the most varied and colourful market I have seen in a long time in Ireland with everything from seed potatoes to turnips and bumper packs of washing powder ! Not to missed if you find yourself in Limerick on a friday for the flea market, saturday for foodies and sunday variey market....
10 More Things To Do and See near the Milk Market are...
1 St Johns Church Limerick's Cathedral was named for St John the baptist which dates back to a Knights Templar church on the site. It was styled on Salisbury and has the tallest steeple in Ireland at 308'3".
2 The Old Quarter is a pedestrianised shopping area in the original medieval part of town with an eclectic mix of small shops, bars and restaurants, sculpture and seating.
3 Brown Thomas 14-16 O'Connell St, enjoy some stylish shopping in Irelands most prestigious store with it classic, signature black & white styling. The secluded little Egg Cafe on the 2nd floor serves fresh scones & restorative teas & coffees all day long.
4 The George Boutique Hotel in the heart of all the shopping, market and night time action, lively new 4 star city centre hotel.
5 Sage Cafe very popular lunch time treat with freshly made breads, cakes, chutneys & relishes, as well as pasta and herby risotto dishes.
6 The Peoples Park very pleasant green space on the beautiful Georgian Pery Square
7 Limerick City Gallery of Art beside the main gate to the park, it has recently been revamped with a glass walled sculpture gallery overlooking the park. Admission is free.
8 Frank McCourt Museum on Harstonge st, interesting exhibition depicting the life and times this Pulitzer Prize winning author who grew up in Limerick.
9 Angelas Ashes Walking Tour can be combined with admission ticket to the museum, a guided tour and history of each of the landmarks mentioned in Frank McCourts famous memoir above
10 Souths Pub visit the pub where Frank McCourt had his first pint of Guinness, wonderfully atmospheric, lots more photos and memorabilia.
For more information about the Milk Market please click here

For more Things To See and Do in Limerick please click here