Ardgillan Castle, Balbriggan, County Dublin
Ardgillan castle is an idyllic place for children and adults alike. Acquired by the late Senator John Boland in 1982 on behalf of Dublin County Council, to provide an amenity for the local towns of Skerries and Balbriggan and North County Dublin. It has been extremely well maintained and constantly upgraded since. Originally, the seat of the Taylor family, the house used to enjoy private access via the fabled Lady's Stairs bridge to the beach at Barnageera complete with its own bathing shelter. Ardgillan Castle was sold to a German family in the 1960's who subsequently sold it to Fingal County Council, after a tragic family accident.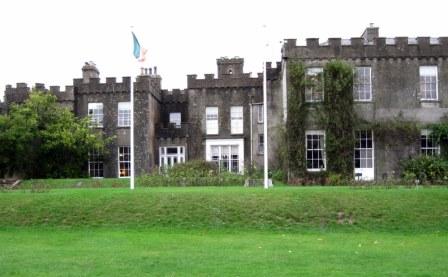 The top car park boasts impressive views of Skerries and the islands, out as far as the Rockabill lighthouse. From there you can take any one of the well maintained walks which circle the demesne through open parkland and sheltered woodlands. There is another car park closer to the castle, beside an excellent children's playground, that can be used by people with reduced mobility who may just want to amble as far as the walled garden or sit in the splendid rose gardens. All of which is completely free of charge and open from dawn till dusk 365 days a year. There is an admission charge to the castle which is open to the public for tours.
For more information about Ardgillan Castle please click here 10 Other things to do in the area.....
1 Visit Skerries what used to be a small fishing village is now a small town, with a nice harbour and long sandy beaches.
2 Eat at the Blue Café excellent contemporary restaurant with well priced menu on the harbour front. (ps their BBQ wings are the best in Ireland.
3 Have a pint in Joe Mays in the front bar if possible, one of the oldest in Skerries and the fishermen and lifeboat men's favourite.
4 Have an ice-cream or crepe at the tiny Storm in a Teacup cafe on the pier beside the lifeboat station or go for a walk 'around the head'.
5 Take a freezing cold plunge off the rocks at the Captain's bathing spot.
6 Walk out to Shenick Island at low tide to visit the Martello tower (but be very careful, the tide turns quickly).
7 See working windmills at Skerries Mills guided tours of the mills available, award winning café and craft shop.
8 Enjoy fine dining with chef Terry McCoy in the Red Bank Restaurant Church Street, the early-bird menu is great value.
9 Or head inland a couple of miles to the Man o' War Pub at Courtlough, a 400 year thatched coaching house that still serving the same purpose today, providing food & drink to weary travellers in front of a huge open fire.
10 Visit Loughshinny a tiny fishing village with sheltered sandy beach and the closest you will get to Lambay Island, which is privately owned.