Luxury Guided Tours of Ireland 2018 - Book before the end of September 2017 to receive an Early Bird Discount of €250 per person.
Luxury Guided Tour of Ireland 2018
Introduction
Planning a trip to Ireland, then why not  join me on a luxury Guided Tour of Ireland in 2018? Following on from the success of this years tours, I have put together an extra special series of  small group tours for 2018, which I will be guiding again myself for people who don't like driving themselves or travelling in big groups. There will be just two tours, one each in May and June, see dates below, which will be limited to just 22 spaces per tour and allocated on a first come, first served basis. Each tour will last 15 days with two free days in Dublin at the start of the tour with hotel accommodation and sightseeing passes included for independent sight seeing. Plus another free day in Galway at the end of the second week, to let you catch your breath! Not that it will be in the least bit manic, there will definitely be no flag following involved, just a nicely paced, luxurious guided Tour of Ireland, taking in many of the major sites and tourist attractions as well as those Hidden Gems, that I am so passionate about, that you would never get to see on a regular tour, not to mention the best of Ireland's magnificent scenery.....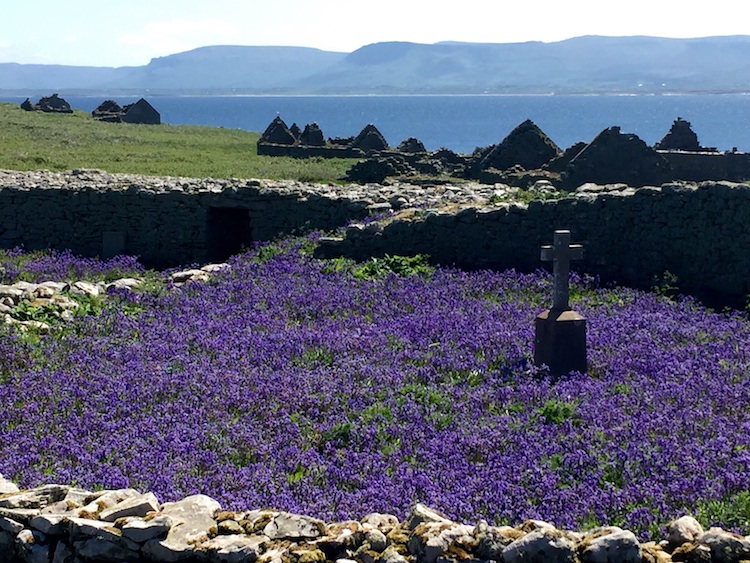 Inishmurray Island, County Sligo
About Susan's Guided Tour of Ireland
As many of you probably already know, I have spent the last several years travelling the highways and byways of Ireland, seeking out new Places to Visit and interesting Things to See and Do for my website Irelands Hidden Gems. Many of which I have shared with you on my Facebook page and / or in my best selling Treasure Ireland series of Irish Travel Guides on Amazon. Well, now is your chance to come and see them with me, Susan Byron on a personally Guided Tour of Ireland. And we'll have fun, trust me, I am Irish, so it kind of goes with the territory! My tour will start and finish in Dublin and take in all of Ireland, which is why it will take 15 days as you can't possibly 'do Ireland' in a week !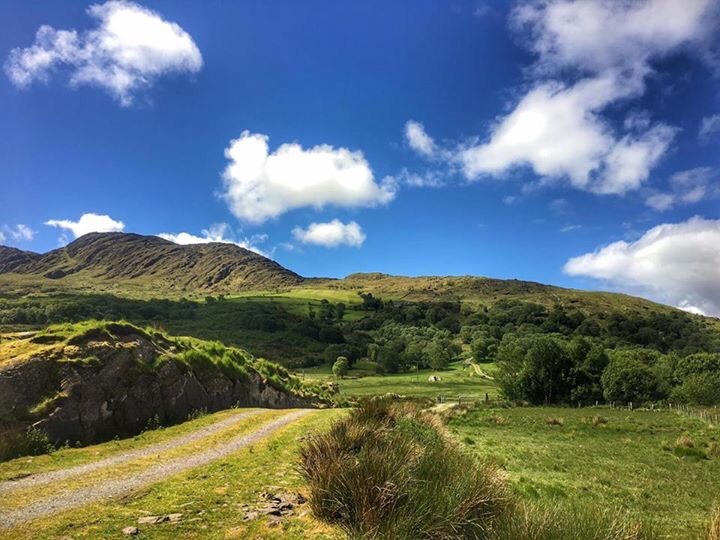 Off the beaten track in Ireland....
After a couple of independent sight seeing days in the capital city of Dublin, we will visit the Royal County of Meath first, taking in Newgrange, Trim Castle, Monasterboice and then travel North to Belfast. Where we will visit the Titanic Quarter, the Giant's Causeway and Londonderry. Then we will go across to Donegal (which most tours skip) which I can never understand, as the scenery up there would make you cry, it's so beautiful. Where we will be visiting Grianan an Ailleach, Glenveagh Castle, Sliabh Liag and Glencolmcille before making are our way down the Wild Atlantic Way to Westport, Connemara, Kylemore Abbey and Galway where we will pause for a 2 night break. Tickets to Trad on the Prom (only the best Irish music and dance show in Ireland) will be included while you are resting up having covered the first leg of my luxury Guided Tour of Ireland.....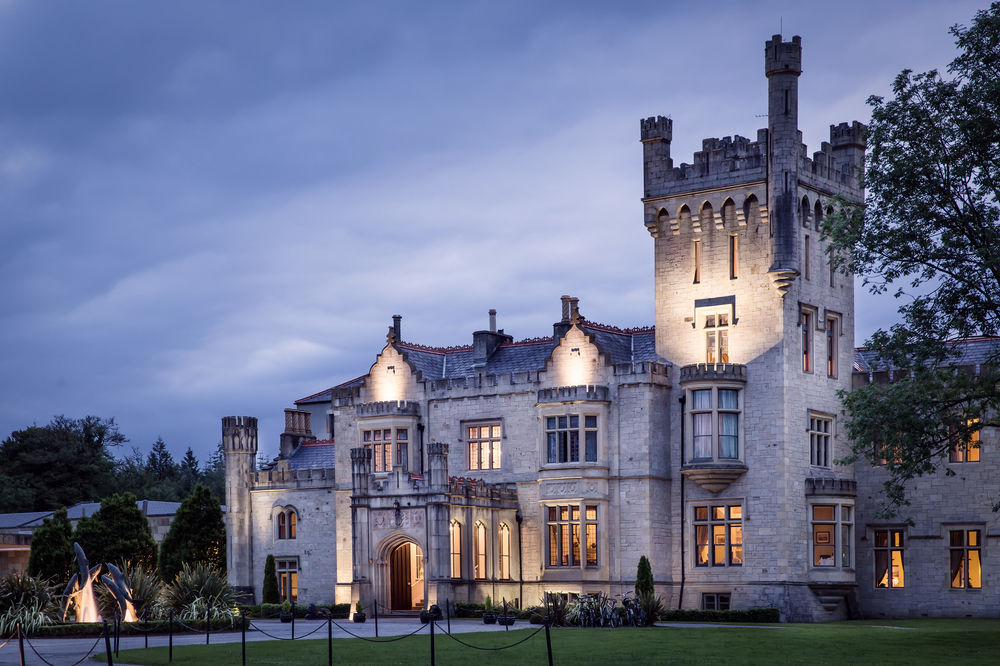 Solis Lough Eske Castle, Donegal, where we will be staying here for 2 nights.
Accommodation & Food
We will be staying in the best hotels, manor houses and even gorgeous Solis Lough Eske Castle (pictured above) throughout our journey, where your comfort and deep contentment will be guaranteed. Dinner will be included most nights apart from a couple of rest days where you might like to savour some of our gastronomic pub grub or sample some of Dublin or Galway's many fine restaurants or perhaps just go easy on the scales!
You will be staying in luxurious rooms with king size beds and private bathrooms. Breakfast is included of course, which being Ireland will be generous enough to keep you going all day long. Although we will be stopping regularly for rest stops, cakes and coffee and/or a light lunch most days or whenever the mood or humour takes us.....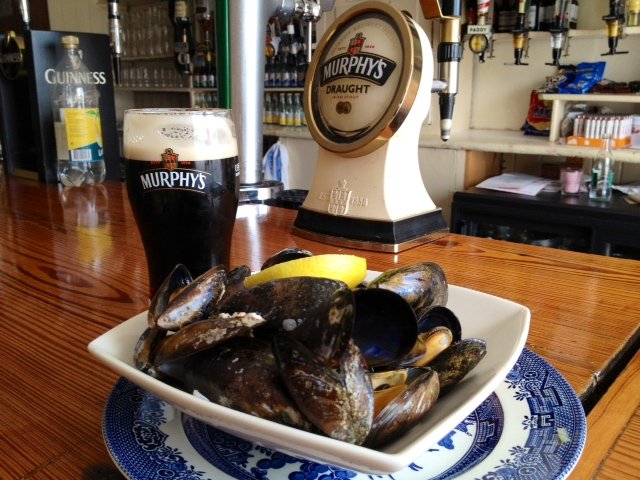 Sightseeing and Entertainment
There will be no rushing from A-B on my luxury Guided Tour of Ireland, I assure you and I am more than happy for folk to stop up and take photographs, as I do it myself all the time! We will be travelling in style in a new 26 seater Mercedes coach with air conditioning, water and umbrellas supplied and my own personal selection of easy listening Irish music for when I am not regaling you with Irish history, tall tales and old yarns. And we won't ever be driving ridiculously long distances either (1 - 2 hours maximum) as I have loads of Hidden Gems to show you en route, that I know will surprise and delight you.....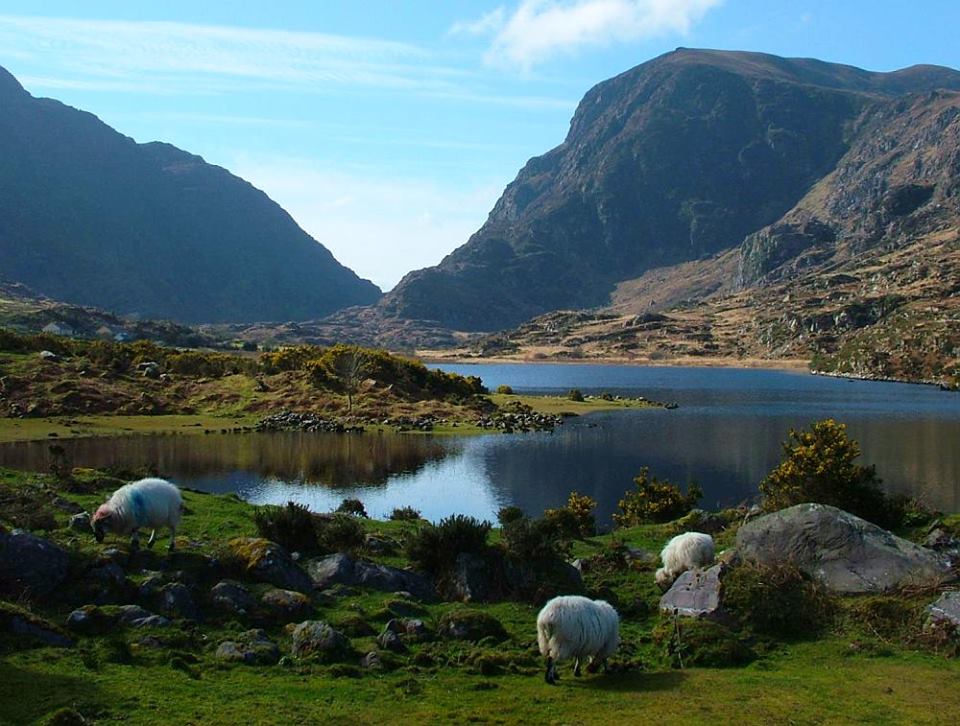 Gap of Dunloe, Killarney, County Kerry
From Galway, we will continue South on our guided Tour of Ireland along the Wild Atlantic Way, down through the Karst limestone region of the Burren, to Doolin and the Cliffs of Moher with an optional cliff top or wild flower walk or weather permitting a sight-seeing cruise. From there we will head further South to Dingle via the stunning Connor Pass and spectacular Slea Head Drive before continuing our journey to Killarney where we will be staying for 2 nights in the luxurious Muckross Park Hotel another luxurious 5 star resort with an outdoor hot tub and adult only spa. From our base in Killarney you will have the option of a vintage tour of the the famous Lake of Killarney by boat or jaunting car ride through the grounds of beautiful Muckross House and gardens and Killarney National Park, all of the above excursions are included in the package price below....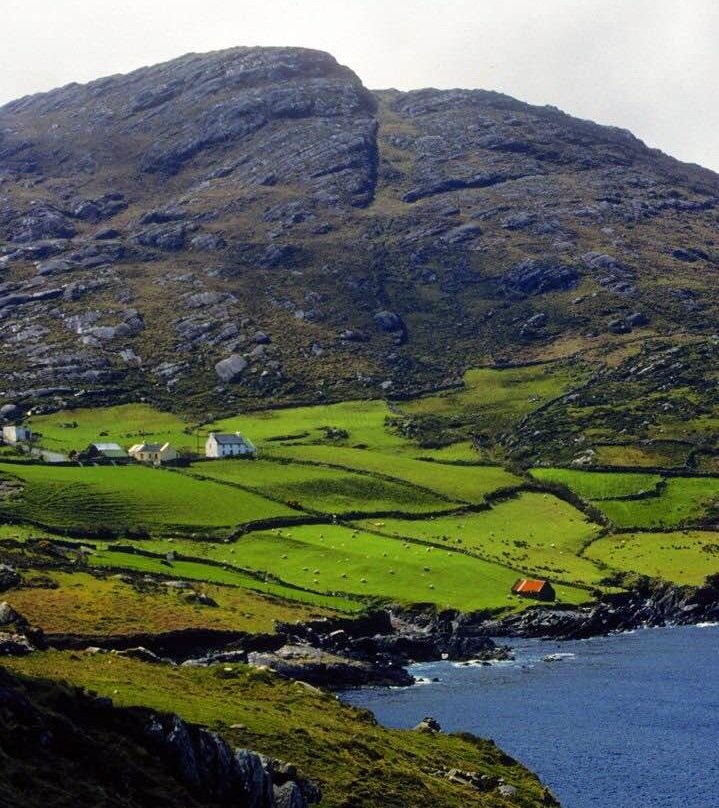 The land that time forgot, the Beara Peninsula....
We will take a 5000 year step back in time at Uragh Stone Circle on the beautiful Beara Peninsula pictured above in West Cork and stay overnight in the colourful little seaside town of Kinsale which is chock full of delightful craft shops, galleries, bookshops, cafés and restaurants and perfect for souvenir shopping! Before making our way slowly back to Dublin via Kilkenny, we will take a guided tour of the Jameson Distillery in Middleton and visit the iconic Rock of Cashel before overnighting at Mount Juliet in Kilkenny another magnificent 5 star hotel, before meandering through Kilkenny county on the movie trail, visiting Kilkenny castle and craft centre before hitting the road for Dublin with a final stop at the Irish National Stud in Kildare before dropping you off at one of Dublin's finest airport hotels prior to your flight home the next day.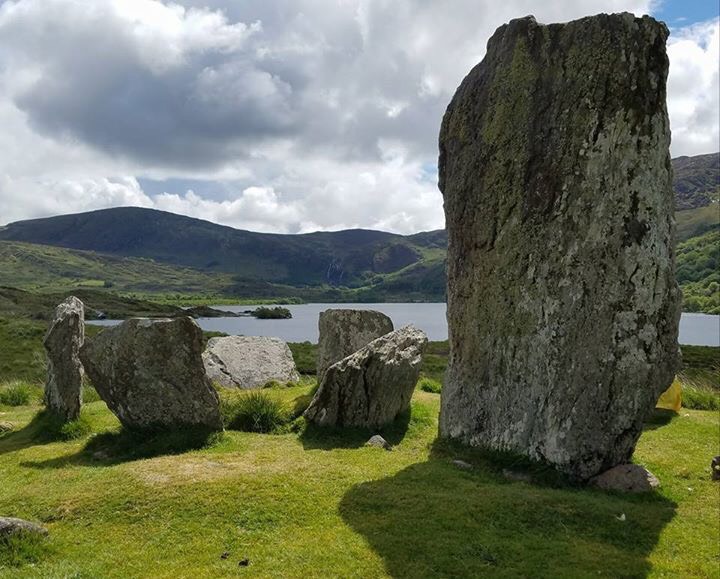 One of Ireland's Hidden Gems, Uragh Stone Circle...
And those my friends, are only a few of the highlights of my luxury Guided Tour of Ireland. There will be plenty more Hidden Gems included that I will keep under wraps for now, although if you register your interest by filling out the form below, I will gladly send you a much more detailed itinerary. Admission charges to all of various visitor attractions mentioned above as well as special excursion tickets will be included as well as complimentary Dublin Cityscape Sightseeing bus tickets in Dublin, Trad on the Prom in Galway and a whiskey tasting session at the Jameson's Distillery in Midleton en route...

tour Dates & Prices
Tour Dates and Prices 2018

May 12th - 26th inclusive €4750 inclusive of all government taxes but excluding flights.
June 9th - 23rd inclusive €4950 inclusive of all government taxes but excluding flights.
Early Bird Discount of €250 per person will apply to all bookings made before the end of September 2017.
Prices quoted are per person sharing, single supplement €1000 with a maximum of 22 people per tour.

If you wish to register your interest or to receive a detailed itinerary please fill out the form below or you might like to read some of the testimonials from the 2017 tour participants.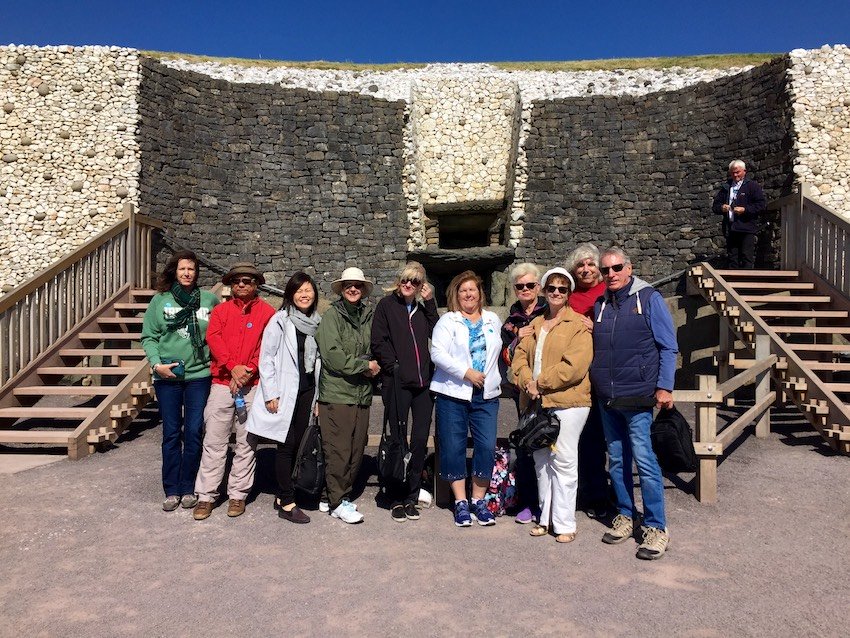 May 2017 Tour Group Photo at Newgrange, County Meath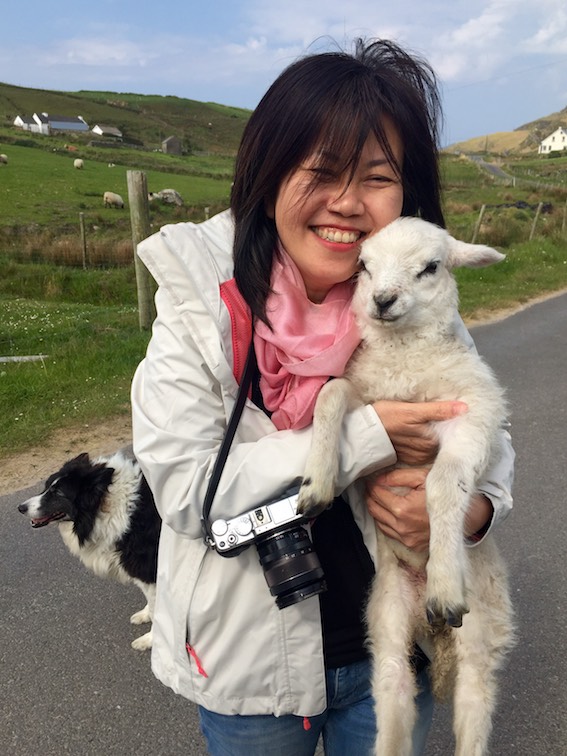 Lay Eng Yeo with Rosie the lamb
Susan, herself is a most special gem. It was a most unforgettable trip as she introduced us to the hidden wonders of Ireland that probably most travellers would miss out-from unique flora and fauna that flourished on the wild Atlantic coast, getting up close and personal with the local craftsmen and women, savouring the freshest food harvested from the sea and land, cooked to perfection in restaurants and pubs where the locals eat and a a selection of fine accommodations - Susan planned an itinerary so engaging that it mirrored all the richness and diversity of the Emerald Isle. 
Tech & Lay Eng Yeo, Singapore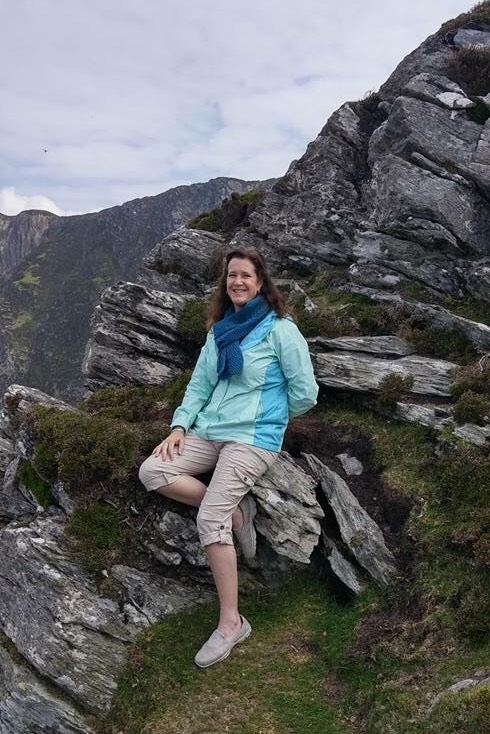 Sara McKee Sliabh Liag, Donegal
Dear Susan, When I was planning my trip to Ireland, it was theoretical in my head—a "some day" kind of thing.  I really had no idea even where to start.  When I saw your tour description, I knew it was just the right thing for me. The trip itself was more than I could have imagined (and trust me, I spent many, many years imagining what it would be like to visit Ireland)!  You took care of all the details; I didn't have to worry about a thing.  The accommodations were first rate, the sights were amazing, our driver was the BEST, and well, I think we were lucky with the weather, and that was fabulous too!  But the personal touch you provided with your narrative along the way was the icing on the cake. Your enthusiasm and love for your country was infectious!  I really enjoyed getting to know everyone in the tour group, and the time I got to spend with my Irish cousin was very special to me.  William Butler Yeats sums it up well, "There are no strangers here, only friends you haven't yet met."  Thank you for everything! Until we meet again, Sara
Sara McKee, North Carolina, USA
Tadhg and Anita Baxter on the Peace Bridge in Londonderry.
Dear Susan, Anita and I want you to know how much we enjoyed the Ireland's Hidden Gems Tour in June 2017. The memories of all we experienced, including the goodness of the Irish people, will be with us always. We truly realize that a tour like this doesn't just happen; it takes a caring person like you who loves her country and wishes to share it with others.  Your dedicated planning, preparation, scheduling, and joyful guidance all along the way made the tour a delight for everyone. Thank you, Susan from the bottom of our hearts. It was grand to be with you!
Tadhg & Anita Baxter, Pennsylvania, USA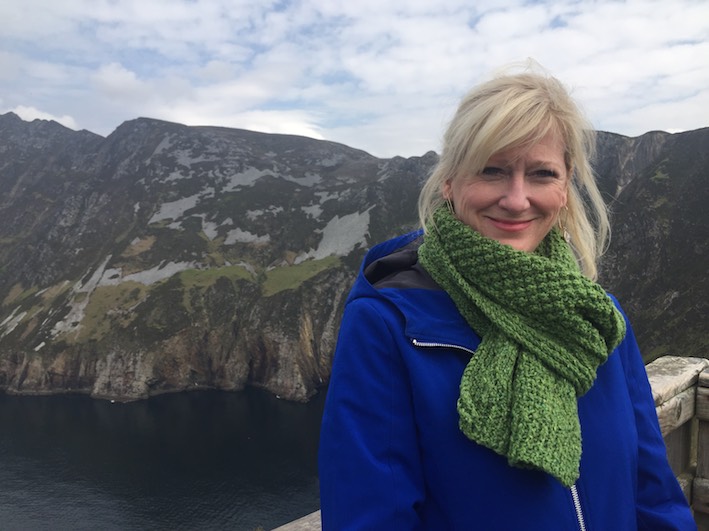 Peggy Remke at Sliabh Liag in Donegal
Hi Susan, I so appreciated all of the energy and joy you showed on this tour. Hurray for the 1st gem !!! 
Peggy Remke, Kentucky, USA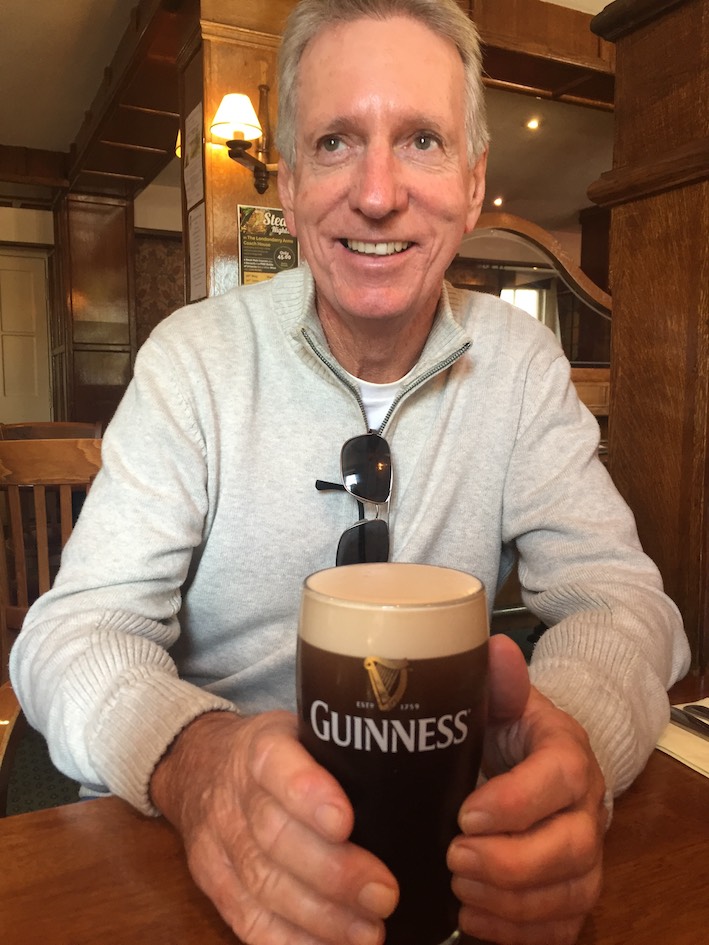 Paul Duffy with one of many pints of Guinness!
Thanks Susan, found the Church where my Great, Great, Great Grandfather was baptised on the 21st of May 1809. It was a strange feeling really sitting on the steps of this church, I don't know how to explain it but a feeling of pride and happiness came over me....strange really! I felt a connection, him being Baptised in May and my birthday being in May and the Church called St, Paul's. No, it must have been that pint or two I had for lunch, lol?
Paul Duffy, Sydney, Australia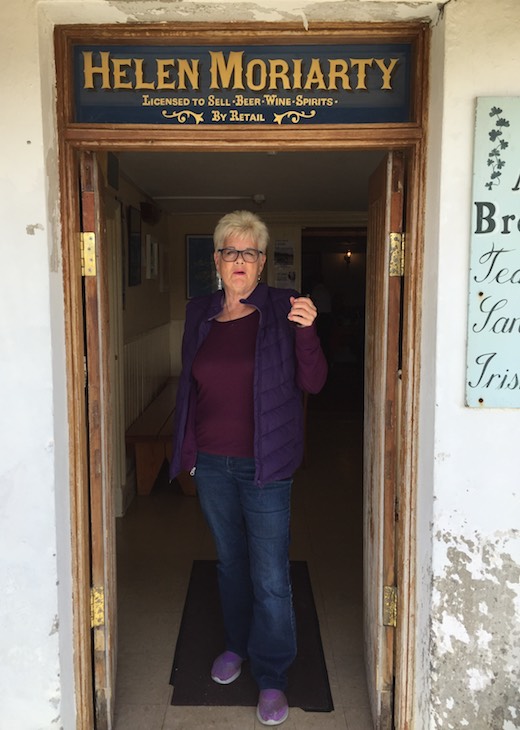 Marcia playing Bean an Tí....
Best trip of my life so far! What a blast we had in Ireland. Susan was the best tour guide ever. I just can't say enough about Ireland, the most beautiful place I have ever been to. I'll never forget the magic of this Emeral Island. I hope to go back again some day. Thank you Susan, I can honestly say this was the highlight of my adult life (except for kids and dogs) of course....
Marcia Van Dalsem, Long Beach, California.
Will and Beth Avgerakis on the June Tour 2017
Hi Susan what an amazing trip, our senses are still intoxicated with that will nourish us forever. We can not express in words what this adventure has meant to us and we thank you for enough for making it so incredibly magical and enchanting. You are an absolutely amazing spirit and we were so fortunate to have you as our guide.
Will & Beth Avgerakis, USA June Tour 2017
Mary Carlin completely at home in Kells Bay
Dear Susan, so happy you gave me a little push to come to Ireland, I really loved the trip. You and Tony made it so special for me. I have photos of the sea on my screensaver and look forward to returning. I really love Ireland and miss the clean air, pristine water and green and blue everywhere. Not to mention I would really enjoy seeing you again.Thank you so much for sharing you enthusiasm and love of the beautiful gems.
Mary Carlin, Brooklyn, NYC.
Contact Susan
Or if you would prefer to email me directly re any aspect of my Guided Tour of Ireland I would be delighted to hear from you and happily answer any queries you might have, Susan Byron