My Dublin .....
Welcome to Dublin, I was born and bred here, so I should know what I am talking about, right? Possibly of Viking descent? my maiden name Doyle is derived from the Irish 'Dubh Ghaill' meaning 'the dark stranger'. And we can trace our roots right back to Mount Brown, right next door to the Guinness brewery which kind of explains a lot?
Never mind, Dublin is steeped in history from medieval times to the present day with an 800 year chunk of British rule which hugely influenced the built environment and of course our culture?
We Dubliners are fiercely proud of our city and its history, especially the rebel bit? And although it has seen enormous changes in the last few years with the rise and fall of the Celtic tiger, we all have our favourites, places we grew up in, that are pretty much the same as they have always been, full of real history and characters that are well worth seeing if you are interested in the real deal....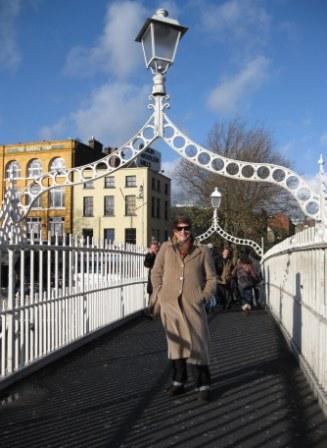 The following are my Top 10 attractions in Dublin most of which are FREE listed alongside each of these are 10 other interesting things to do and see in the area that you wont find in many of the guidebooks. The city is very compact with plenty of good options on hotels and it is very easy to get around. You can always hop on a city tour bus or the Luas tramway system or just pick an area and walk around and
Go n'eiri an t'adh leat - Good Luck !
Susan's Top 10 favourite attractions in Dublin
1 Dublin Castle you could spend a whole day here exploring the castle, its underground viking ramparts, the chapel royal, medieval knot garden and the exquisite Chester Beatty Library.
2 Guinness Storehouse its not often the most publicised attractions are worth it, but in this case it is...go see for yourself and enjoy a free pint with your admission ticket.
3 Collins Barracks, National Museum of Decorative Arts. handy stop off in a really interesting part of Dublin town, great exhibition space in a very historical building FREE
4 Hugh lane Gallery, Parnell Square my favourite gallery but then I am a sucker for the Lavery paintings...FREE
5 Christchurch Cathedral. it dominates Dublins skyline and our history and is well worth a look, dont miss the treasures in the Crypt, small admission charge.
6 IMMA, Irish Museum of Modern Art. Dublin's gallery of modern art in another historical building Kilmainham hosptial which was modelled on the Palais d'Invalides in Paris FREE
7 Farmleigh House, Phoenix Park. open daily to the public unless there 'other' visiting dignitaries, wonderful old house bought at enormous expense on behalf of the Irish people (with their money) so enjoy it.FREE
8 The Glasnevin Museum brand new state of art Necropolis of the Dead traces Dublins social history, excellent! Guided tours /historical walks of the Cemetary included in addmission price.
9 The National Museum, Kildare Street apart from all the wonderful treasures, a big bonus here is being to relax in the film theatre, sightseeing can be hardwork...Oh and in case you were wondering its FREE
10 Old Jameson Distillery saving the best till last, Jamesons whiskey is to be savoured, guided tours of a landmark distillery in the oldest part of Dublin's cobbled Smithfield Market.
Download My Dublin - iPhone app guide for free here To book an Irish Sightseeing Tour click here.