Collins Barracks
Collins Barracks was named after Michael Collins commander-in-chief of the Irish Free State Army who was killed in an ambush in Cork, shortly before it was handed over to the nation in 1922. A fitting tribute to his memory, the former barracks has been completely renovated and now houses Ireland's Museum of Decorative Arts. It is a veritable treasure trove of rare goodies which have been brought Out of Storage, and put into an exciting warehouse style display ie the Curator's Choice which showcases National and International treasures such as rare Chinese vases and Japanese bells, not to mention our very own moon rocks and meteorites which were presented to Ireland by NASA.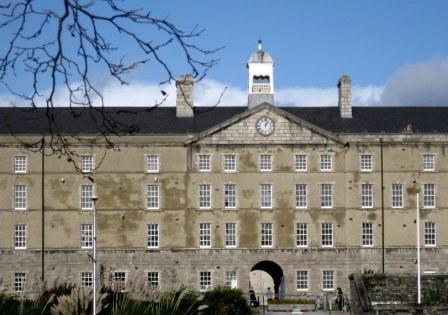 New for 2016 is an exhibition in the Riding School called Proclaiming a Republic which celebrates the centenary of the Easter Rising in 1916 by putting some astonishing memorabilia, including the original flag that was raised over the GPO following the Reading of the Proclamatio, on display. As well as artefacts belonging to the 14 rebel leaders who were shot in Kilmainham Gaol, including Eamon Ceannt's flask which bears his handprint. It's such an Irish thing, in the face of such a huge and terrifying ordeal that someone (either his Mammy or wife) obviously made him a flask of tea and no doubt a wedge of sandwiches to keep him going! Another shock is evidence on someone having almost certainly dodged a bullet having got caught forever in time in a cricket bat that was being looted from Elvery's sports shop.
Right beside the Riding School is another exhibition space which houses the restored Asgard which was a beautiful ketch owned by Erskine Childers who later became President of Ireland, which he used for gun running at the time of the rising transporting guns from Germany to Howth. Donated to the nation as a sail training vessel it fell into disrepair and was replaced (the subsequent yacht sank) but has since been restored to its former glory and is a delight to walk around. 
There is also a military collection with full size tanks and planes and the premises itself with its cobbled parade ground which is a joy to march around. There are also very visiting exhibitions in the theatre space above the café, one of the most popular was a photographic exhibition on the 10th anniversary of 9/11. The Museum of Decorative Arts at Collin's Barracks is free and very easy to get to via the Luas tramway system and is right in the heart of a very interesting part of Dublin, so be prepared to spend the whole day there if you can....
10 Hidden Gems near Collins Barracks.
1 Visit Croppie's Acre across the Luas track from Collin's Barracks where the victims of the 1798 rebellion are buried.
2 Or Arbour Hill where the Leaders of Easter Rising are buried following their execution in Kilmainham Gaol.
3 Wander around the Smithfield one of the oldest market areas in Dublin, all revamped with smart apartments.
4 Have a pint in Cobblestone's one of the best pubs in Dublin where a pint of Guinness is still only €4.50 compared to €5.50 plus in Temple Bar!
5 Visit the Old Jameson Distillery where a whiskey tasting is included in the price of admission.
6 Learn the Story of the Irish which covers 10,000 years of Irish history through a series of films introduced and narrated by costumed actors.
7Browse around the vintage shops on Smithfield Square some interesting finds and good coffee to be had at Proper Order around the corner.
8 See the mummies in the crypt unders St Michan's Church, this was a favourite school tour for Dublin school children, what were our teachers thinking of?
9 Marvel at the architecture of the Four Courts designed by James Gandon who also designed the Customs House.
10 Go to a Story Telling Night in the Brazen Head Pub considered to be one of the oldest in Ireland.
For more information on Things to Do and See in Dublin click here.
For more information on Collins Barracks click here