Guinness Storehouse
Cobbled streets dissected by tram tracks lead up to the Guinness Storehouse in one of the oldest parts of Dublin. A heady mix of yeast and hops is in the air. By contrast you enter a high-tech exhibition space, the centrepiece of which is a giant atrium in the shape of a pint glass. This is where you assemble for a short orientation speech and then you are free to wander around on your own. Spread over seven floors there is plenty to see and do. The ground floor displays the raw ingredients barley, hops, yeast and water, spectacularly as in an indoor sheet waterfall. Follow the winding staircases, throughout the process to the tasting bar, which as you can imagine is very popular. After that just about anything connected with the Guinness name throughout the world has been included in this visitor experience.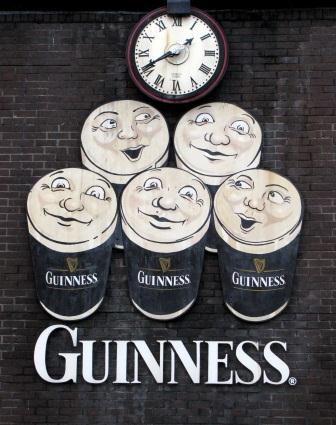 You can learn how to pull your own pint, also popular or relax in the restaurant. The Guinness stew is highly recommended and very reasonable at €9.95. To claim your free pint, included in the the price of admission, with the best 360 view of Dublin, head up to the Gravity Bar on the top floor. If crowded drop down a floor to the Source Bar, which has equally good views. Finally, there is a well stocked shop, biggest sellers at the moment are a limited edition glass tankard, with the 250th anniversary of Guinness in 2008 and traditional black t-shirt with Dublin on it which is exclusive to the Storehouse. This is a very busy attraction, 5000 visitors most Saturdays, so avoid weekends if possible, and be warned upwards of 7000 on St Patricks Day but apparently the craic is mighty!
10 Other things to do and see near the Guinness Storehouse.
1 St Audeons church drop in and see the earliest medieval church in Dublin.
2 The Liberties mediavel tax free zone, enjoy the banter with the street traders in Thomas Street.
3 Dublinia Viking Exhibition see what life was like for Dubliners during that the time.
4 Christchurch Cathedral has seen many changes in the 800 years it has dominated the Dublin skyline.
5 IMMA Irish Museum of Modern Art, excellent and free!
6 Kilmainham Gaol great rebel history.
7 Hueston Station all go...good bar & carvery lunch.
8 Pheonix park take some timeout in the largest enclosed city park in Europe. Visit Farmleigh House free admission or another Dubliners favourite for generations Dublin Zoo
9 Brazen Head Pub have a pint in one of cities oldest coaching inns a short roll down the hill from Christchurch.
10 Halfpenny Bridge cross the Liffey here (Irelands first toll bridge) stroll along the boardwalk up to O'Connell Street.
For more Things To Do & See in Dublin click here

For more about Guinness Storehouse click here