Dublinia explored....
Dublinia is the Latin name for Dublin, which although similar predates the Viking Dubh Linn or Black Pool which is where the Vikings originally moored their longships and built a settlement that would later become the city of Dublin. The Vikings brought trade and commerce to Ireland and the port of Dublin was a thriving place (apart from occasional setbacks in terms of the Black Plague, Leprosy etc which came later on to Medieval Dublin). The first coins were minted here, weights and measures introduced, locks and keys, all of which are depicted in a series of excellent sets and videos throughout the Dublinia exhibition, which is housed in the original Hall of Synods, which is linked to Christchurch Cathedral by a covered and enclosed bridge...
Visitors experience their first glimpse of Viking Dublin through the eyes of these intrepid sea faring invaders who made their way to Ireland from Scandinavia over 1000 years ago. Details of the hardships endured on board the Viking longships, their weapons, clothing and food are all included in the tall tales and sagas now told about these difficult voyages. Everyday life in camp settlements is reconstructed in lifesize so the visitor easily get a sense of what it was like to trade at a market or live in a merchants house.
A large scale model reveals the history and locations of medieval Dublin in relation to the present day city including the many place names such as Howth and Skerries which are Viking origin. A very popular recent introduction explains how archaeologists, historians and scientists use the artefacts (including human remains)and building structures revealed during excavations to interpret the minute details of this ancient heritage. Which was almost lost during the 1970's when the new civic offices were being built at Wood Quay. Incidentally, one of the leading campaigners for saving our Viking heritage, Mary Robinson later went on to become the first female president of Ireland.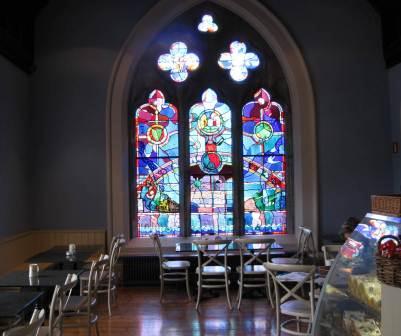 It's an excellent day out with plenty to see and do, whether you are a tourist or just fancy exploring your own city's heritage. There is a gift shop (plenty of Viking hats and swords) and an excellent little coffee shop with a wonderful stained glass window and delicious home baking just beside the exit, which is throught that iconic archway (to every Dubliner at least) which connects Dublinia to Christchurch Cathedral. Another important and vital part of medieval Dublin not to be missed.
Combination tickets can be purchased at either location.
For more information or to book tickets for Dublinia online please click here

For more Things To See and Do in Dublin please click here